Launch Applications In Windows Using Keyboard Hotkeys With MadApp Launcher
The beauty of Windows operating system is the amount of customization features it provides, both aesthetically and ergonomically. Talking about ergonomics, there are various ways to make your applications and utilities easily accessible. Even though you can use desktop shortcuts to make your applications easy to approach, the other way is to use App Launchers. App launchers are applications that are designed to hold your frequently used tools and apps at one place. Instead of browsing through directories or cluttering your desktop with shortcuts, the easier method is to use launchers, which keep things more minimalistic and less cluttered. There are many application launchers available including Gizmo Toolbar or OldBar, just to name a few, that add application shortcut toolbars on your desktop, allowing quick access to your favorite and frequently visited applications. MaddApp Launcher is another great addition to the ever increasing list of launchers. It allows you to add application shortcuts, and access them though pre-assigned hotkeys. It basically maps and assigns application shortcuts to your keyboard using the F1, F2, F3…. F10 keys, and all the alphabetic and character keys. You can add application shortcuts to MadApp Launcher using the simple drag and drop method. Configuration of the whole application map can also be saved, in case you want to copy it to another PC, or should it get corrupted.
There isn't much to applaud regarding the overall presentation and the tool comprise of quite a simple design. To add an app through the drag and drop method, first you will have to enable the Drag and Drop Mode in the View menu at the top. Once it is enabled, you can simply drag and drop any application or file on to the available boxes in the app. The items can then be accessed, either by clicking them, or by pressing their defined key on the keyboard. If you run out of space and assign all the alphabets to apps, there are a total of 10 tabs available accessible by pressing numbers 1-0 on your keyboard.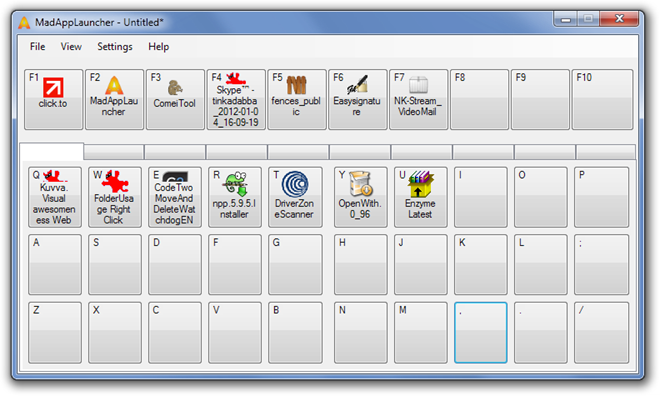 Click Settings menu and select Options to configure parameters such as enable Auto Save File, Show Window on Startup, Auto select tab, as well as specify Maximum Button Text Displayed and Drag and Drop tab activation delay (ms) time.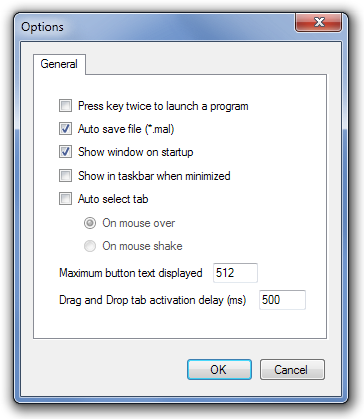 MadApp Launcher is an open source application, and works on both 32-bit and 64-bit OS editions of Windows Vista and Windows 7.