Starter Is An Easy Way To Categorize And Launch Applications
Last year we covered a tip which allows Windows user to launch favorite applications in one click. With this method one needs to make a separate batch file for different set of applications. For e.g, you will need to create three different batch files for applications, such as, Downloaders, Instant Messengers, and Web Development.
There are few users who prefer a small tool which can categorize the applications and make it quicker to launch them without having to clutter the desktop. Starter does exactly that. When starting for the first time, enter the categories and type the path of the applications under each category in the Starter.ini file. The rest is handled by the app, when launched.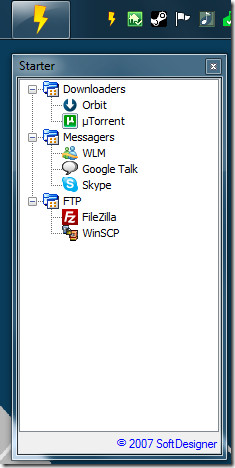 You can edit the .ini file using notepad. By default, for demonstration purpose there are few pre-defined categories and items in the file.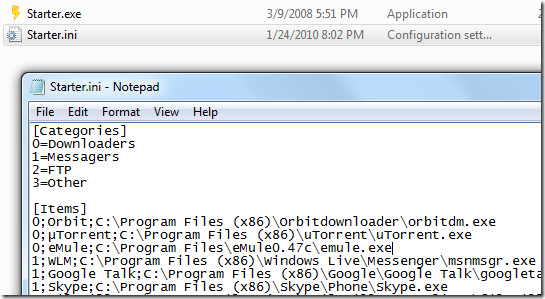 To Beginners: Don't freak out yet, editing the .ini file is a piece of cake. Type the number, the category, and then enter the number(to connect with category), name of app, and it's complete location. It's that simple. Have a look at the default list to get an idea.
If you want the app to run during Windows startup, then you will need to install the installer version, otherwise the portable version is recommended. You can quickly restore the list and migrate it to other computers by copying the .ini file.
It works on all versions of Windows, including the latest Windows 7.