Stoffi: Minimalist Music Player With A Windows Explorer-Like Interface
Music players come and go, but only a few ones actually grab users' (and our) attention. One such that crossed my way is Stoffi Music Player. At first glance, it would seem just another music application boasting features that are already found on other popular media players, but oh boy, was I wrong! Three things define Stoffi's persona; minimalistic interface, instant access to everything and ease-of-use. The application's GUI itself is a perfect example of the developer's fondness to Windows 7. Although open source, the application is perfectly integrated with Windows 7, where its interface is not the only thing that seems to be carved out of Windows itself, but the application makes full use of Jumplist and Taskbar for instant navigation. Stoffi not only lets you define custom hotkeys, but also, you may use hotkey profile presets from other music players, such as iTunes, MusicBee, VLC, Banshee, Foobar2000 etc, should you make a switch. There's an iTunes like Genius feature, too, called Random playlist, which instantly generates a playlist by randomly selecting soundtracks. What's more, the application has a system tray icon to Play, Pause and jump to Next, Previous tracks, along with visual notifications.
Upon launch, you might say that the application seems less of a music player and more a Windows Explorer alternative. The three navigation buttons along with a volume adjuster are at the top left corner, right next to the seek bar. The application automatically scans and adds music to its library from your hard drive, and shows complete information regarding the selected track at the bottom, such as Album Art, Title, Artist, Genre, Size, Bitrate, Channels, Path etc, and lets you you edit metadata information within the same panel. The left area of the window houses different categories, for instance, Music (Files, YouTube), Queue, History and Playlists. One of the things that fancied me is the instant creation of playlist. Just click Create new beneath Playlists, give it a name and you're done. What's more, the application enables you to add your favorite tracks to the Queue, or you may use History panel to go through your recently accessed music. Albeit the fact that there is integrated YouTube option to instantly search and listen to YouTube tracks, the functionality seems to be broken, as none would play during testing.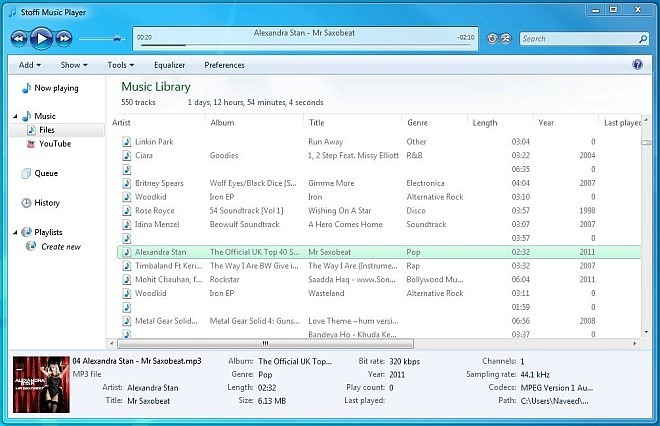 Equalizers are great way to improve sound quality and every media player these days have one such option. Stoffi is no exception, and lets you adjust and save Equalizer presets. To my chagrin, though, the application doesn't contain genre specific presets, for instance, Rock, Pop, Classic etc – a common thing found in almost every media player these days.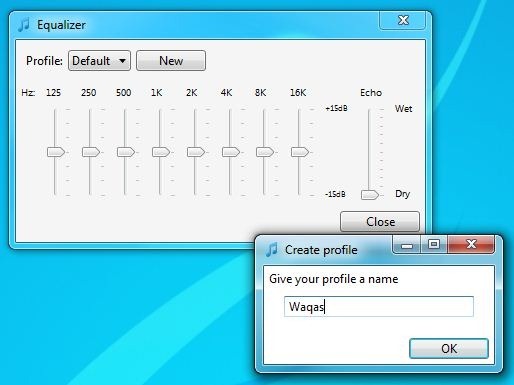 Another thing that impressed me was the notification icon, which, from its right click context menu, lets you navigate between tracks or open the application itself by clicking Show. In addition, when a music track is being played and you close the application, it starts exactly from where you left it off upon re-launching the app.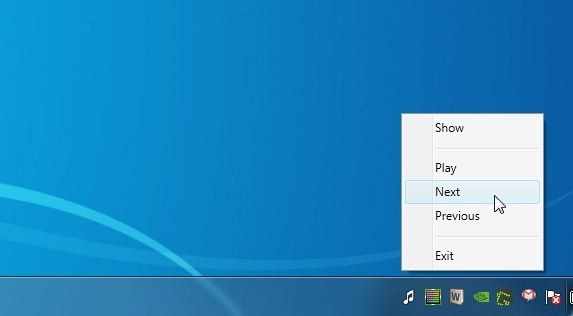 Clicking Preference on the toolbar takes you to the application's settings section. Here, from the left panel, you can configure various options under General, Music Sources, Services, and Keyboard shortcuts. For instance under General, you can set upgrade, search, add and play policy from Behavior section. Likewise, Music Sources allows you to specify target folders for your music files. Services seem to contain a yet-to-be-finished cloud based system, which is under development. Lastly, Keyboard Shortcuts is where you specify global hotkeys to be used for the application.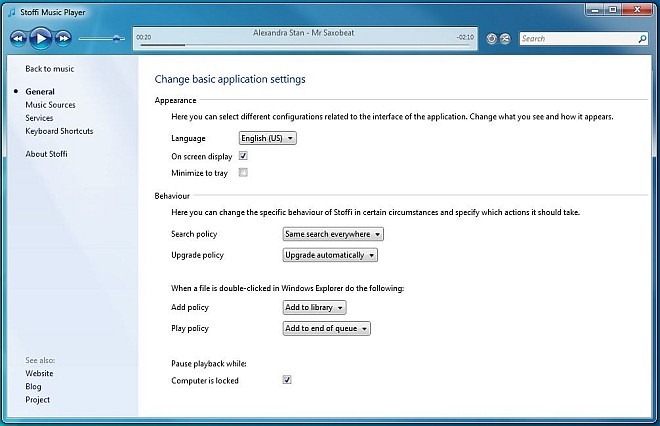 To give a final verdict, I would say Stoffi Music Player is one of those applications that seem to have much potential. Even though there is a lot to work on – broken YouTube functionality, track bookmarks (as stated in developer's webpage, but doesn't work), and a few enhancements in interface – the application does work and feels great. According to the developer, it supports up to 25 audio formats. It is an open source application and works on Windows XP, Windows Vista, Window 7 and Windows 8.