Stop Mouse Cursor From Slipping To Secondary Monitor In Windows 8
The personalization menu of Windows 8 is designed to accommodate multiple monitors. The new Charms bar and Switch List, accessible by moving the cursor to the right and left corners of your screen respectively, appear on both monitors. Accessing them can sometimes be a tricky if you are running a multi-monitor setup. For instance, if you have a secondary monitor on the right side, the cursor might slip into the secondary monitor when trying to bring up the Charms bar from the lower right corner. So, you can either waste your time by trying to get the cursor in the perfect position, or move it to the other monitor to easily bring up the bar. Another way is to restrict free movement of the mouse cursor between the screens so that you can easily move it to the screen corners. Mouse Trapper is one such tool that restricts free mouse movement between the connected screens and trap the mouse inside one display. You can still move the cursor to the other monitors by pressing a pre-selected key giving you control of when to free the cursor.
Windows 8 comes with some good multi-monitor support. You can choose a different background for each connected display. You can also choose to have the taskbar appear on just a single monitor or on all of them. However, the OS lacks any mouse cursor-related options for multiple monitors, and this is where an app like Mouse Trapper can come in handy.
The settings menu is rather simple and all the options are available on the main interface. You can choose to start the program with Windows, and track the number of crossings. Enabling this option will record the total number of times you pressed the hotkey for enabling the crossover. The drop down menu lets you choose the hotkey from Ctrl, Shift or Esc key. Pressing the key will let you move your pointer to the other screen. When you release the key, it will trap the cursor in the monitor it is currently in.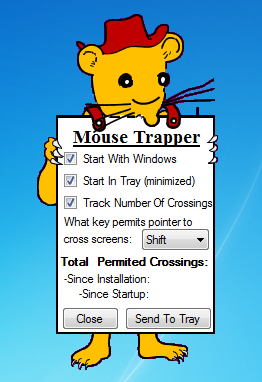 Mouse Trapper is a small yet very useful open source app that works on both 32-bit and 64-bit versions of Windows XP, Windows Vista, Windows 7 and Windows 8.