Storybook: Helper App For Writers That Stores Scene & Character Details
Not everyone might be as creative as Christopher Nolan or J.R.R Tolkien, but with meticulous planning and the right set of tools, we can at least come up with mesmerizing storylines that we all aspire. Great stories are intertwined with deep character building, memorable plots, fantastic locations, and most importantly, proper connection among all the aforementioned elements. If you are a writer, novelist or someone who pens stories just as a hobby, you must have an idea that, in order to tell readers of what's happening in a particular scene or a chapter of your book, you should understand it yourself first. Any overlooked element in your novel or book can mislead to various plot holes, which itself leads to unexpected criticism. To overcome this very reason, one comprehensive story writing software you can probably try is Storybook. The application is open source, and contains various features that one requires for all kind of story writing. It lets you work on your project, in a scene by scene manner, meanwhile tagging various characters, locations and other factors to an on going scene. You can store information regarding chapters, parts, scenes etc, to get an overview of where the actual plot is headed.
When launched for the first time, Storybook lets you specify application Language and (optional) Spell check language, before hopping onto the main interface.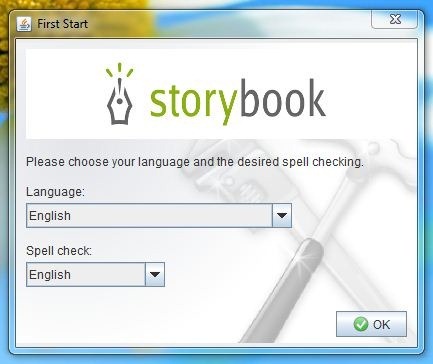 Its main interface is filled with plethora of options, but to unlock its full potential, the first thing you need is to create a new file. Simply click New from the toolbar and then input your file name along with destination directory, and click OK.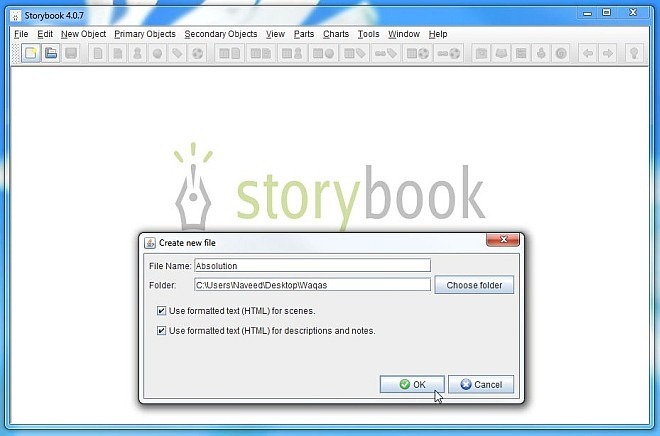 Storybook provides four types of view modes, namely Chronological View, Manage Chapters and Scenes, Book View and Reading View, where each mode can be selected from the toolbar. It should be noted that the application doesn't provide a primary story editor, but rather, it's designed to store all the details regarding the stories. For instance, you may enter character details, including Name, Gender, Category, Birthday etc, add location information, write about each scene with detailed description, tag the objects into the scenes or chapters and so on. There's also an option to write different ideas that come to your mind, including subplots, relationship between characters, an epilogue of the actual storyline and so forth. The Object Tree provides an overview of all the added primary and secondary objects. It's also worth mentioning that each editing console has its own window, and all windows are adjustable and placed anywhere you want.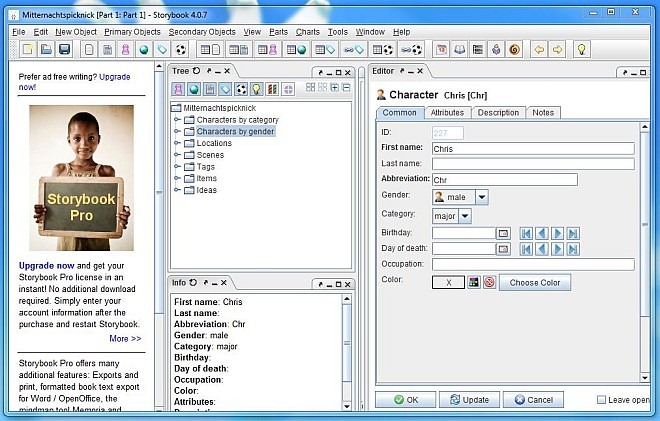 Overall, Storybook is a sophisticated software, which means if you don't know what you're doing, you may find yourself lost. Should you have some unfinished novellas at your disposal, or various other ideas lurking in your mind, the software might come in handy to bring your ideas into reality. It is available both as a Free and Pro (Paid) variant, where the latter comes packed with extra features such as Storybook Memoria and Charts. The application works on all versions of Windows, provided you have JRE (Java Runtime Environment) already installed.