Stream And Record Tracks From Online Radio Stations With Tapin Radio
Tapin Radio is a miniscule application which offers access to hundreds of international internet radio stations with an option to stream and record the track which is being played. Comparing with previously covered applications like Musicy, Nexus Radio, and Hi-Q Recorder, it offers a dead simple interface with just two options for playing and recording the stream, you don't have to mess around with audio configurations, recording settings, and other media streaming options to set it up. Search bar is also available on the main interface to filter radio stations by music artists, cities, music genres, and so on.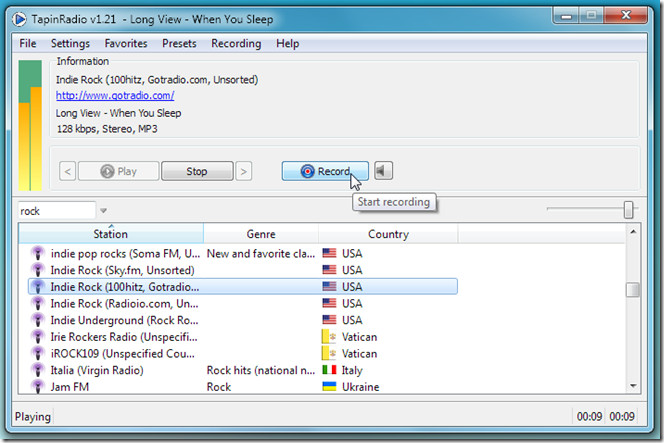 By default, it saves streamed media in your Documents Music folder, however, you can change the output location along with settings for stream buffer size, UI background/gradients, and tweak with pre-defined search behaviors. For yours convenience, a list of internet radio presets is also provided to pick out one station that airs specific genre of music which you like to listen.
It runs on Windows XP/Vista/7, we tested it on Windows 7 x64 system.