Strip, Replace, Deduplicate, Prefix File Names With Bulk File Manager
Despite the fact that many programs have been contrived especially to bring ease in managing files and folders yet there is a need of an application for performing batch operations over enormous sized data. Bulk File Manager is built solely to address this very need. It is a simple application which enable users to perform multiple operations over the set of files in specified location. The primary goal is to add a prefix to set of files, remove a repetitive text from files' names, replace text, and remove all duplications.
The interface is quite simple and self-explanatory. All the features are expanded under tabs, having relevant options. For instance; if you want to remove repetitive text from file set, under Strip Text from File tab, specify the location of folder, under Text to Remove input box, enter the text to strip. You also have an option for including folders in the process to remove text from directories' names. For including directories' names, enable Strip from Directories option. Now Click Strip Text button to remove the text from files and folders names in bulk.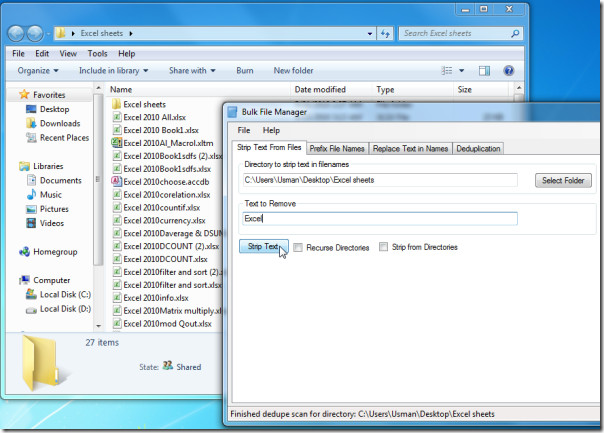 This will promptly remove specified text from the set of files as shown in the screenshot below.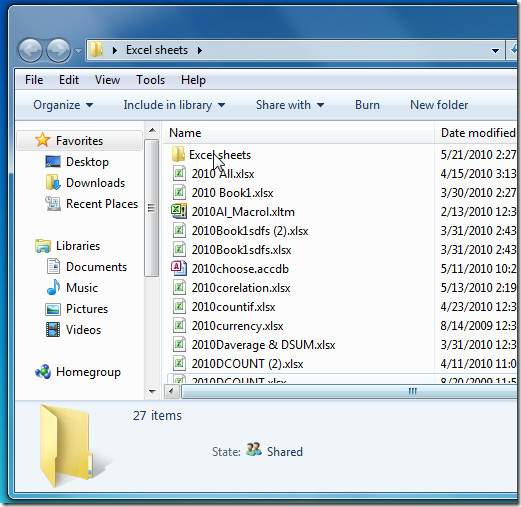 Adding Prefix feature comes useful to add a prefix to the files & folders names in one go. The procedure is quite same as aforementioned for stripping text from file name. Specify the location, and under Prefix to Add, enter text that you need to insert with every file and folder name.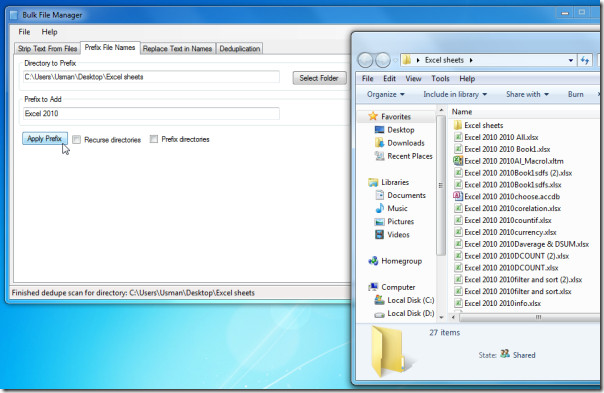 For replacing files name text, specify the folder location and just enter the text to replace and text to be replaced with. Inclusion of directories in the process is also available, so you can replace directories' names in one go.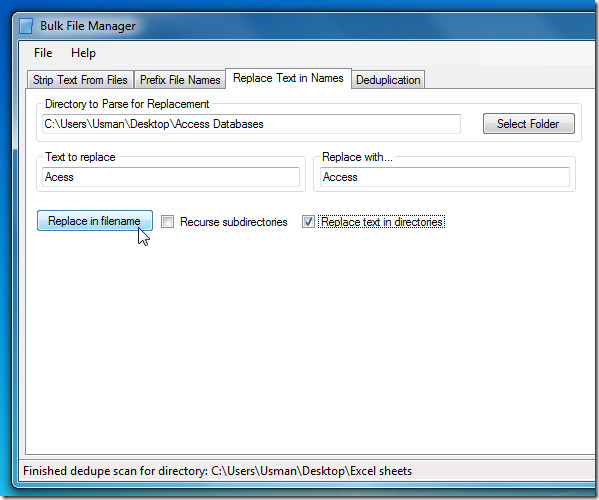 Deduplication feature will be of great help for finding out duplicates and removing them instantly. An efficient algorithm behind its working will let you find all the duplicate files from the specified folder and provide you with an option like; Viewing file location, deleting all duplicate files and deleting every duped file in list. To validate duplicate files, you can click the file it found out during scanning process to view the corresponding duplicate file.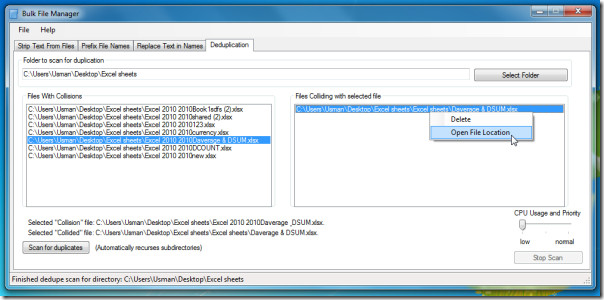 Casing short, it is one brilliant batch files and folder management tool, which provides an effective way to perform multiple operations. If you've been looking for one stop solution which let you change the file and folder name without much effort, give this application a shot.
It runs on all Windows based OS, we tested it on Windows 7 x86 system.