StrokeIt Is Feature Rich Mouse Gesture Application
Mouse gesture utilities not only enhance the usage of mouse but they're also responsible to quickly perform an action over active application by just drawing the associated gesture. For instance, with mouse gesture app, you wont have to manually click close button present at top-right corner of window, just draw the defined mouse gesture anywhere to close app window. StrokeIt is by far the most comprehensive mouse gesture application that we've seen. It comes with a slew of pre-defined mouse gestures to control different aspects of applications. The supported applications are,  Windows Media Player, Internet Explorer, Google Chrome, Chat programs, Opera, Outlook, mIRC, Winamp, Windows Explorer and a lot more. Additionally, it contains a long list of Global Actions which can be performed on / from multiple types of applications, including, invoking default email client, run web browser, run explorer, print, undo, redo, find, close MDI window, etc.
The application sits in system tray, allowing you to enable and disable it with a single click. Running it for the first time requires configuring mouse gestures actions. Just click the system tray icon to bring up configuration console. The left sidebar displays all the supported mouse gestures categorized into different groups. You can, for instance, set basic gestures from Global Actions list, Windows Explorer related gestures from Explorer, and expand any application group, like Windows Media Player, Google Chrome, Winamp, from the list to change their pre-set mouse gesture actions.
To add a gesture, select the action followed by gesture from right side and click Add Gesture. Now draw gesture while holding down mouse right-click button that you want to associate with selected action. Once drawn, it will replace the default mouse gesture.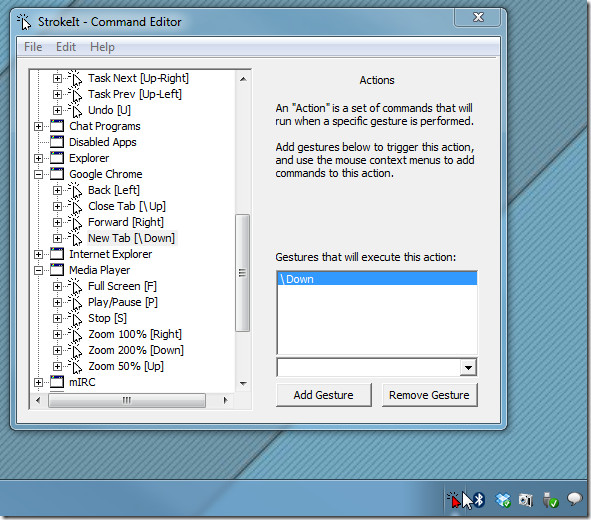 Now first, right-click StrokeIt icon in system tray to enable it and then draw the gesture over the application window while holding right-click button to perform the assigned action.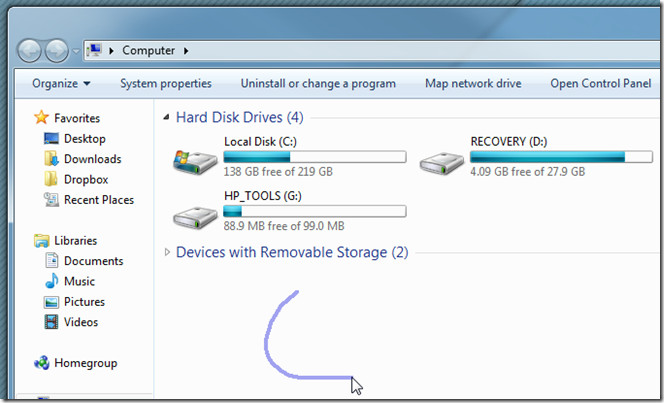 StrokeIt automatically identifies unassociated gestures and prompt you to specify an action for it. This way you can quickly set a new mouse gesture for any of the supported application.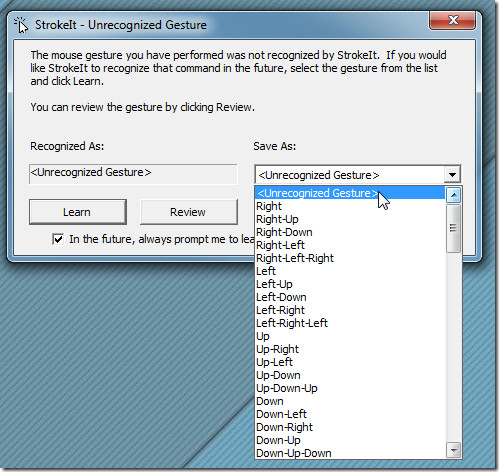 You can change different application and gesture related settings from Preferences window. It allows you to disable prompt for unrecognized commands, enable StrokeIt in configured apps only, change gesture colors, change gesture drawing click button, and default ignore key.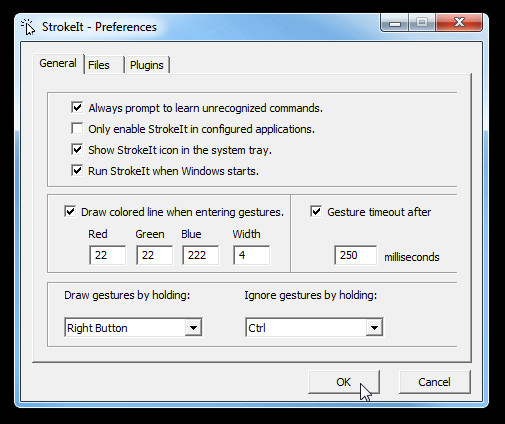 StrokeIt is a must have application for those who hate using exhausting hotkey combinations to quickly perform different actions over applications. Apart from supported applications, it also allows you to configure new applications and set their functions with customized gestures.