Subtitle Mechanic: Adjust Synchronization For SUB, SRT & TXT Subtitles
When loading subtitles for videos, there can often be synchronization issues. While there are a number of advanced subtitle editing applications to correct such issues, or to write subtitles from scratch (such as Gaupol), these applications are often too complicated to use. Subtitle Mechanic is a portable application that simplifies resolving subtitle synchronization issues, and allows changing the display timing for their SUB or SRT files. This application has been developed by the same developer who previously brought us the automatic screen locking application called ScreenBlur.
All you have to do, is to load subtitles from a SUB, SRT or TXT file, and adjust the sliders to change subtitle display time. The editing options can be toggled by clicking the four options located on top of the sliders for editing dynamic, linear, dialog or to convert subtitles (13.031 FPS). The loaded subtitle file clearly displays the precise text, time and related details to allow you to adjust synchronizations settings.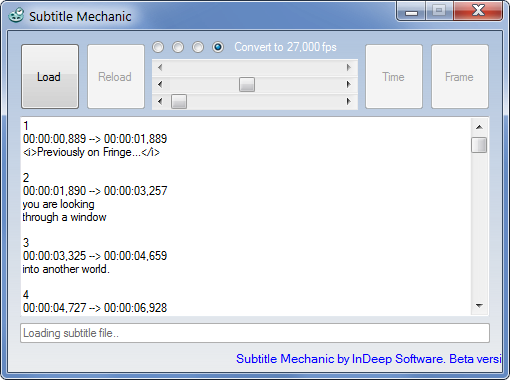 To reset the subtitles for re-editing, click Reload. A backup directory is automatically created within the source folder of Subtitle Mechanic, which creates a backup of the edited subtitles. It is worth mentioning here that Subtitle Mechanic is still in beta, and, therefore, it may suffer from bugs and functionality issues. Subtitle Mechanic works on Windows XP, Windows Vista and Windows 7.