sWeather Lets You View and Compare Weather For Multiple Locations
Keeping an eye out on weather is important. Obviously, you don't want to plan out to go swimming with your friends, only to realize later on that the pool is actually filled with rain. That's why there are various weather applications at your disposal, so you can know what weather it is like, round the clock. If you are looking for a simple weather application that doesn't clutter your desktop, or consume your PC's resources, sWeather can help. sWeaher is a portable, system tray-based weather application that supports multiple locations. It collects data from Yahoo! Weather Service, and the system tray icons displays the current temperature and weather condition of selected location. Maximize the application to view a detailed description, including humidity, visibility. wind speed and direction, sunrise/sunset timings and the next day's basic forecast. You can store and switch between multiple locations in the application's basic view, while the expanded view allows you to compare weather conditions for multiple locations.
The interface of sWeather has drop down menus at the top, namely File, Locations, Options and Help. Weather details appear in the middle and buttons for Go to Next Location, Go to Previous Location, Refresh Weather Data, Show Expanded View and Show Options Dialogue are at the right side.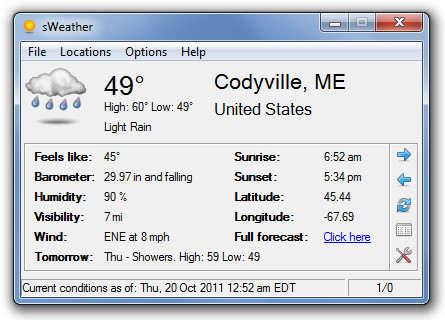 To store your location, click Options and choose Configure. In the configuration panel, click Add to enter your location and its WOEID (Where On Earth ID – more on that below). Under Options, you can change Temperature unit, enable/disable Temperature Tray icon, allow Start with Windows and Start minimized. Moreover, you can change the system tray icons from the drop down menus at the bottom-right side of the dialog box. Click Save to complete configuration.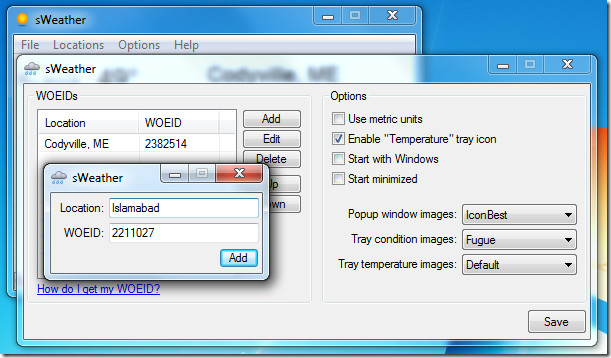 To get your WOEID, open Yahoo! Weather in your browser and search your location. WOEID is the numeric portion at the end of the URL for the forecast page of your selected city.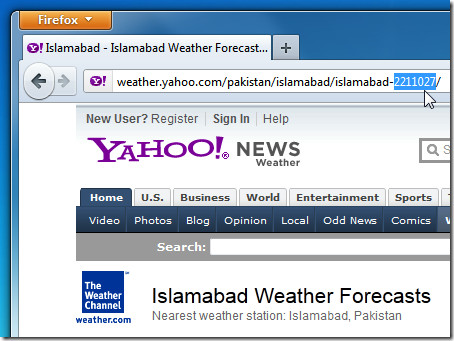 You can add multiple locations in the same way, and switch between them from the Locations drop down menu. Weather data can be refreshed by hitting F5 or choosing Refresh Weather Data from Options.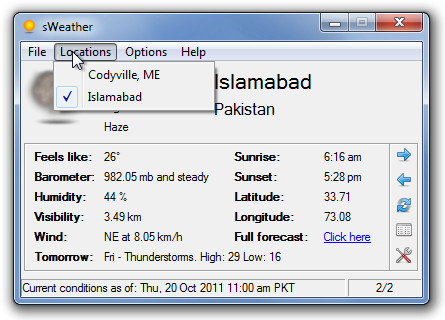 If you want to view and compare the weather for multiple locations, choose Expanded View from Options. Expanded View displays City, Region, Country, Temperature, High/Low, Humidity and several other weather variables.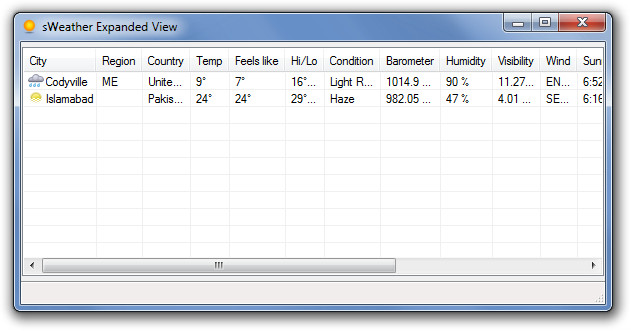 sWeather works on Windows XP, Windows Vista and Windows 7, for both 32- and 64-bit architectures. Testing was carried out on Windows 7 Ultimate.