Sync Breeze Is Fast File Synchronization Tool
Windows 7 Sync Center is great for syncing files across network, mobile, and wireless devices, but when it comes to syncing the files with external drives it fails. This is because it was not designed for this purpose in the first place. 3rd party file synchronization tools are still popular and SyncBreeze is yet another one to come up.
The ease of use combined with fast one-way and two-way sync speed makes it stand out from the rest. Just hit Sync, choose the source directory, destination directory, and the sync mode. There are five sync modes(see screenshot below).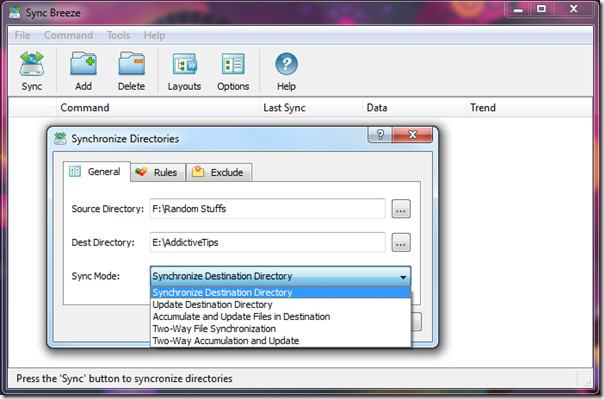 You can also exclude a certain directory from the Exclude tab. The Rules tab is for Pro version(paid only) which allows users to define specific rules.
Hit Sync button and it will show you the scanned result from where you can select which files to perform action on. When ready hit Sync and it will do the rest.
Sync Breeze is not an advanced synchronization tool, but would suit to most novice users who prefer fast sync speed. If you are looking for a free advanced sync utility, check out FileMyster.
It works on Windows XP, Windows Vista, Windows Server 2003/2008, and Windows 7. Enjoy!