Sync Files To An Encrypted Local Or Network Folder With CryptSync
SkyDrive, Google Drive, Dropbox, SugarSync and Box.net are just a few of the most popular names from the ever-growing cloud storage industry. Not only are these companies dominating the industry, but they also provide secure, best-in-class services that most of us seek when choosing cloud storage. If you're an avid cloud drive user and want to encrypt your files before moving them to the cloud, or simply want to encrypt them for any other purpose to keep them safe from any prying eyes, give CryptSync a go. It's an open-source application that lets you synchronize a pair of directories, and also encrypt your files in the process. The tool supports both local and network directories, and can particularly come in handy to encrypt files before moving them to the cloud.
The application allows to specify a pair of folders as source and destination, and then sync file changes at both ends. Though CryptSync's obvious mainstay is its ability to encrypt the files in the destination directory. Using the app is dead simple; just launch the app, click the 'New Pair' button on the right, and specify the directories that you wish to synchronize. You can also double-click any previously added pairs to edit your settings. There's also an 'Ignore files' field at the bottom that enables you to specify any file types you may want to exclude from the syncing process. In case of excluding multiple file types, simply separate them with the '|' character (without the quotation marks).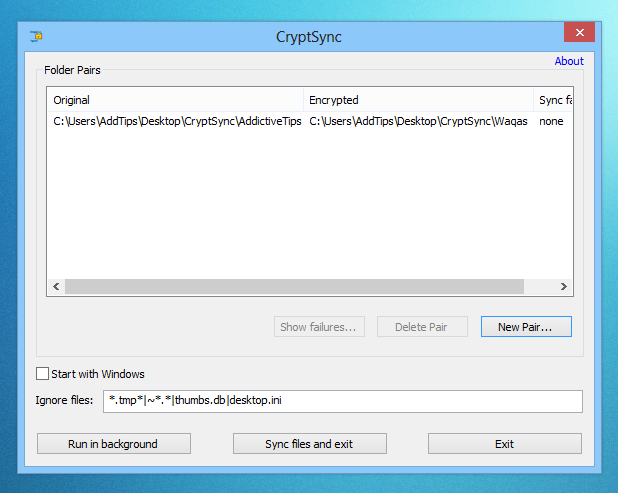 After clicking New Pair, you can point CryptSync to the directories that you want to synchronize. The directory containing the original files (source location) remains untouched, as files are only encrypted in the destination (Encrypted) folder. Next, enter the encryption password that will be needed to decrypt the files later. If you also want to encrypt the names of the items, simply enable the 'Encrypt filenames' check mark at the bottom. The 'Mirror original folder to encrypted folder' option only make changes to the destination directory while keeping original files intact so if you want to sync files at both sides, you can leave this option unmarked.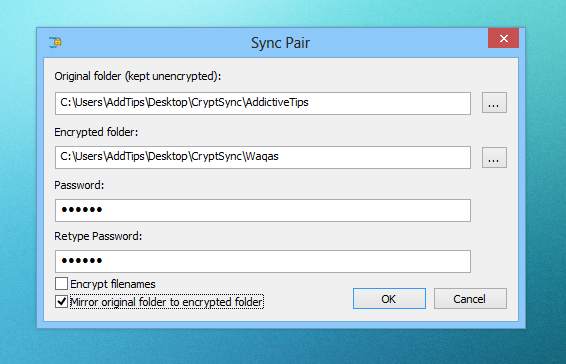 The encrypted files can be easily decrypted by opening them in a file archive tool (7Zip or WinRAR, for instance). Make sure you enter the password that you specified during the encryption process.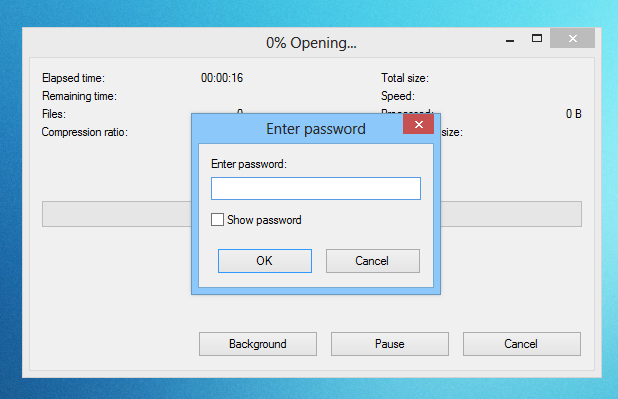 The application works on Windows XP, Windows Vista, Windows 7 and Windows 8. Testing was carried out on Windows 8 Pro, 64-bit OS edition.