Sync Folders, Document States & Browser Tabs Across PCs With Cupcloud
Cloud computing has been around for quite a while but unlike its early days, the technology has substantially evolved in a lot of ways lately. Although most users employ it for saving their precious data on the cloud for safekeeping, there's a lot to it than simply saving your files. A novel example would be Cupcloud – a new cloud startup that aims to take your productivity to the next level. It allows you to save your current computer session to the cloud, and resume it on another PC right from where you left off. This includes your web browser tabs, open folders in Windows Explorer or Mac Finder, and Microsoft Office (Word, PowerPoint, Excel), Apple iWork, Adobe Acrobat documents, with support for more programs and applications already in the works. Keep reading for more details.
The service allows you to store your current session as a 'Cup'. When you cup a session, information regarding the supported programs is automatically synced to the cloud. Having done that, you can restore this session on another computer by doing an 'Uncup' from it. You can even share your cups with your friends, family and other users.
To get started, you will need to sign up for an early beta (link provided at the end of the post) using your email address, and then download the provided Windows or Mac OS X version depending on your operating system. If you use Google Chrome, make sure you install Cupcloud extension as well, when prompted upon launching the program.

Next, enter your credentials (email and password) that you used during beta sign up and click the Submit button in the app to get started.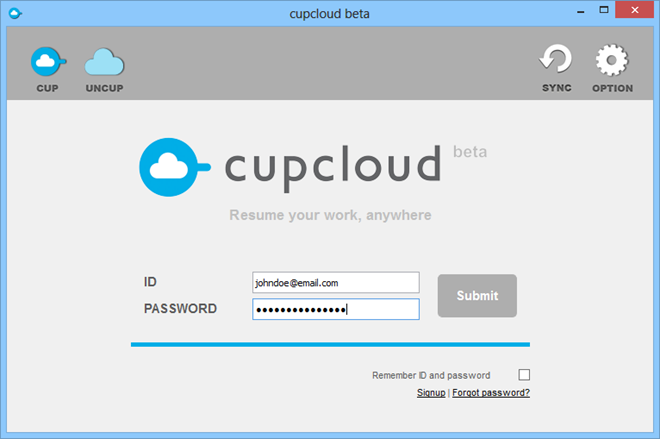 You will be presented with the main application window, from where you can easily start to cup and uncup your sessions. The software doesn't come with a lot of features but the ones that are there work absolutely as they should. This also helps keep it simple enough for everyone to use. To kick off, click the Cup button at the top and you will see your content in the right menu, including URLs of websites, files and folders, document files and so on. Now to resume your session, download and run Cupcloud on the other PC and hit Uncup – simple as that. That application also automatically syncs your current session with its corresponding existing cup, though you may manually do it as well, by hitting Sync.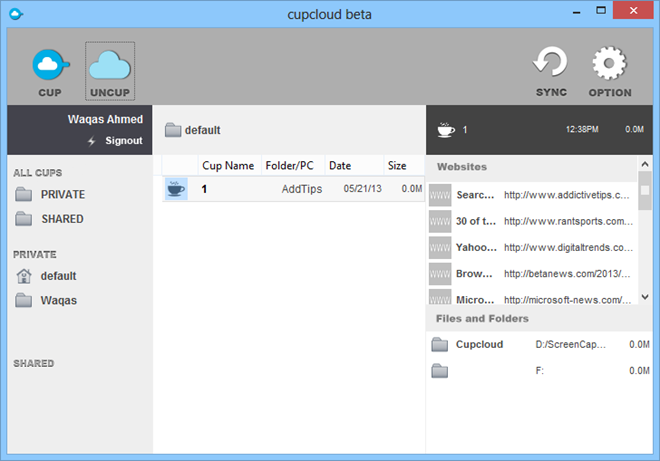 Cupcloud allows creating private and shared cups. The latter comes in handy should you want to share the same sessions with others around you. In addition, you can create folders in each category to keep your cups separately sorted based on parameters like date, name, title, time etc. Folders can be created under both private and shared sections. To share a cup, simply right-click a folder under the Shared section and click 'Send Invitation' from the context menu, followed by typing the email address of your intended recipient. They will simply need to download the app to be able to uncup and resume that shared session.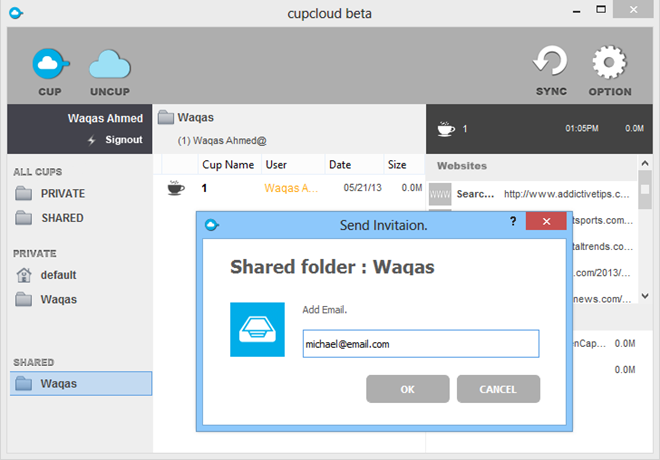 Cupcloud works on Windows and Mac OS X. Testing was carried out on Windows 8 Pro, 64-bit.
[via Lifehacker]