FlagSync – Sync iTunes With Portable Media Player, Backup Data On FTP / USB
Job-based synchronization and backup utilities are generally hard to configure as users often require setting up options to schedule sync/backup operations and one-way or two-way incremental and decremented modes before specifying source and target locations to run jobs. If you want to create and run sync jobs without having to configure such complex options, try out FlagSync.
FlagSync is an open source job-based sync and backup application for Windows which comes with minimal set of options to create backup jobs. It supports syncing files between local and network folders, USB flash drives, FTP servers, and other external storage mediums. What makes FlagSync unique is its ability to sync user-specified iTunes playlist tracks with any non-iPod portable audio player.
Additionally, it saves job files in plain XML files which includes sync job details like, mode, source and target folder, schedule, etc. This allows you to easily modify sync job configurations without having to load them in FlagSync console.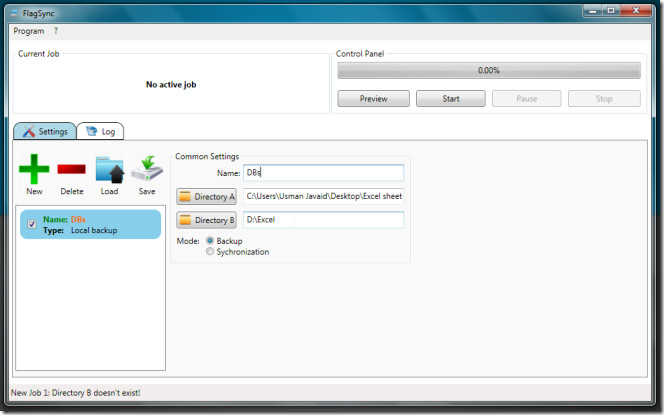 On main screen, you can quickly set up as many sync or backup jobs as you want. To create a new job, click New and select either, Local (to sync and backup local files), FTP (sync data between FTP and local location), or iTunes (sync iTunes library items with portable audio player).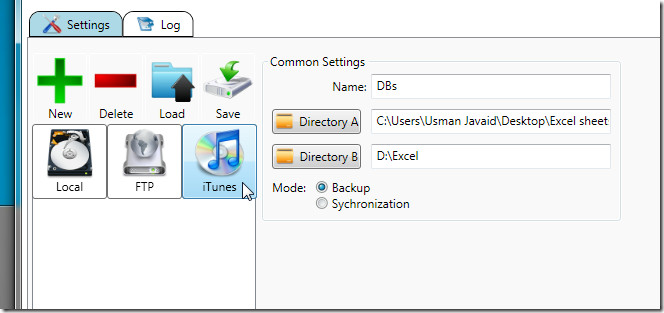 In case you choose local, you will need to specify source and target locations and then either backup or sync mode. Before saving the job, give the job an appropriate name. FTP job, it will ask you to enter FTP host address, username and password and local directory from where data is to be backed up.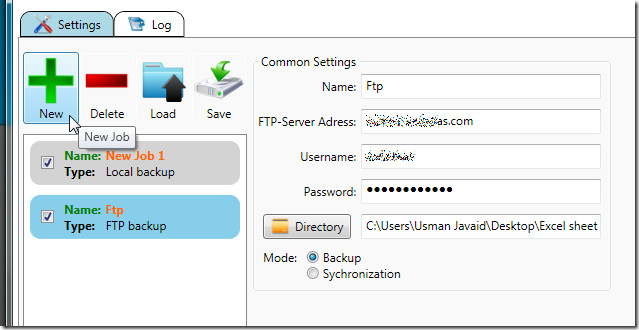 Just like other backup and sync tools, it allows you to preview all the files and folders which will be affected due to sync and backup jobs. Clicking Preview button after creating jobs will show all the files and folders which will be backed up.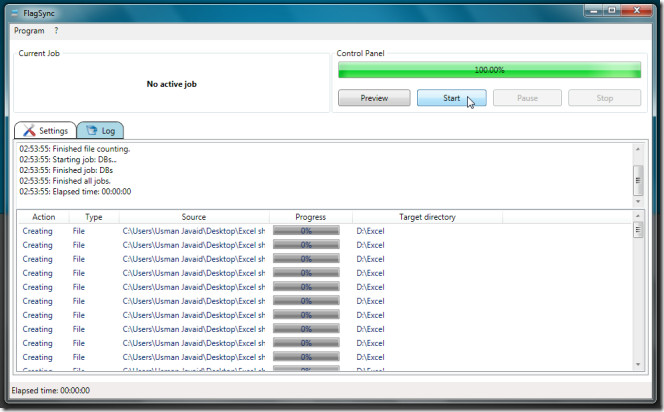 iTunes job option only works if iTunes is installed on your system. After it detects the availability of playlists, it lets you access iTunes playlists from drop down menu and choose target location to perform backup or sync operations between the playlist's source folder and defined user path.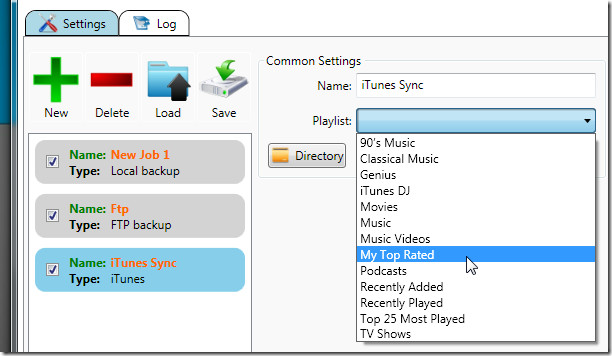 It's advisable to preview file backup and sync with iTunes job type to verify backup operation before actually performing it. Click Start to extract iTunes playlist track and sync/backup with portable audio player folder.
In all, FlagSync is an efficient application that makes it overly simple to create, manage and run multiple sync and backup jobs. It's an open source application that works on Windows XP, Windows Vista, and Windows 7.