How To Sync Timeline Activities Across PCs On Windows 10
Timeline is a new feature in the Windows 10 April Update. It's pretty nice especially if you have trouble picking up work where you left it off. You can use Timeline with a local account, or with a Microsoft account. It will work just the same with both however, if you use it with a local account you miss out on one aspect of the feature. You can sync Timeline activities across PCs but to do that, you need to use a Microsoft account.
Sync Timeline Activities
Timeline is enabled by default but just in case, open the Settings app and go to the Privacy group of settings. Select the Activity History tab, and make sure you've enabled 'Let Windows collect my activities from this PC'.
Underneath this option is another option called 'Let Windows sync my activities from this PC to the cloud'. This is where Windows 10 will prompt you to sign in with your Microsoft account if you aren't already. You will need to enable this same option on all other Windows 10 desktops that you want to sync timeline activities from.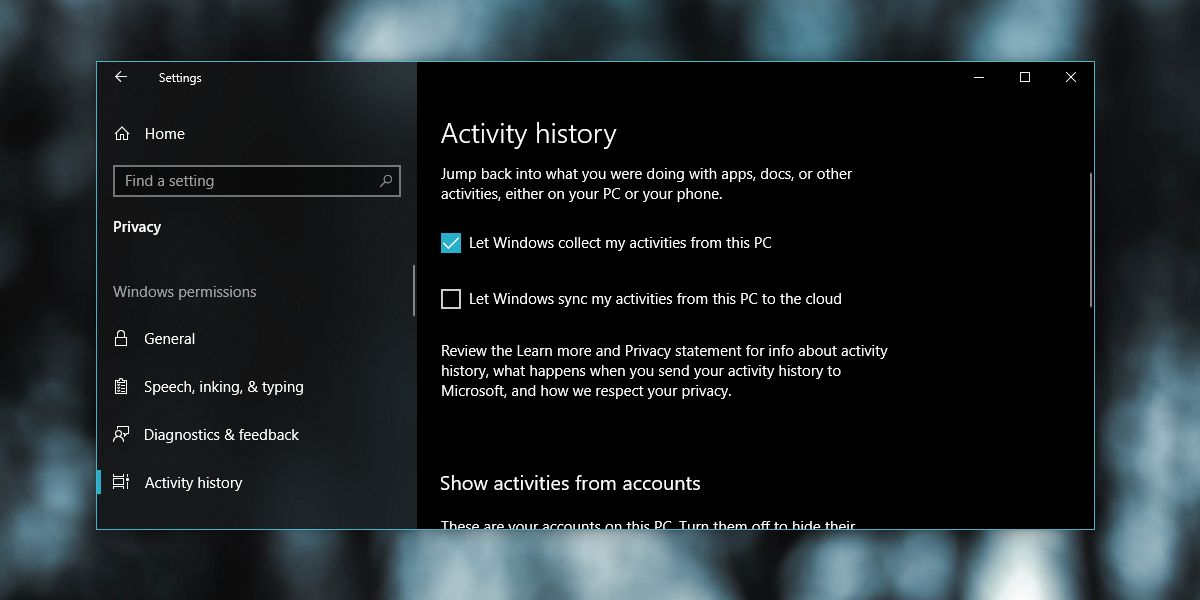 For example, if you have a work PC, and a home PC, these options must be enabled on both. It goes without saying that both PCs must be running the April Update.
If you already have Timeline running on your systems i.e., it doesn't need to be enabled, you can open Timeline by clicking the multitasking button next to the search bar/Cortana button on the taskbar. Scroll to the very bottom and you will see an option 'See more days in Timeline' and click the 'Turn on' button. That will essentially enable the Settings app option indicated in the screenshot above.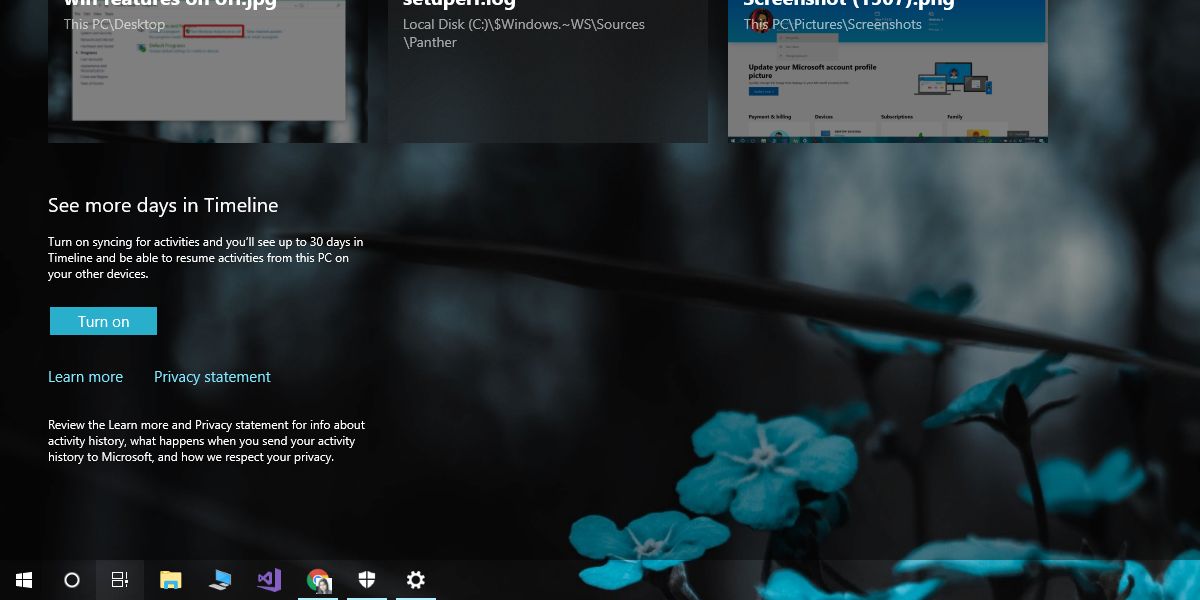 Timeline can sync activities, not files and folders. You cannot use it to, for example, automatically get a file that's on your work system and open it on your home system. It just doesn't work like that. If you think OneDrive is working silently, and magically in the background syncing every file you open to the cloud, that isn't happening. If it were, it would be a privacy disaster for Microsoft.
Timeline syncs activities, not content. Links will sync but that's about it. On that note, if you clear your timeline activity on one PC, you will not be able to recover it from other PCs that you sync Timeline activities to. Also, once deleted, there is no getting that deleted history back so be careful when you decide to remove it. Timeline maintains a 30 day history of your activities.