Synchronize, Backup, And Transfer Files With PureSync
PureSync is a multi-lingual feature-rich synchronization and backup tool having capability to perform synchronization and data backup in multitude of ways. To ease the process of syncing and backing up all the specified content, it provides user with self-explanatory wizards to easily begin with the process. As name implies, it mainly capitalize on syncing content from two different locations and can handle multiple (up to 5) syncing process concurrently. It also let users to keep tab on all the previous synchronization processes by offering its native file format for saving backup jobs.
The main interface prompts you to start off with a new job. All the jobs can be performed through detailed wizards. You can begin with either a New Synchronization, New Backup, Photo Sync, and Transfer Files job. For instance New Synchronization wizard will ask you to specify two folders to be synced in first step. In next steps, you can enter filters to exclude specific file types from the folder, set deletion option for folder, configure automatic syncing options, specify an action after the synchronization is completed, and in last step  name the job to quickly begin sync process. The wizard for other options like; Backup and Photo-Sync are more or less same as doing synchronization. At the right-side of the window, you'll see all the previously done jobs, you can edit/delete the job and also change its advanced options.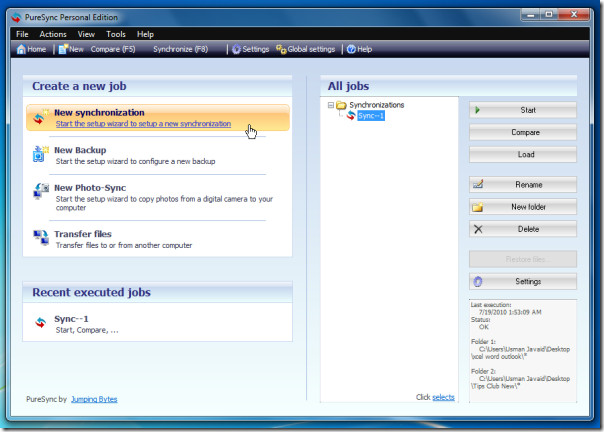 Once the wizard is completed, you will br taken to specified process window in question. For synchronization, you can start off with comparing two selected folder and view the general comparison of missing files or files to be synced. Clicking Synchronize will start the syncing process.
It is a highly-customizable application, letting you to change the UI which includes; skin layout, button bars, menu styles & icons, and other text color settings used in main interface. Apart from this, you can also change syncing options, backup settings, enable/disable Explorer integration, and customize other application behaviors. Yon can configure these settings from Global Settings under Tools menu.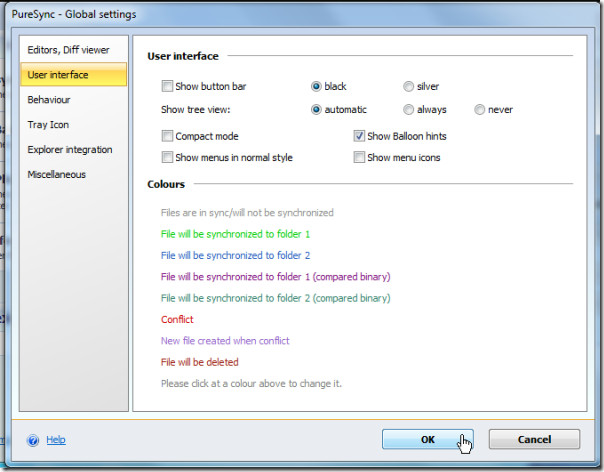 The application has certainly multitude of features and options to go around with different modes of synchronization. Back up feature is efficient and offers multiple options under detailed wizard to ease the process.
It runs on all Windows based OS, we tested it out on Windows 7 x86 system.
For more, you can check out Syncless and FileMyster