Synchronize Media Between PC & Mobile Using Salling Media Sync
Just a decade ago, computers were fast enough to do all that peta flop calculations they are capable of doing today. Besides our PCs, even mobile phones nowadays are practically computers with dual core processors and capability to perform almost every function that a computer can, including opening and editing text files, playing music and video files, playing 3D games, overclocking, communicating via video chat and what not. With this much capability, phones also come with gargantuan amount of storage space, which for a cellphone, is considered quite enough. With huge data storage capacities, it is common for people to sync and carry around important files, as well music and video collections, in their phones. Salling Media Sync is a Windows application that allows you to synchronize playlists, music and podcasts from iTunes, and photos from Adobe Photoshop Elements or Adobe Photoshop Albums SE, to your mobile phone. The application lets you sync selected or all the media from and to your mobile device. It's quite easy to use and consists of a simple interface design. Keep reading for details about its usage, including a few screens.
The application silently runs in the system tray, not disturbing your workflow, and automatically detects when a phone is connected to the computer through the USB cable.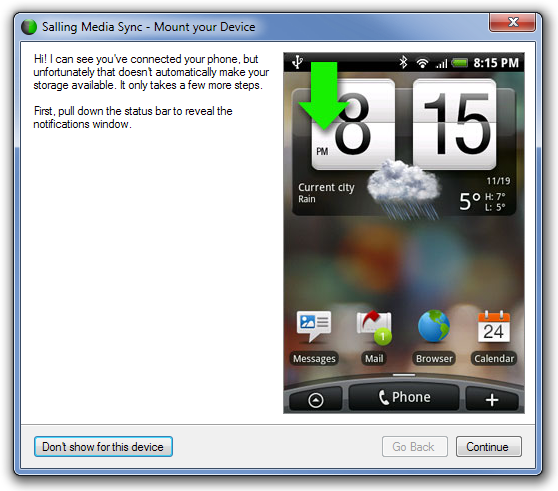 Once your  phone is successfully connected, the main interface of the application pops up, allowing you to view the Name, Last Sync Date, Total Storage Size and Storage Capacity. There are separate tabs to sync the files such as  Music, Podcasts and Photos, between your computer and mobile device. You can set a few parameters between the tabs, such as under Music, you may specify which playlists to sync. Mark the ones you want and leave the rest unchecked.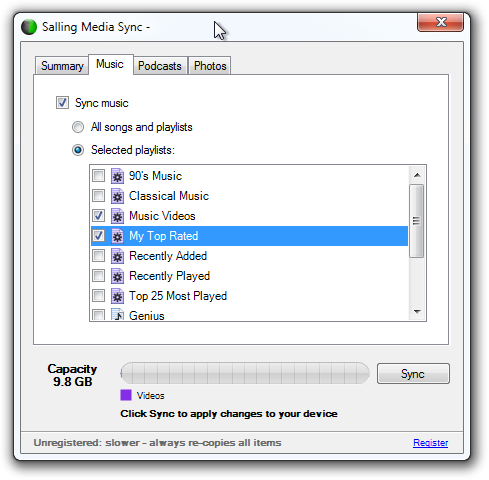 The application also allows you to view and manage storage space consumed by media according to media type, including Audio, Video, Pictures and Others. It displays the taken space in front of each category, and provides further information, should you click one.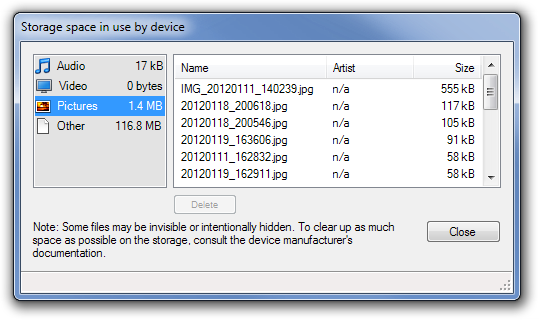 Salling Media Sync is a cross-platform application which seems awesome. It is a quick way to sync your media across your devices. The application works on Windows XP, Windows Vista, Windows 7 and Mac OS X. Selected phone models from Acer, Blackberry, Dell, Google, HTC, Motorola, Nokia, Palm, Samsung, Sony, Sony Ericsson, T-Mobile, and Verizon are supported. Testing was done using a Windows 7 64-bit machine.