SyncWall: Sync & Auto-Change Wallpapers With Effects Between Multiple Computers
I have covered various wallpaper applications in the past, the reason for which being my own fondness for new and attractive looking wallpapers. One of the awesome feature introduced in Windows Vista was its ability to automate the wallpapers, so you don't have to look to the same old boring background everyday. Third-party applications however, simply provide a lot more. Desktop wallpaper managers we have covered, such as, DisplayFusion, Mourao Wallpaper Changer and Kuvva, let you manage and automatically change desktop background after a certain period of time. These software were good for sure, but as we are always looking for something even more feature-rich, it looks like we found one.  SyncWall is an open source wallpaper manager that allows you to synchronize wallpapers between multiple computers. It lets you  changes wallpaper periodically and also has multi-display support. Coupled with a neat looking design, it enables you to set schedules for automatically changing wallpaper, define global hot key for changing the wallpaper, and add special effects to wallpapers, such as emboss, blur, sharpen, edge etc. Wallpapers can be synchronized, along with the basic display parameters, between multiple computers, by defining the server and clients. More on SyncWall after the break.
The main interface allows you to add wallpapers to the application, preview selected wallpapers and select wallpaper itself. The Auto Change in random order option allows you to randomly shuffle between the wallpapers included in the list.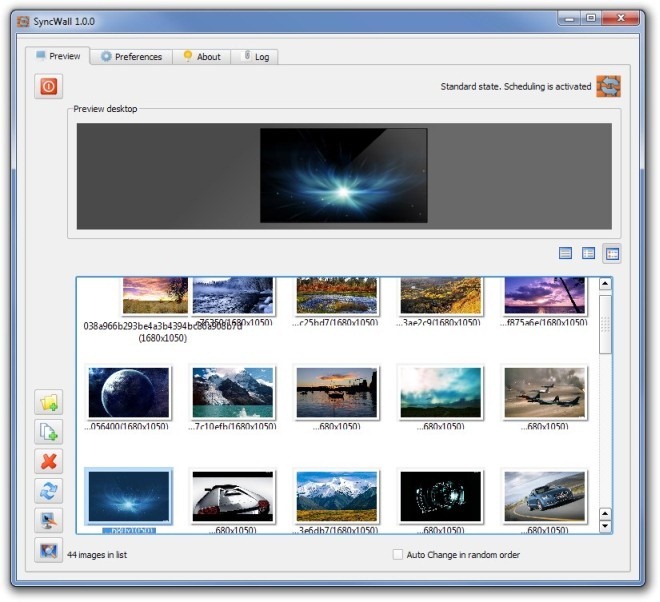 There is also a Preferences tab that allows you to define global hot key for changing wallpaper and set scheduling parameters, like Auto change at startup and Change interval.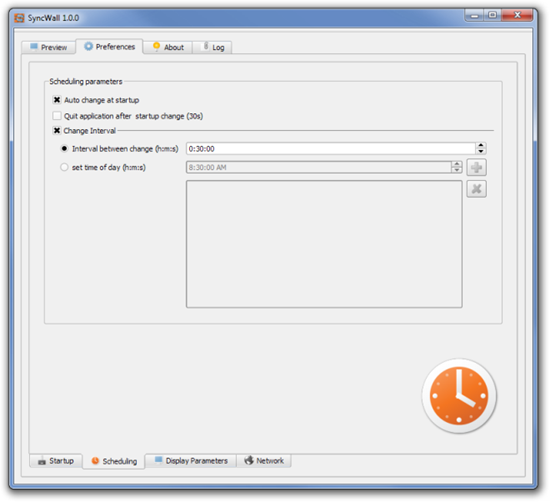 At the bottom, the Display Parameters tab under Preferences contain various additional options. It enables you to share the image between multiple monitors, export image parameters to clients, choose the resizing method and apply the aforementioned special effects on the background. There is also a Network tab which allows to synchronize your wallpaper by entering the Server and Port.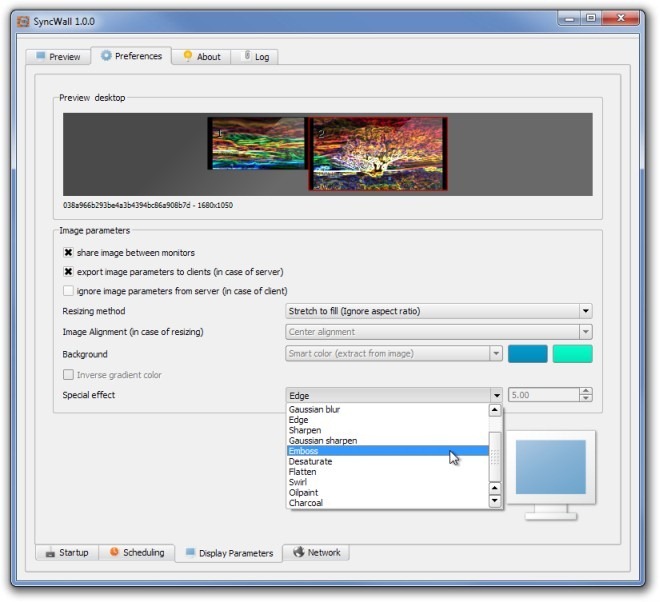 SyncWall is rather a unique application in one way or the other. Its perfectly does what it should and lets you play with various settings. How ever there are few lackings, for instance,  the application lacks the option to set separate wallpapers if you have multiple monitors connected to your computer. Otherwise, it's a very useful cross-platform wallpaper manager. It works on Windows XP, Windows Vista, Windows 7 and Linux. Both 32-bit and 64-bit operating systems are supported.