System Nucleus Is Windows Maintenance, Diagnostic, And Backup Tool
System Nucleus is a robust  application which caters 10 most useful Windows tools. The idea behind the built is to provide users with various Windows build-in tools under one window for performing multiple routine tasks. Prominent features include; Backup & Recovery, Process & Program management, Start-up & Services settings, and System audit.
You will see all the tools right up front on the main interface, all that is required is to click the desired tool to launch right in the application. It supports tabbed interface to let user launch and manage tasks simultaneously. Each tool has  its intrinsic features and options to get along with. Diving deep, the Backup & Recovery feature checks registry hives, event logs, and all of the installed drivers. It also lets you install / uninstall programs in bulk. COM feature lets you view, start, restart and edit installed COM+ applications. You can view all disk and drives' details from the Disks & Drives feature.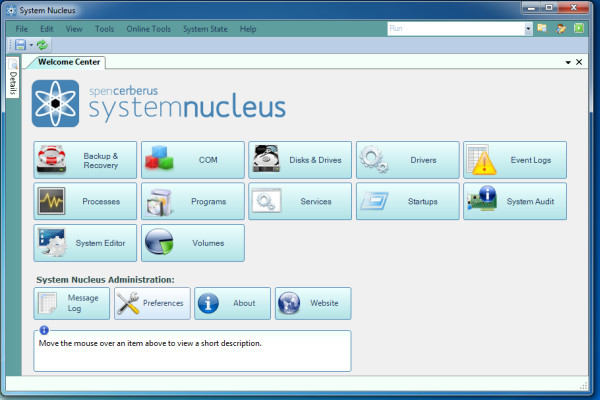 Another power feature is managing installed drivers. You can start, stop, enable, or disable any driver by simple clicks. Process management also have made easier than before. Services feature lets you start, stop or manage windows services easily. Furthermore, it includes online help to easily find out the best solution of multiple problems such as; Malware/Virus scan, Log analysis, Security auditors, and lot more. Under Online Tools menu, you can easily open the online help page in question.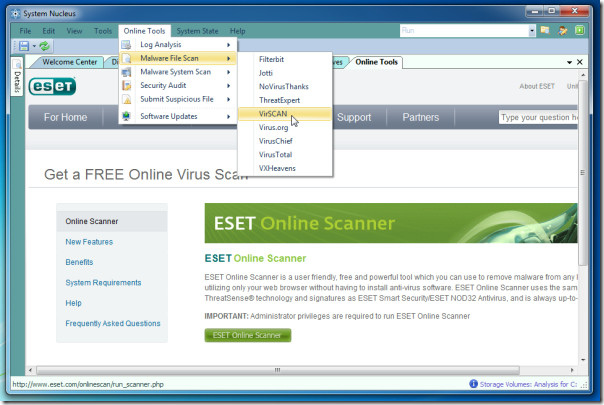 Apart from 10 mostly used tools, it also lets you explore other Windows build-in tools, which are categorized under Tool menu. You can launch any administrative task, Control Panel item, run Diagnostic & Repairing tool, view & manage Network Connections, optimize Security, and Configure other basic system settings from respective categories.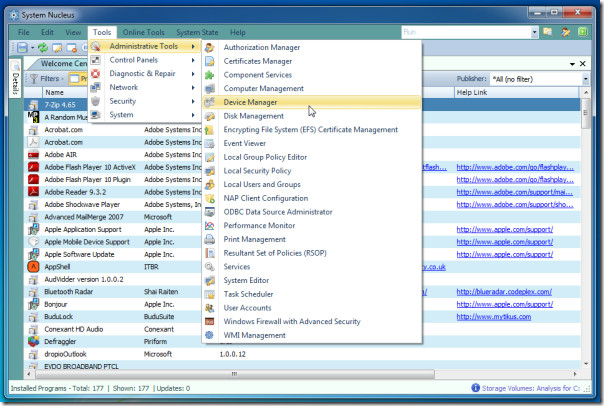 As it encompass multitude of tools & features, you can always save the application's view to quickly track-back to the previously launched or used tools' window. To save the windows state, under File menu, click Save Current View. For change application's general preferences, under Edit menu, click Preferences. It shows multiple categories at the left side bar which mainly includes; General application settings, Confirmations, Disk & Drives, Input Response, System Editor, etc.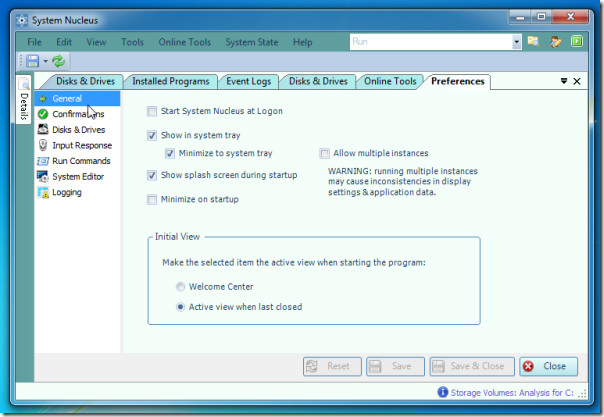 All-in-all, it is one awesome application which allow users to view, maintain and tweak system resources smartly and efficiently. It runs on all Windows based OS, including the latest Windows 7. Testing was carried out on Windows 7 x86 system.