Take Full Advantage Of Your Widescreen Monitor With SplitView
Aero Snap is very useful which is used a lot by people who need to keep multiple windows open at a time, but do not have more than one monitor. If you have a big monitor, you can use the space instead to host multiple windows instead of just one but resizing them manually can take a lot of time. Aero Snaps simply automates the process, however, it is only available in Windows 7 and above. SplitView is an application that lets you split your monitor into multiple virtual monitors, enabling you to take full advantage of your widescreen or high resolution monitor. Aero Snap, which performs almost the same function, is only available in Windows 7, whereas, SplitView brings the same functionality to Windows XP users. You don't have to manually move or resize your application windows to fit your desktop. You can run two or more application side by side, simplifying tasks like copy/pasting and comparing documents. Moreover, when using extended desktop, it allows you to snap application windows to the left and right side of your screen with just a click.
The application adds two buttons, Go Left and Go Right, to your application windows that let you move the application window to the left or right side of the screen. Right click on the bar of a window to access options to Go Left, Go Right, Go Up and Go Down, allowing you to resize and attach the active window on the respective side of the screen.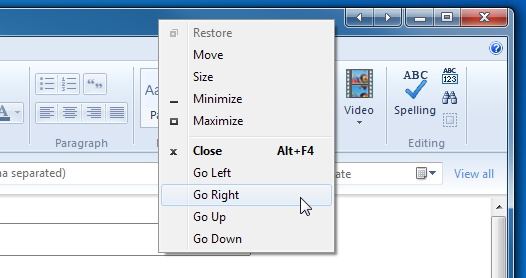 The Options menu can be accessed by right clicking SplitView's system tray icon. The Windows Buttons tab has options to Add the Go left and Go Right Buttons, Add Them To Resizable Dialogs & Popup Windows and set Gap Between SplitView and Standard Window Buttons. If you don't want to add SplitView buttons to any application, click Add button to specify those applications. The Window Menus tab lets you specify actions to add window menus for. The Miscellaneous tab has options for Keyboard Shortcuts enabling you to use hotkeys to move and resize windows, whereas Advanced tab lets you change Screen Division parameters such as number of pixels and parts to split screen into and Multi-monitor settings. Click OK when all settings are done.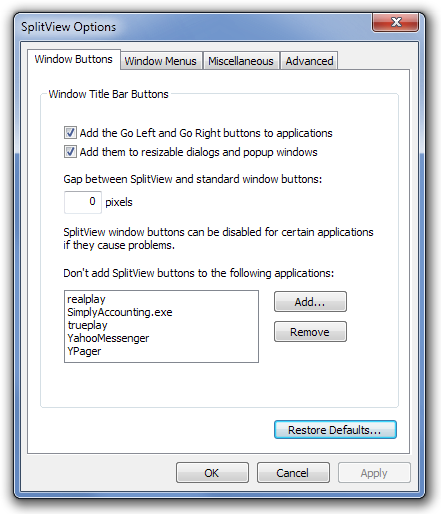 This article covers only the basic features of the application. More details related to the tool are available on the product page. SplitView works on all 32-bit and 64-bit versions of Windows XP, Windows Vista and Windows 7.