Take Screenshots And Auto Add Shadow & Rotate Effects With QuickScreenshots
Do you need an advance screenshot taking application which provides some extra screen capturing features with auto-editing options? Check out freshly developed QuickSscreenshots. It's an open source tool which works from system tray, letting you quickly select the way you want to capture screen area. There are 3 basic ways in which screenshots can be taken; full screen, region capture, and active workspace capture. Each mode is mapped with customizable hotkey combination while option to auto-save the images at defined location is also available.
A small editor is present to tweak with screenshots. Unlike other screenshot taking apps' editors, it however doesn't provide options to draw shapes over images, but allows adding shadow effect and rotating taken screenshots by defined angles. The shadow effect is added to all corners of image, giving it the most appropriate facelift that you want. Being a customizable tool, you can also change the shadow effect settings; apply different shades and change background color as well.
Once installed, it sits in system tray, letting you select the way you want to capture screen area. Right-click its icon and select the required option.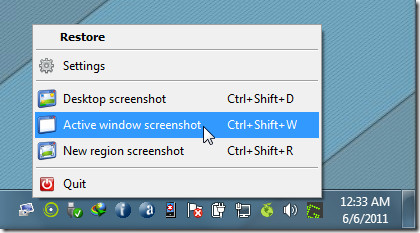 However, if you want to associate hotkeys with each screen capturing option, open Settings dialog box. From General, you can enable auto copy to clipboard and include mouse pointer in screenshots options. Underneath it, hotkeys for each screen capture method can be configured. The Auto Save window lets you include customized prefix in captured screenshots titles and specify default screenshots save folder.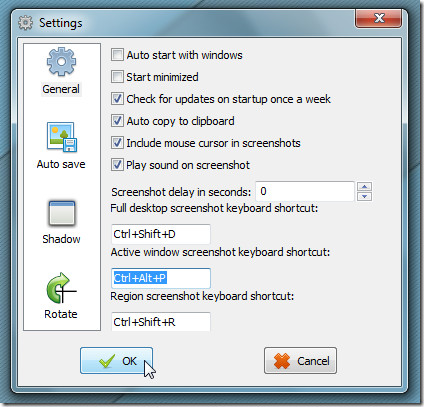 By default, it applies grey color shadow around screenshots, however, you can choose any color from provided color palette. You can also replace white background with any color of your choice.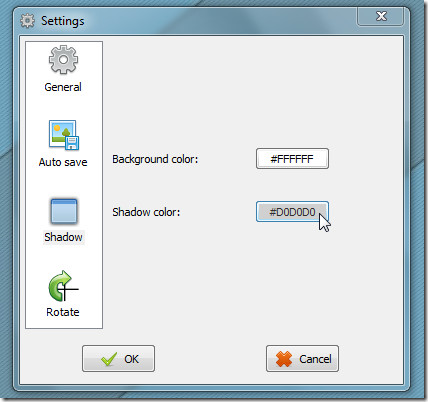 Similarly, image rotation can be changed from Rotate window. Just define the angle by which images are to be rotated and it will automatically save screenshots according to defined settings. Once you've configured all the settings, use the hotkey combinations to capture the screen area.
QuickScreenshots is in its infancy and we hope that dev team will add more useful features in coming releases. Currently, the only downside is, that it saves screenshots in JPG format. It would've been great, if it'd support other image formats, such as, PNG, GIF, TIFF, etc. Did we mention that the portable version is also available?
To take screenshots with  Windows 7 Aero Glass effect, check out Shotty.