Take Screenshots & Share Them Across The Network Using Kidsnapper
There are many famous screenshot taking tools like GreenShot and Shotty, which enable grabbing and editing screenshots. However, sometimes one requires capturing screenshots from not just the current system, but also from remote computers (e.g., servers) to check whether required processes are running or not. Moreover, it can also be necessary to share your screen with other users across a network which may have various operating system like Windows, Mac or Linux. Kidsnapper is a portable screenshot taking and sharing tool that not only allows grabbing screenshots from your current desktop, but also makes it possible to share screenshots with remote computers via local web server.  This can help people using various operating system platforms to get screenshots from Windows-based computers. For example, a system administrator using a Linux operating system can get screenshots from Windows-based clients' PCs on the network by simply entering their IP address and port (2000 by default) in a browser.
Kidsnapper registers Shift+Print and CTRL+Print hotkey combinations for capturing entire desktop and capturing current window, respectively. Apart from manual screenshot taking methods, you can turn auto snapshot option On to automatically capture screenshots after pre-defined intervals.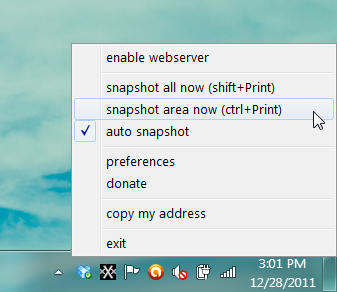 Clicking enable webserver option will allow other computers on the network to fetch your desktop screenshot by entering the IP address followed by port 2000.
In order to configure advanced options, open Preferences from system tray menu. You can change the default port (2000), image quality level, enable ask before sending snapshot option, select a directory for saving the screenshots, specify the default desktop area that is to be captured, choose sound files for application actions, and select a service for obtaining your external IP address.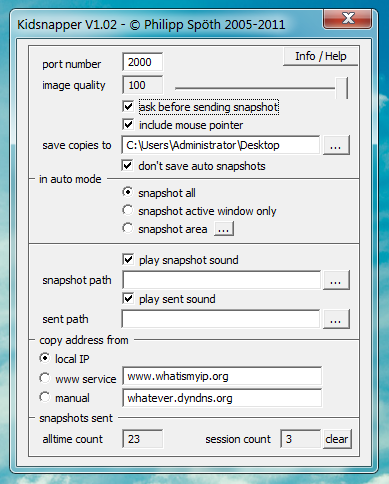 Kidsnapper works on Windows XP, Windows Vista and Windows 7.