Talk.to Brings Its Facebook Chat & GTalk IM Aggregator To Windows 8
There have been countless instant messaging services around for nearly two decades. Social networking has also become incredibly popular during the past few years, particularly after the popularization of smartphones, and everyone wants to stay connected with their friends and family. Following this norm, services like Facebook also offer their own chat platform. Since a lot us now use multiple chat services, it can be quite tedious to handle all these accounts from different apps. Fortunately, there are multi-protocol chat clients for that. Previously, we covered the Windows 8 app of the renowned IM+ that allows you to chat on multiple services under one hood. Talk.to is yet another such app for Windows 8 and RT that has recently landed on Windows Store. The app lets you sign in to four different accounts simultaneously, and supports Facebook, Google, Windows (Microsoft account for Windows Live Messenger) and Pingpong.
Talk.to is not new in the business; the app has been available on desktop, iOS, Android and Windows Phone for a while now. The Windows 8 & RT version, however, has recently made it to Microsoft's hybrid OS, and provides an eye-catching UI. The user-interface feels inspired by Skype's light blue signature design and Google Talk's logo.
When launched, the app lets you sign in to your account for the supported services. The process of signing in is straightforward; you just need to click or tap the service that you want to add, provide your credentials i.e. username and password, and grant the app the appropriate permissions if requested.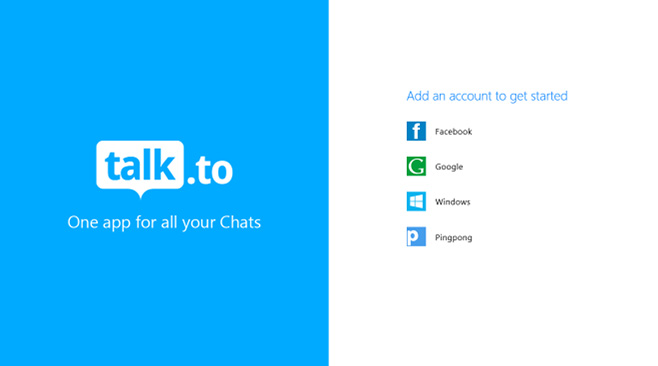 When you've signed in to an account, the app presents you with the list of available contacts who are currently online. The app displays the contacts lists of all added services separately. For example, you can click or tap Facebook to view your Facebook buddies who are currently available for chat. Likewise, hitting Google Talk takes you to the list of your Google contacts. The app also shows the online state of the contacts such as available, idle, busy etc., by displaying a color-coded line next to their name.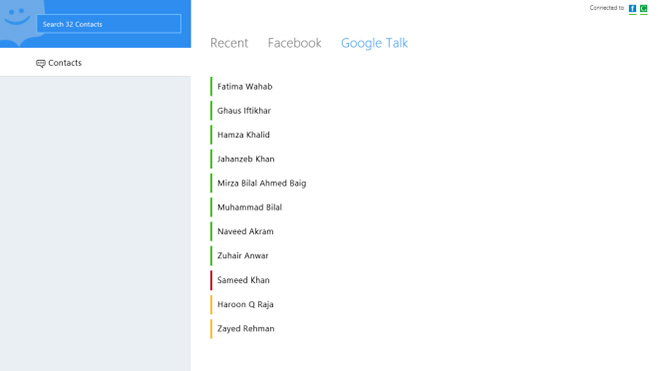 When you begin chatting with a contact, their display picture and name appears in the left bar. This feature makes it easier to instantly switch among multiple contacts. Along with sending messages, Talk.to also allows you to share files with your recipients. Furthermore, it also supports emoticons to add a more visual touch to your messages.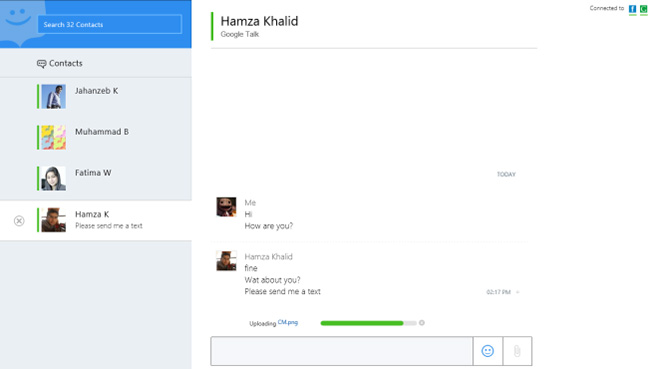 If you want to add an additional account or remove an existing one, head over to the Settings screen. To open this screen, simply click Settings in the Charms Bar, followed by Preferences.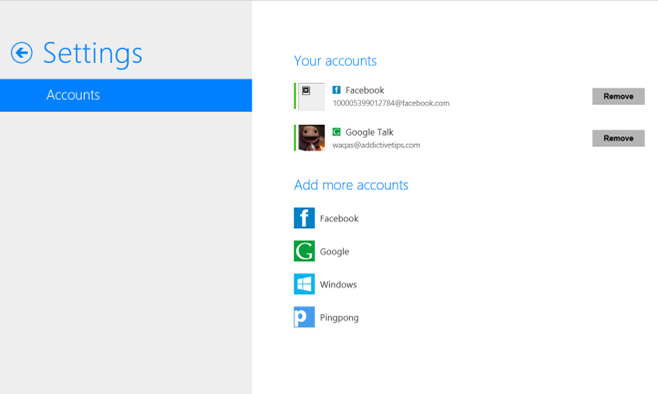 While not as feature-rich as IM+, Talk.to is a great cross-platform application that provides a feasible solution to use these chat services under one roof without complicating things much, and keeping every thing clean and minimal. You can download it for free from Windows Store.