Task Robot Is An Easy Task Automation Tool For Windows 8
Every once in a while, we come across a software that looks quite cheesy, but offers some features that we simply cannot resist giving it a try. Task automation and user assistance tools often lie among those applications (you probably have heard about Siri, right?). If you're already using Windows 8, then you might want to take a look at Task Robot. The app can be downloaded for free from Windows Store and fully supports Windows 8's Modern UI. Task Robot lets you set a list of tasks for the Wall-E like robot, so you don't have to worry about some routine tasks, such as sending emails, looking for an app on Windows Store, perform mathematical calculations and so on. It's a great multitasking app that leaves you with less the effort and more productivity. Although, it does not look different from what we have already seen in many similar offerings, the app is still fun to fiddle with.
The app shows a black chalkboard in the background, which acts as the central place to tell the application about a number of different task actions. All the tasks appear on this chalkboard. Additionally, you can define multiple tasks at once and execute all of them with a single click. The left sidebar contains five additional buttons including Tutorials, New, Load, Save, and Save as tile on Start Screen. The Save and Load functionality allows you to reuse previously performed tasks. You can always use the Tutorials option to get familiar with the application. To add a new task to the chalkboard, simply click the red button stating Click to choose what the robot should do.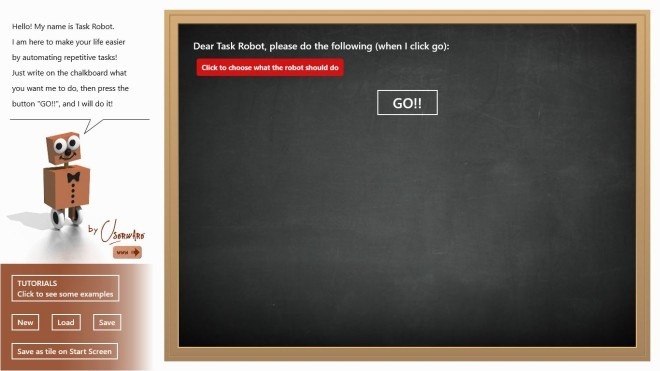 This will open the command panel. The command panel houses a multitude of tasks. For instance, it contains actions to manipulate text lines, write and send emails, show HTML source of a specified URL, perform mathematical calculations etc. Although the number of tasks that can be performed are quite limited, the app is being updated on a daily basis with the latest additions.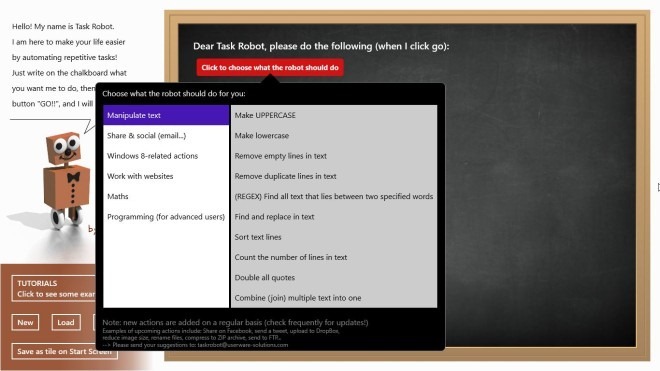 As stated earlier, all the task actions appear on the chalkboard. However, you need to specify some details in the pre-listed actions. For example, Search for ….. on the Windows Store requires you to input the item name that want the app to look for. Likewise, you need to enter the numbers that you wish to multiply. Once you're ready, simply click GO!! to perform the actions in one go.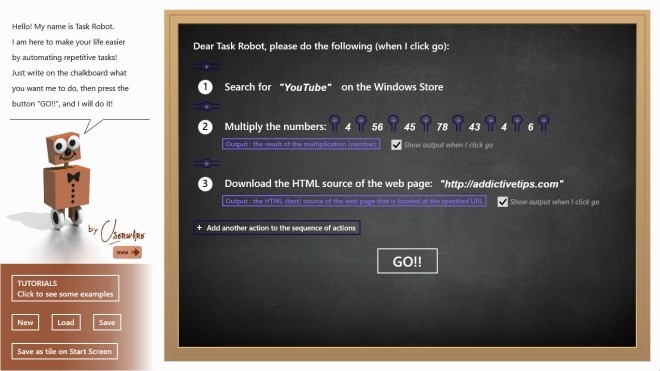 Task Robot works only on Windows 8. Both 32-bit and 64-bit OS editions are supported.