TaskmgrPro Shutdown Scheduler Integrates With Windows Task Manager To Schedule System Shutdown
TaskmgrPro Shutdown Scheduler is an application which integrates with Windows Task Manager to let users schedule Windows shutdown and other related functions such as Restart, Hibernate, Windows Logoff, Lock, and Monitor Off/On. You can set a timer to trigger the specified functions and let it forcibly close all the running application after the countdown ends.
Once the application is installed, you can set the timer from Windows Task Manager, you will see a new tab namely Shutdown in its window. To begin with, open Task Manager (right-click Taskbar and select Start Task Manager), under Shutdown tab, select a required action from the provided list. You can timer in two modes, first is In specified time and At Specified Date/Time. Under In field, you can start a countdown, and from At field date and time can be specified. If you need to forcibly close all the application when countdown ends, enable Force applications to close option. Once timer is set, click Enable Task to start the timer.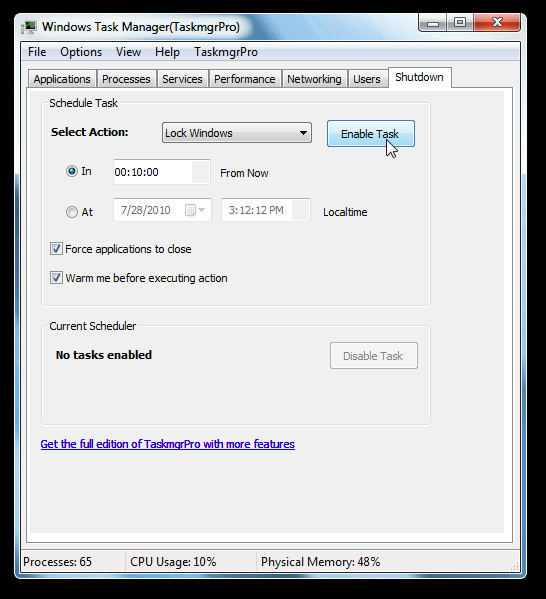 A day back we have reviewed MF Shutdown Manager, which is a stand-alone application to schedule system shutdowns and perform other advanced tasks, however, this application seems more impressive as it directly weaves in with Task Manager to provide the same functionality.
It runs on all Windows based OS (both 32-bit and 64-bit systems are supported), we tested it on Windows 7 x86 system
Download TaskmgrPro Shutdown Scheduler