taskpaper+ Brings "TaskPaper For Mac" To Windows With Portable Webserver
taskpaper+ is an intuitive browser-based task and to-do list manager which is primarily inspired from widely used HogBay's TaskPaper – to-do manager for Mac/iPhone. The application developer puts all the features which users like in TaskPaper in addition with a long list of tasks management related options to let users streamline tasks and schedules in best possible way. In comparison with TaskPaper, the most noticeable difference is that it comes with portable local webserver letting user manage to-do list in famous browsers – Google Chrome and Firefox. The application is developed keeping GTD principle in mind, enabling users to search, categorize, and filter tasks in a simple way. As far as the webserver is concerned, no manual setup is required, settings are bundled in a batch file which you need to run prior to listing down your tasks and schedules.
To begin, unzip the downloaded package and simply run start-server.bat file to start webserver. General information will show up in Command Processor window followed by mapache window. The apache process must not be closed as long as you need to use taskpaper +. Now, open browser and enter localhost:8080/taskpaper/ to reach the main interface.
The idea behind taskpaper + is to give users an experience of scheduling tasks on a piece of paper. The application design is kept minimal to let user focus only on tasks which are to be performed. Unlike other applications with tabbed interface, it not only allows user to create as many tabs as needed but also offers full customization.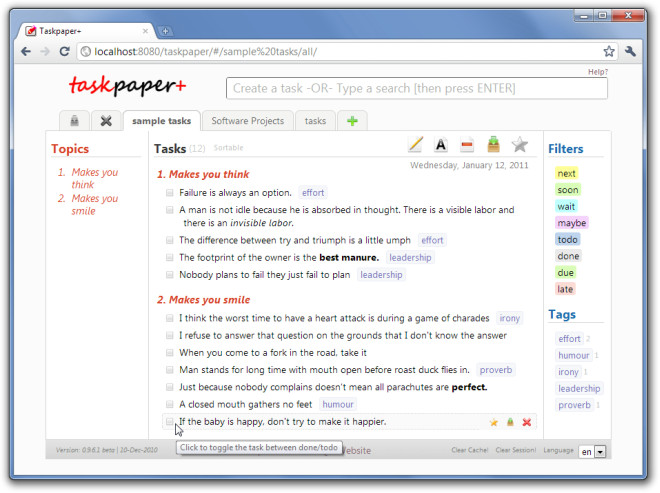 Once tab for each task is created, you're good to go. Start off with topic name followed by colon sign. You can, for instance, enter Task 1 : for creating your first topic underneath newly created task tab. At the bottom of new Topic page, you will find a list of supported syntaxes for adding tags, date/time stamps, new tasks, and so on.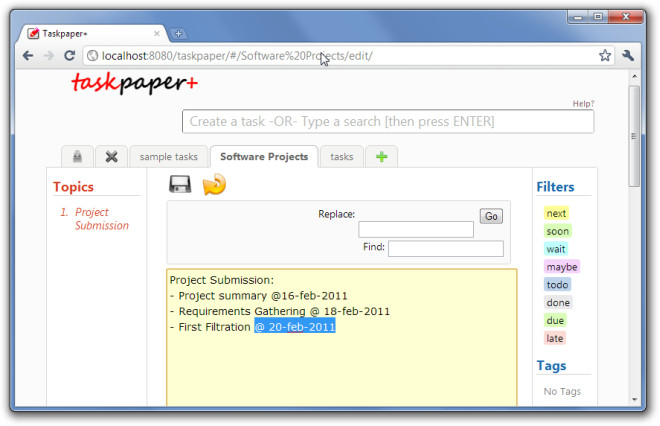 Once you've done listing tasks, click Save button to take a look at generic layout of topics in question. In similar fashion, you can add all the tasks with different topic names under one project tab. In left and right sides, you will see all the topics and filters & tags respectively.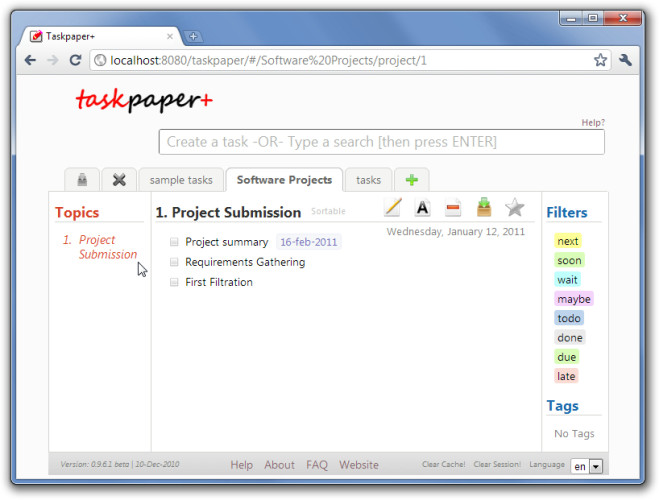 Instant search can be used to filter tasks, however, you can click tags in right sidebar to view tasks falling under specific category. taskpaper + comes with a detailed help manual, covering all the technical aspects. It's recommended to get a hang of supported syntaxes before starting out with adding tasks. The application has been successfully tested on both Google Chrome and Firefox. We tried it with Google Chrome running on Windows 7 x64 system.