TDP x-Ray Lite: View And Manage Hard Disk Contents Through A Pie-Chart
It is important to know about the files and folders are consuming your hard disk space. If you have a big hard drive, you might not care about duplicate files stored in your computer, but if you have limited disk space, storage memory management can have a lot of importance for you. TDP x-Ray Lite is a disk space management tool that displays the memory information in a colorful pie-chart, both in window and full-screen modes. The pie chart is divided into pieces of different sizes and colors, according to type of files and the space consumed by them. The application allows you to navigate between the files and folders, and displays the contents of each folder in a graph sized according to the content within them, and is optimized to work with large hard disks with millions of files. TDP x-Ray Lite allows you to open a folder in Windows Explorer, move a file or folder to Recycle Bin and clear the contents of your Recycle Bin from within the application.
The interface has a list of all the connected disk drives at the left side, a pie-chart of files and folders in the middle and options, namely Up (to move up a folder while navigating), Browse (to open the current folder in Explorer), Refresh, Fullscreen Mode and Empty Recycle Bin, at the right side. The bar at the top displays the current folder, size of the folder and number of files contained within the folder. When you start the application for the first time, it will scan your hard disks.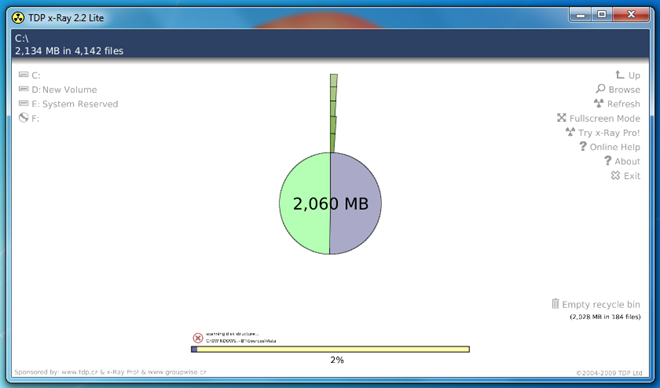 Once the scanning process is complete, a pie-chart is generated with the pieces of different sizes and colors in accordance with the size of files and folders.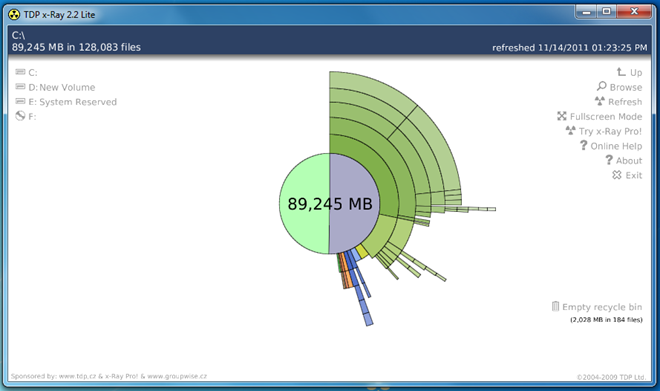 Hover the mouse cursor over a piece to view some basic details about the folder, including its name, size and number of files. Click a folder to view a detailed pie-chart for just that particular directory.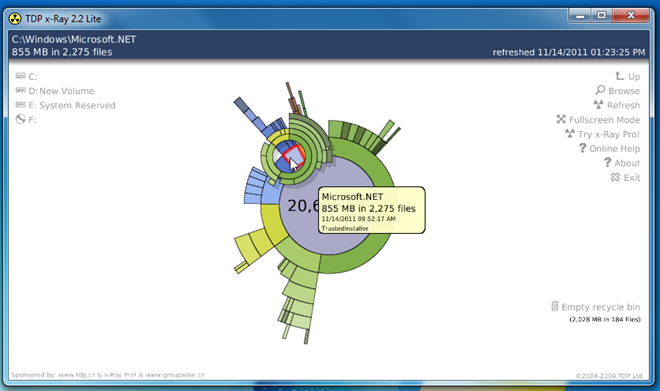 Right-click a folder to use extended options such as Zoom, Rescan Explore, Recycle, Delete and Properties.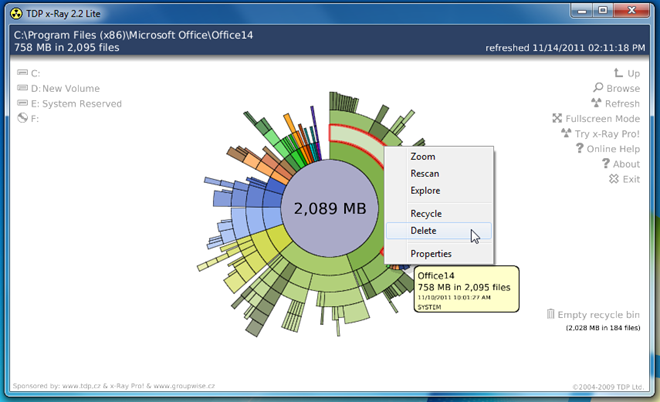 The application can also be accessed through the Windows Explorer context menu. Just right-click a folder, and choose x-Ray it! to view its pie-chart in TDP x-Ray Lite.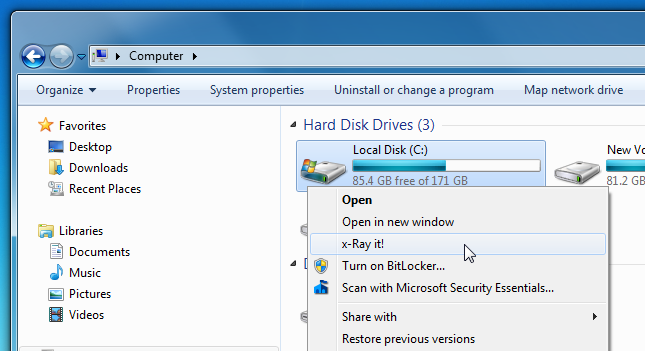 TDP x-Ray Lite works on all version of Windows. The English version of the application is not available on the developer's homepage, but you can grab it from an alternative link given below.
Download TDP x-Ray Lite [English Version]
Download TDP x-Ray Lite [Homepage]