Temporarily Change Windows File Associations To Run File With Portable Applications
Coffee lets user associate files with applications which are residing in portable devices such as USB drives, External HDD, iPod, iPhone in disk mode, etc. The need of having this type of utility is abound but has never been addressed before.
Consider the following scenario where you have a PC in which every type of media file is associated with WMP. Now if you are a VLC Player fan, carrying the portable version on an external device, then you will have to play each file manually on it, or perhaps changing the file association is the last resort. In such situations, Coffee will shorten the time of hassling with associating files to begin with and offers a simple solution without making any change to the host system.
Once installed, it will sit in system tray, allowing you to configure some basic application-related settings. Now double-click the file which you need to run with application residing in portable device, it will bring up a message box stating that file extension is not yet recognized by Coffee.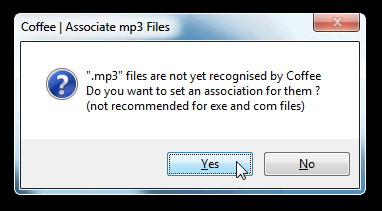 Click Yes, to specify the application which you want to use to run this type of file. You can also associate alternate application with the file by using Alt+ Double-click combination.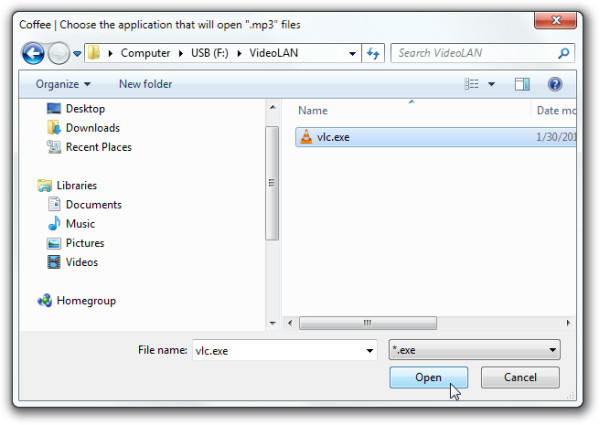 Now whenever you will run the selected type of file, while Coffee is up and running, it will direct the request to specified portable application. From system tray, you can pause the application which will bring you back to old file associations (configured on host PC). The Preferences menu refers to some general file association-specific settings.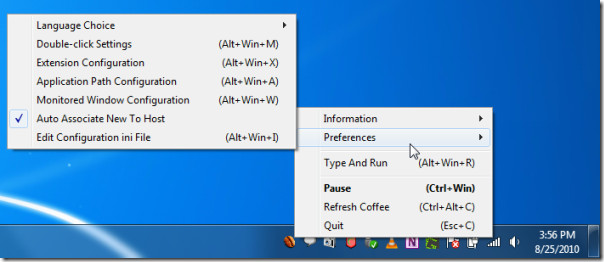 From Extension Configuration, you can delete the file association configured with host PC and specify any alternative portable application.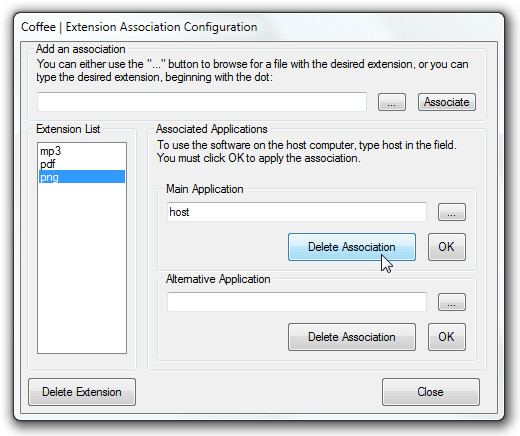 It must be noted that, being portable application, it comes with standalone configuration file (INI) which includes all the settings and applications' paths, thus, there will be absolutely no modification made to the permanent file associations. Hit Pause or close the application to revert file type associations to default.
It runs on both Windows Vista and Windows 7, testing was done on Windows 7 x86 system. We are not sure if it works with Windows XP as well.