TextImages Lets You Create Images From Text For Format Conservation
When developing a website, it is a major concern for web designers that the font should be displayed in the correct and desired size and style on the webpage. For instance, if you want to create a webpage with all the titles in the same font, you can specify your desired font in the HTML document, but it will not ensure that the particular font will be displayed correctly on everyone else's computer, and more notably, on every browser. The other user might not have the same set of fonts installed in their computers as you, resulting in messing up the look of your webpage. One solution to this problem is creating images of your text, and uploading these images instead of plain text to your webpage. TextImages is an application for doing just that. Read more on TextImages after the break.
It is a simple tool that lets you easily create images from text. It allows you to set Font Size and Color, Image Background Color and Font Style. Moreover, it lets you specify Variable Image Size based on width of text, or a Fixed Image Size. Margin Spaces for Top, Down, Left, Right and Line Height of the text can be increased and decreased by using the mouse wheel. A preview is available for all the changes being made to the image at the top of the main interface.
The application has four tabs at the top, named Text, Font and Format, Margin and Spaces and Save. To create an image from text, enter the required text in Text tab, and click Next to choose the desired Font Size, Format, Font and Background Color and Font style. The Margins and Spaces tab lets you adjust the Variable Image Size, Fixed Image Size and margin Spaces, whereas the Save tab lets you select a Directory, File Name and File Format to save the image. TextImages allows you to save the file in all popular image formats, including JPG, PNG, BMP, JIF, GIF, PSD, TIF etc. Click Create and Save button available at the bottom to create the image.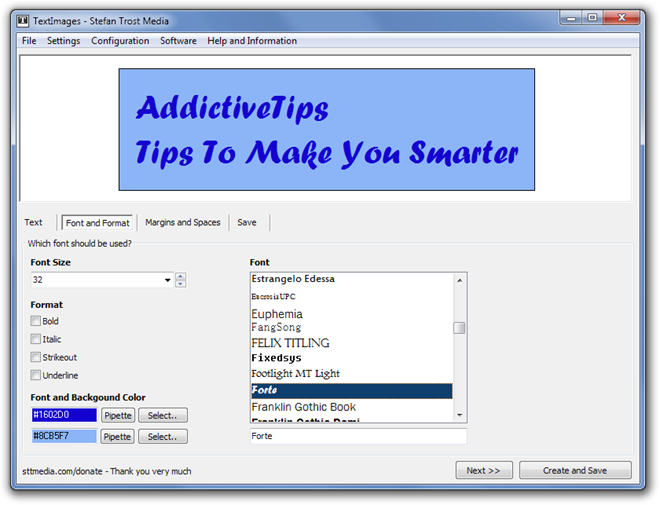 The application allows you to configure extended Format Options and File Name Options from the Settings menu at the top. If you need the image configuration for creating more than one image, you can save and load the current settings from Configuration tab at the top. TextImages works on Windows XP, Windows Vista and Windows 7.