The Best Way To Resize Images In Windows 8 And RT
As a blogger, I have to work with screenshots, and one of the real pains (besides taking screenshots) is to resize them. There are many things to be kept in mind, like the maximum width, maximum image size, and so on. Resizing images one by one takes up a lot of time, so I planned to devise a solution for this: using batch image resizers. And since I'm using Windows 8, there's a Modern UI app for that. And I thought, why not share this tip with our readers? So here you go, two of my favorite image resizing options for Windows 8 users.
Just like all the other apps and utilities, you can use either a desktop based program for this purpose, or you can get a Modern UI app from the Store. Let's discuss the latter one first. Open the Store.
We can search for all such apps by typing 'Image Resize'. Press Enter after typing.

You'll be presented with a list of mixed apps. Some will be desktop apps, some will be Modern UI apps, and some might be totally irrelevant. You can try all these apps one by one. But let's look at one of these apps, the app with the most obvious name – ImageSmaller.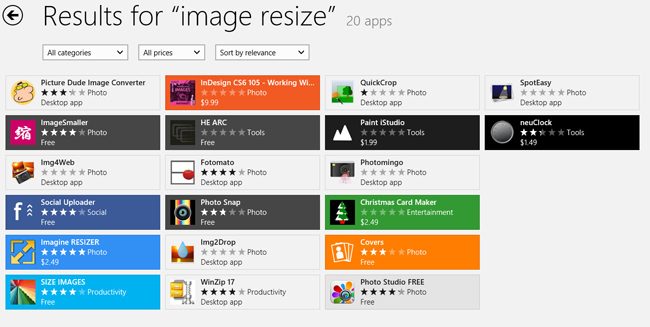 Best thing, it's free. Let's install it.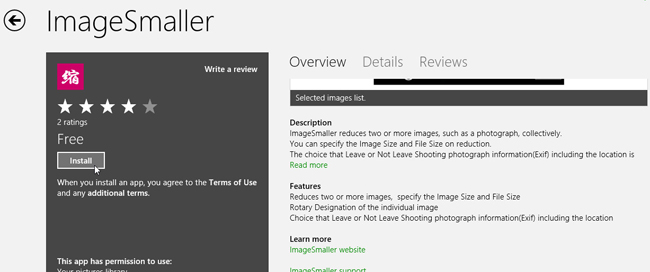 You'll be notified when it's installed. Open the app from the Start screen. The first thing you need to do is to select a folder containing the images you want to resize.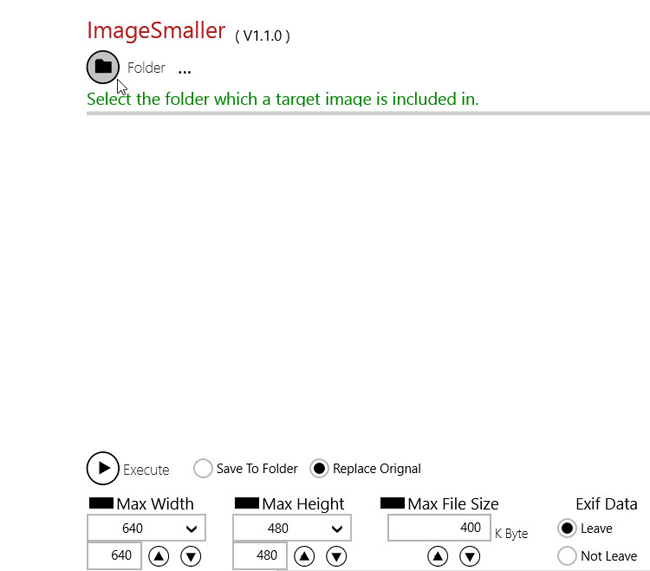 Navigate to a folder and click "Select this folder" and then click OK.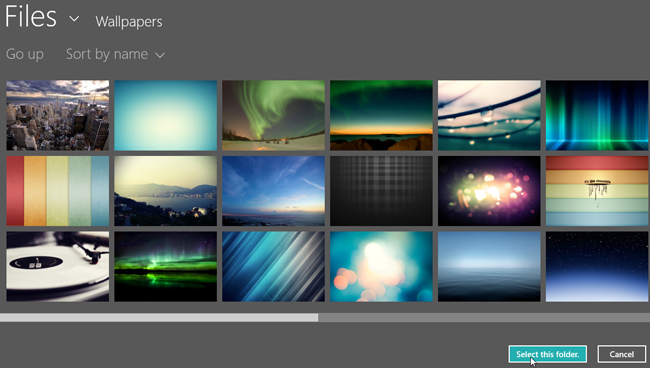 All the images from that folder will appear in the workspace. Initially all the images will be selected, but I'm just going to resize one image here.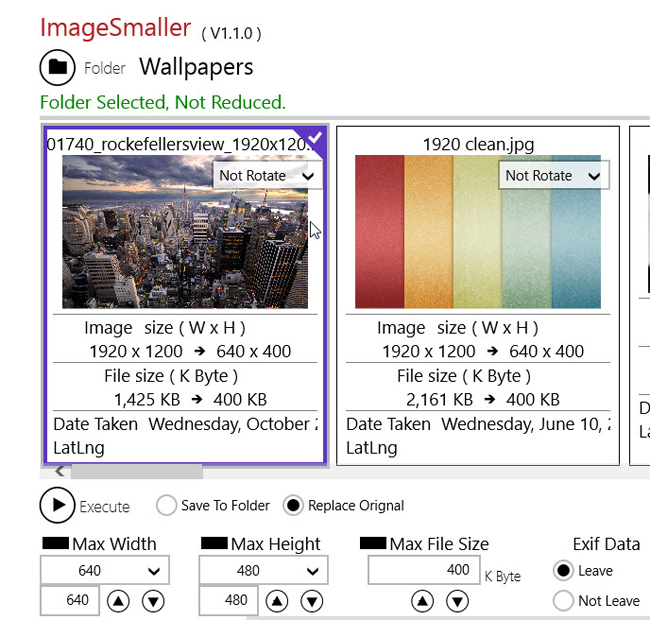 Let's get familiarized with the controls. There are three different resizing parameters. You can resize an image by Max Width, i.e. setting a maximum width (and the height will be adjusted automatically to avoid distorting the aspect ratio of the image). Same is the case with the Max Height box: you can specify the maximum height of the image, and the width will be adjusted automatically. Finally, there's Max File Size, which reduces the dimensions (and the quality) of the image to achieve the specified file size. Initially, all these boxes will be checked (turned on). I'd recommend using just one resizing option at a time (Max Width, Max Height, or Max File Size) to avoid confusion. To uncheck a box (and hence, avoid using that resizing parameter), click in the black rectangular box just behind the type of resizing parameter (Max Width, Max Height, or Max File Size) and it will turn white (meaning it will be turned off).
Let's turn on the Max Width box, and resize the selected image with respect to the maximum width. Click the drop down menu to see a list of common image widths. You can also specify a custom width in the box below the drop down menu.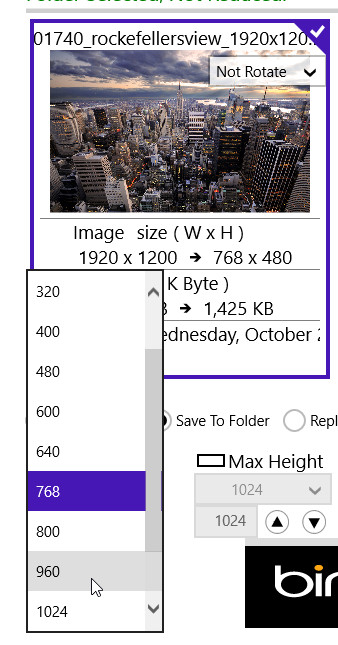 So I have set the maximum width to 768 pixels, and the workspace will show what the new image size will be. It will be resized from 1920 x 1200 to 768 x 480 pixels. You can even rotate the image by clicking 'Not Rotate' in the top right corner of the image, and it will show you options to rotate the image clockwise or counter clockwise.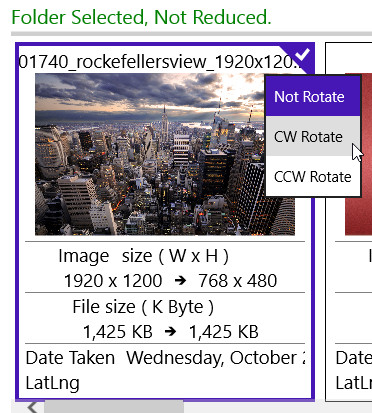 You can see how the size of the other images in that folder will change. But since those images aren't selected, they won't be resized. You'll only see what the new size will be, but IF you choose to resize them as well (by selecting those images). There are also some more options, like replacing the original image with the resized one, but that's not really recommended, it's always better to keep the original copy intact and remove it later. So select 'Save to Folder'. You can also select whether to leave EXIF data intact or to remove it. Once all is set, click the Execute button to resize the image (or images).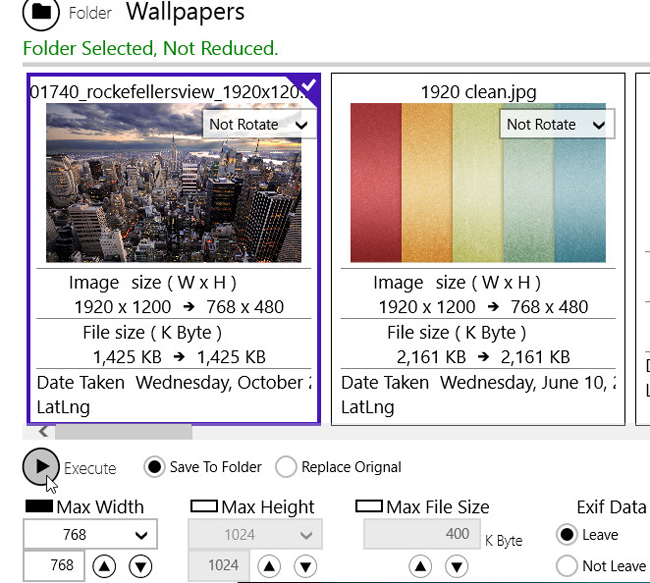 Once that's done, you can go to the original folder (containing the image you just resized), and you'll see another folder named inside it, named 'Resized' (unless you selected the Replace Original option to replace the original image with the resized one, in which case you won't see this folder). This folder will contain all the resized images, and see, our image has been resized!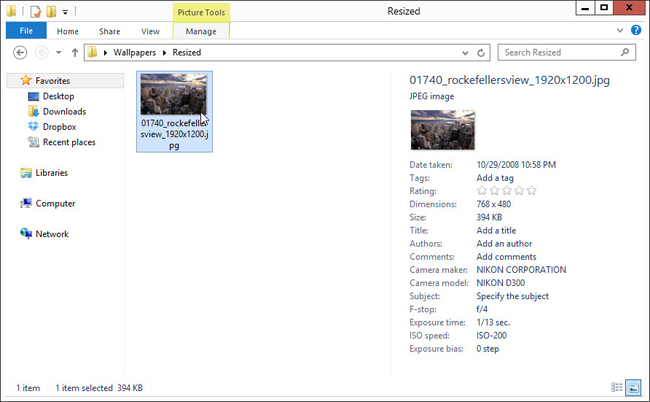 Okay, moving on to the next one. It's time for some desktop goodness. We have been fans of the context menu image resizer here at AddictiveTips, and we're going to mention the same good ol' program again. It's called Image Resizer for Windows, and is available for download over at Codeplex (link provided at the bottom of this article).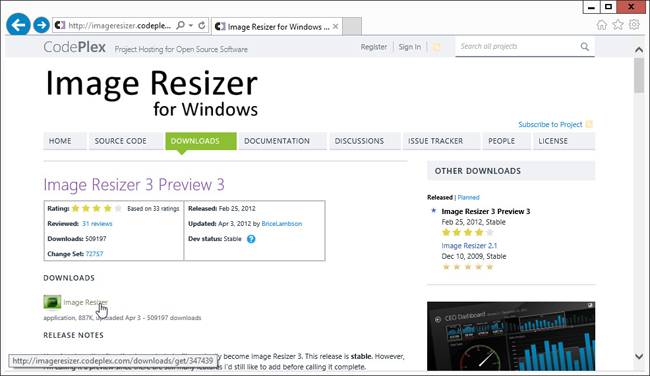 Installation is pretty simple.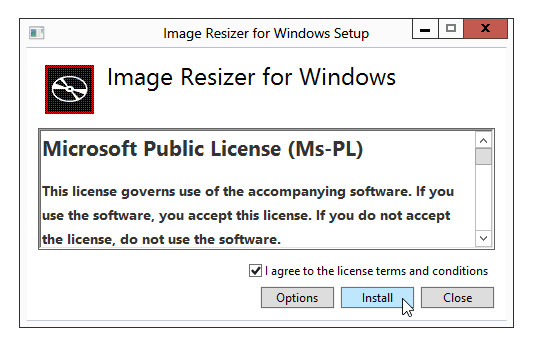 Once installed, you can right click any image and you'll see a new context menu option to 'Resize pictures'.
Upon clicking you'll see a window like this. Once again, you're presented with some common image sizes and a custom scaling option. I'll select Medium here. You also have the option to replace the original image, but as mentioned earlier, you wouldn't really want to do that. So once you've set all the options, click the Resize button.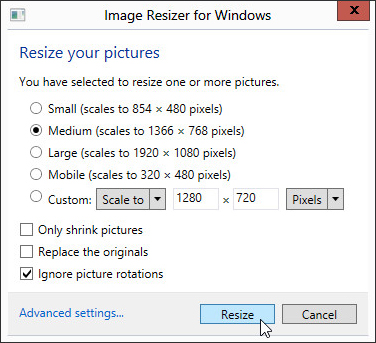 Now have a look in the folder where the file (that you just resized) lies. You'll see another file next to it, having the same name, but with the type of resizing you did at the end of its name. For instance, I resized the image to Medium size, and the resized image has (Medium) at the end of the filename. And as you can see, it has been resized.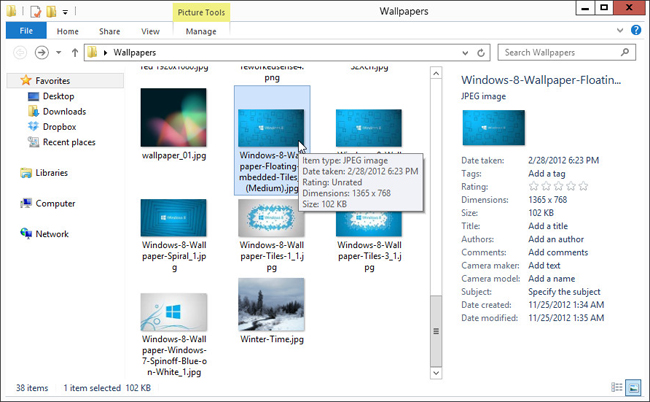 So there we are, simple and quick image resizers for Windows 8, saving your productive time!
Download Image Resizer for Windows