Hands-On With The Official Windows 8 App For Popular Cloud Service Box
Cloud services are a great way to keep your important data safe and within reach all the time. Popular services such as Dropbox, Google Drive, SkyDrive and Box, all provide you with both free and paid storage options to upload, sync and retrieve your data. With online cloud storage, you no longer need to take your portable mass storage devices to access the data while on the go. For instance, if you are going for an important presentation to another city, instead of saving the presentation to your thumb drive, you can upload it to your online storage account for easy access. Usually, cloud services have a web portal that allows you to upload, download and manage files and folders, but some of them also offer clients for desktop and mobile platforms. With the Windows Store slowly expanding, it seems it won't be long before we have official Windows 8 apps for all popular cloud services. In what follows, we're going to take the official Windows 8 app of famous cloud storage service Box for a spin. The app lets you upload and delete files, add descriptive comments to them, sort them into folders and pin them as tiles to the Start Screen.
In order to download the app, head over to Store from Start Screen, use Win+Q hotkey combination to bring up Search charms. Now type in "Box" and hit enter. The search results will appear in the left side of the screen. Look for the blue tile named Box.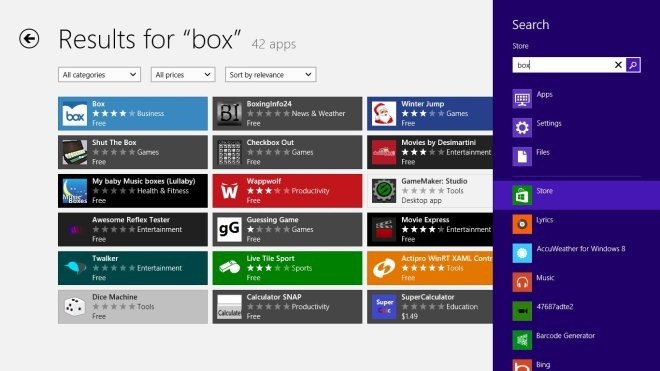 Just open the main page of the Box app and click the Install button available on the left side to download and install the app to your PC.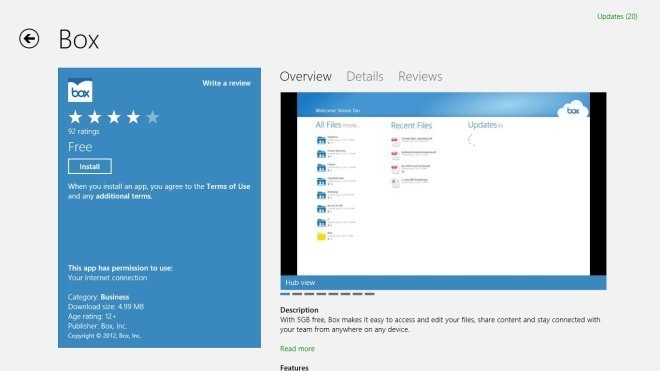 The main window asks you to either create a new account, or sign in with an existing account. After signing in, you can see your files organized into several categories, such as All Files, Recent Files, Updates etc. Click the title of any category to access the required files.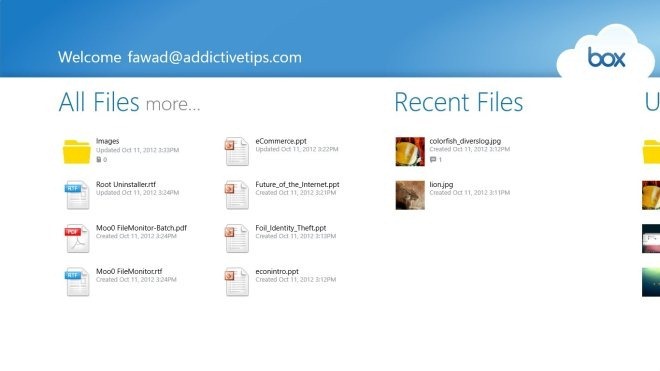 Right-click inside the app to reveal further options at the bottom. The app allows you to Add Collaborations, Delete selected items, Upload files, Move/ Copy files, Create a new folder, Pin to Start, Play Slideshow and Refresh the app to display the most recently added files.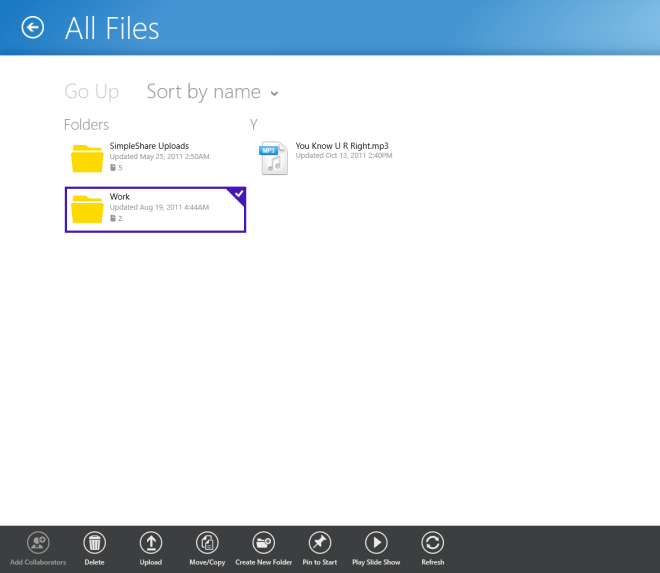 Once inside a category, you can view files, create folders, move files to other folders etc. The Sort button at the top allows you sort the files by Name, Date and Size.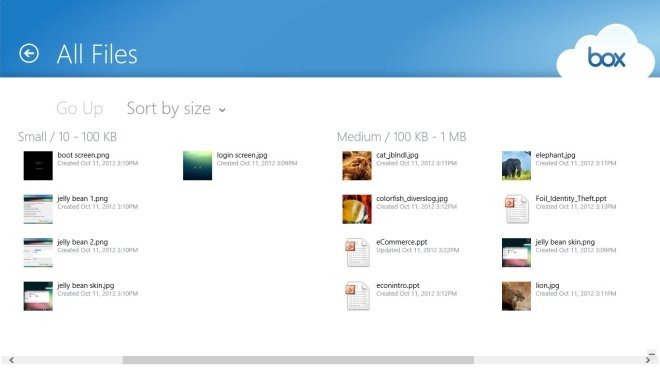 When you open a file, the app shows a thumbnail of the file along with the comments. You can click the file to download it to your computer. Right-clicking the image lets you upload a newer version of the file, add comments, delete it from your account, pin to start and play slideshow of the images.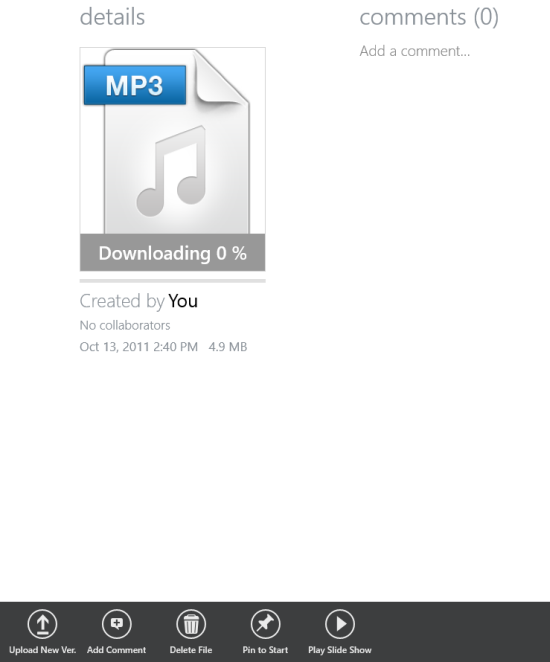 The context sensitive search of Windows 8 also works with Box app. Use Win + Q hotkey combination to bring up the Charms Search. To search for anything stored in your account, just type in its name and press Enter.

A very useful option is hidden inside the settings pane (accessible through Win + I hotkey) that allows you to password protect the app. Open settings pane and choose Set Passcode Lock option to set the password.

Once the password is set, every time you open the app, it requires you to enter the password. If multiple people have access to your system, it is a great way to protect your personal files.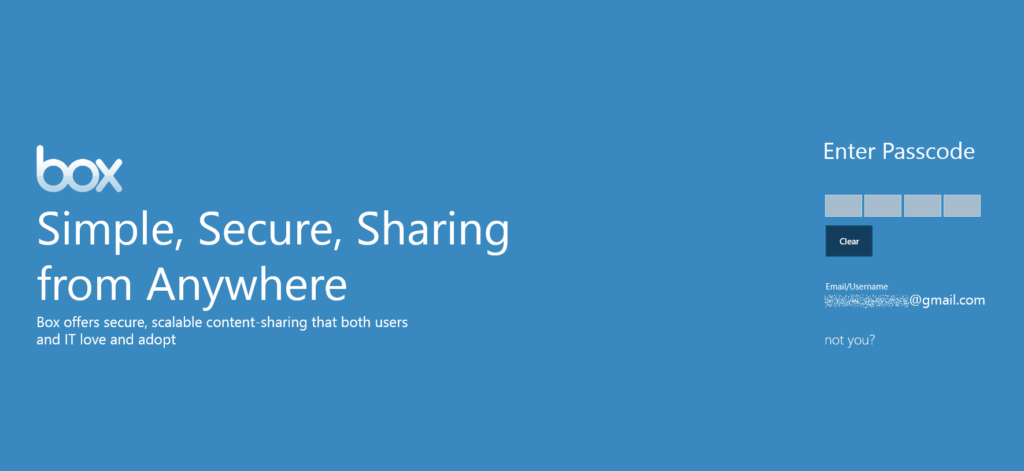 The app works without any major issues, however, sometimes it fails to respond to upload and sync requests. Also, when you launch it after Windows logon, it often takes quite a while to connect to your account, which is a tad frustrating. Nevertheless, you can cope with this annoyance by launching the box app in the absence of other Windows Store apps that require active internet connection to work. As far as file management features are concerned, it includes almost all the essential features, except the option to upload files from right-click context menu, which would've made the process of uploading and syncing files a lot easier.
The box app surely lacks some basic features, and unless developers debug the app and add the option to upload files from the right-click context menu, we recommend using previously featured Box SimpleShare to quickly upload and share files on box.net
Box app works on both 32-bit and 64-bit versions of Windows 8. We tested it without problems on Windows 8 64-bit.