Student DOG Organizer Is A Perfect Organizer For Students [Back To School]
Student DOG Organizer is an application to help students heading back to schools and is developed by David Capka, a recently graduated student to help other students. According to the developer, the idea is to help students keep different school-related activates in order.
Since the 'Back To School' session has already started, most students will find this all-in-one organizer immensely helpful since it helps in organizing school-specific tasks, such as, marking calendars for specific activities, keeping track of lessons and classes, adding contacts, writing notes, and much more.
The main interface is perfectly designed to suit a student's needs, all the tasks with their respective details are shown in different groups. When starting for the first time, you need to enter the details of important tasks and activities. For instance, you can start out with populating provided Timetable. Along with subject/course name, you can specify teacher name, enter classroom number or name, and assign a unique color.
The main navigator allows you to switch between different tasks such as; managing contacts and calendars, assigning generic tasks, filling out mark sheets, taking notes, and organizing timetable. Select one from left sidebar, and start filling out respective information.
From Overview, you can view next class, the class in progress, and time remaining for next class (measured from the information you've provided in Timetable). Adding more, you have all the coming events/tasks listed alongside, and beneath that, you can view contacts information.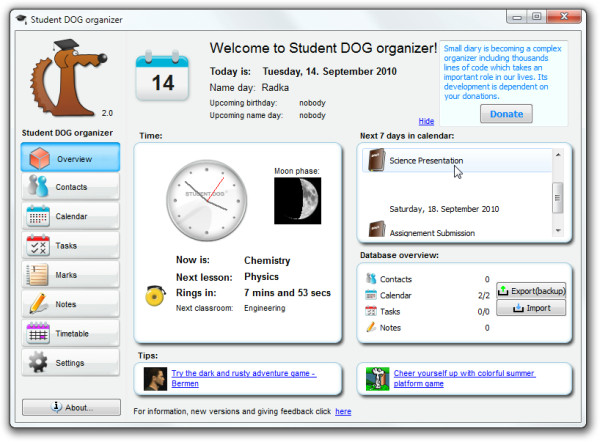 From Contact, you can add information like; Name, Home and Work phone numbers with address, personal number, email, birthday date, etc. Summarized information can be seen in the main window (Overview window).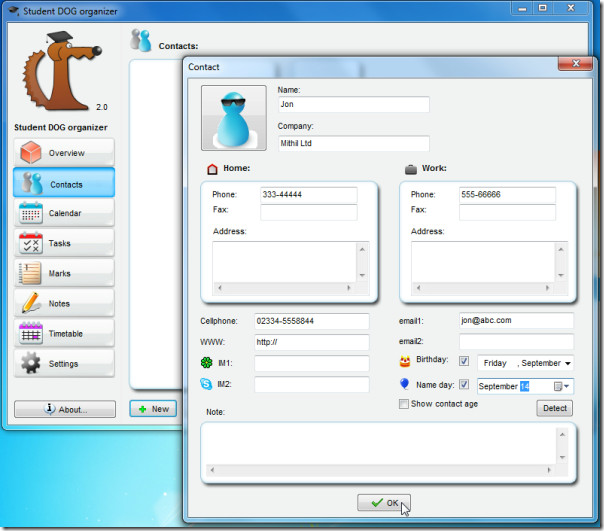 The best part is that it allows importing contacts from MS Outlook. On our testing machine, we're using Outlook 2010 and it imported all the contacts without showing any peculiar behavior.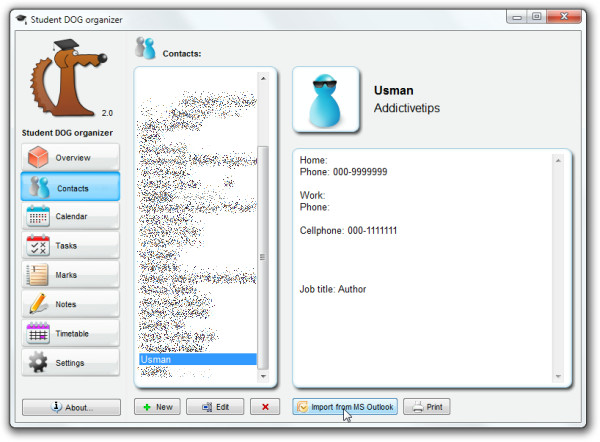 Calendar comes with some basic task navigation and organizing options. Just select the date in calendar and click New to enter the task/event information. All the events coming in near future will be displayed in the main window.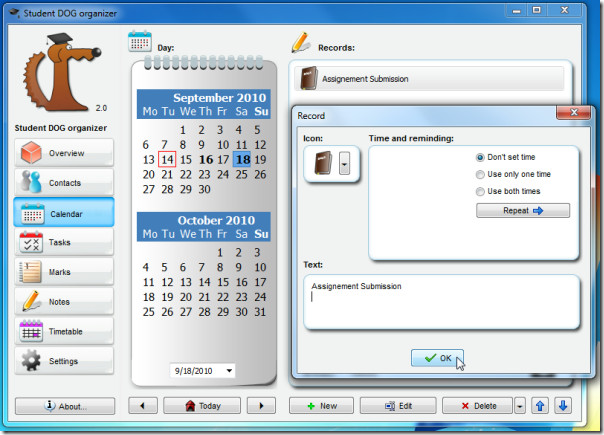 Tasks can be categorized into different groups. For convenience, it brings separate windows to navigate through different tasks' categories and to view the respective task's content. In Marks, you can list down the marks secured in different courses/subjects. The Notes window refers to taking general notes about school schedule, class work, home assignments, etc.
The application general settings can be configured from Settings,  you can let it start with Windows logon, enable/disable remember last used window option, edit subject list, change clock in Overview window, select notes editor (support MS Word 2010, Windows WordPad), change week start and end days, etc.
To put in a nutshell, it brings ease and quality in managing & organizing your school related activities, be it any thing that you may have missed in last school session, this time it will help you in streamlining all the inter-related activities which are connected with your school work.
It runs on all versions of Windows, testing was done on Windows 7 x86 system.
Download Student DOG organizer