The Web Blocker: Block Websites Using Read-Made Category Templates
With billions of webpages, parental control on the internet usage of young kids is a big issue. Many parents are concerned about not knowing what their kids are watching or reading on the internet when they are alone. Other than that, it is very easy to get distracted from the work at hand. It starts with you opening a random link on YouTube or Facebook, and ends with an hour or two wasted before you even realize that you haven't finished your work. Some months ago, we covered a very good web based parental control application called Qustodio, that allowed you to easily block websites and keep track of your kids' online activities. Today, we have another website blocker for you called The Web Blocker that lets you block selected websites, and also provides you with built-in templates to block a certain category of websites, such as Social Networking, Adult Material, Games, Videos etc.
The Web Blocker allows you to block the website for all users, as well as for individual users of the computer, depending on your requirement. During installation, make sure that you uncheck the Babylon toolbar installation offer to avoid spam.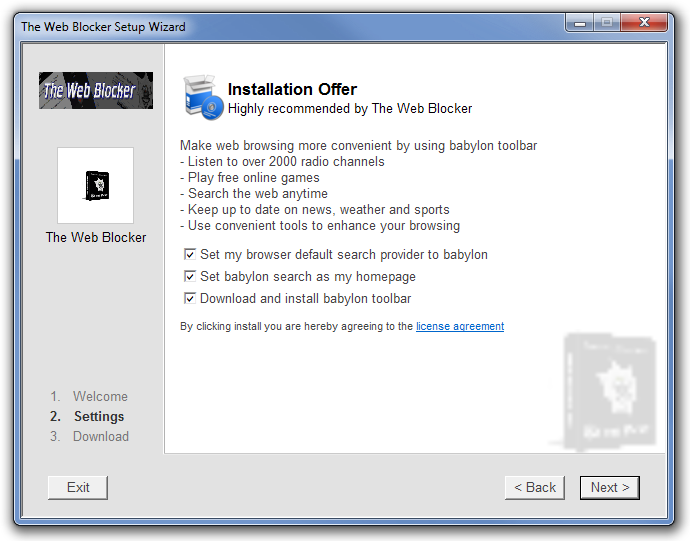 When you start the software for the first time, it asks you to create a password which will be used for entering and editing the program settings every time. Enter the Email address, Password, select other required information and click OK.
.
To block a website, first select a user from the list for whom you want to block the website. Then, under Add Address to Block List, enter the address of the website you want to block and click Block Address.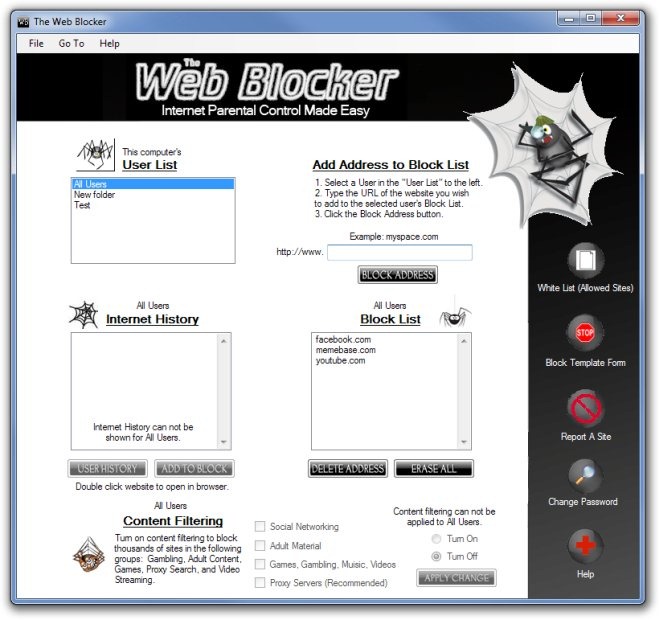 The Block Templates Form button at the right side allows you to block ready-made templates of websites according to their category for all or individual users. Just select the user, select a template type to block from Proxy Sites, Social Networking, Video Streaming, Video Games and Gambling, and click Apply Template.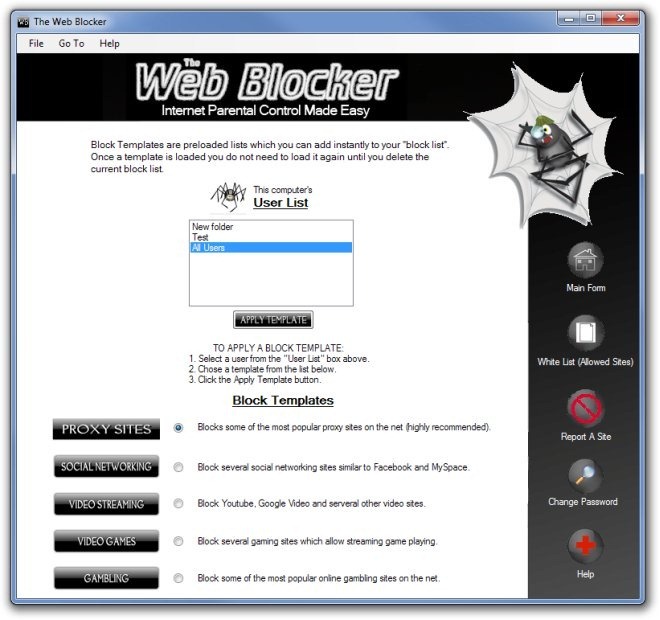 The application also has a White List to allow specific websites and exclude them from the block list when using templates. You can also use them to enable certain websites for some users while blocking them for everyone else. The list of features according to the develop is as follows:
Block any website on the internet on a per-user basis.
Content Filtering (internet filter) blocks millions of websites with one click of the mouse. This makes it easy to block adult content (block Adult Websites)
Use preloaded block lists including gambling, social networking and game-playing sites.
Monitor internet history on a per-user basis.
All new White List allows users to pass specific sites through the filter.
The Web Blocker works on both 32-bit and 64-bit versions of Windows XP, Windows Vista and Windows 7.