ThreatFire Protects Your PC From Zero-Day Attack / Exploit
Viruses, Trojans, Worms, Spyware and other malicious agents are continuously increasing in number, hence making malware attacks more frequent than ever before. We normally use Antivirus programs to protect our computers, but the problem is that an Antivirus only detects known threats which it can identify after going through a virus definition update. This leaves a significant amount of time for malware to invade your PC (before your Antivirus is updated). ThreatFire is an anti-malware application which, in contrast to traditional Antivirus programs, acts differently. It continuously protects your PC against zero-day attacks by detecting malicious instances instead of relying merely on definition updates. For example, it looks for applications which may be trying to capture your keystrokes or logging the steps you're taking. ThreatFire is not necessarily meant to replace your Antivirus suite; it can work seamlessly in conjunction with your existing Antivirus application. The most distinctive feature of ThreatFire is its ability to detect zero-day exploits. Zero-day attacks are amongst most lethal ways of exploiting root access of system, as they are programmed to slip through security cracks of installed applications.
The developer's website has also provided a chart (on their website) which displays enhanced performance of widely used Antivirus programs with the help of Threat Fire (including AVG, Avast, Kaspersky, Trend Micro, McAfee, GData and Avira). On startup, it displays a map of the threat trend around the world with the names of some of the most notorious malware. You can click on a malware's name to get more information about it on ThreatFire website. The News tab can also be checked for getting the latest news regarding malware threats.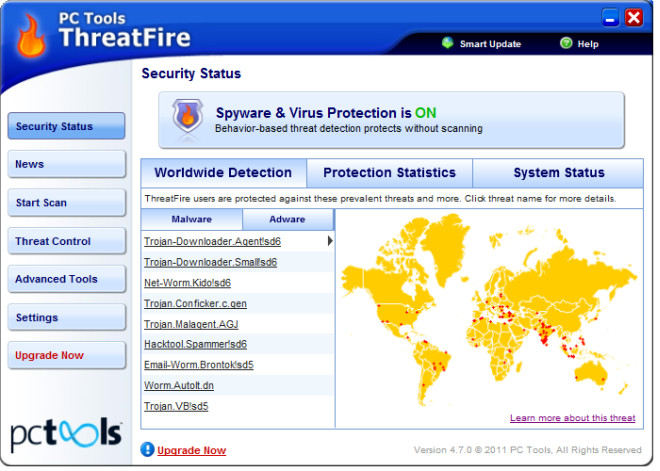 You can perform a quick or full scan of your computer from the Start Scan tab.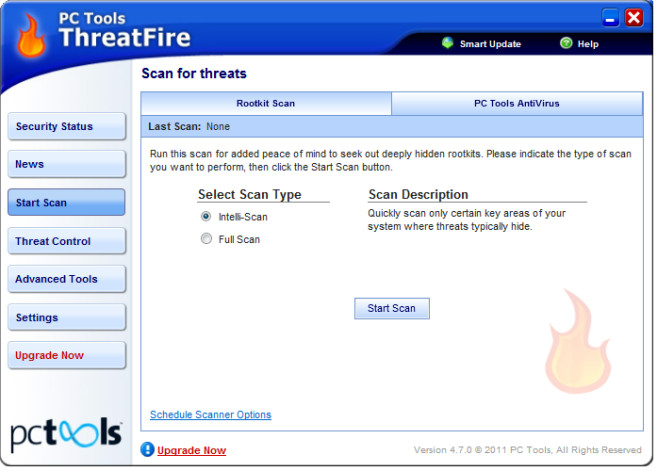 As mentioned earlier, the difference of threat detection between a common Antivirus and ThreatFire differs in terms of its ability to identify malware by behavior. Therefore, it is worth running a scan periodically using ThreatFire, even if your Antivirus scan has been performed earlier. The Threat Control tab displays any items which have been quarantined and allows performing an action to remove or restore them.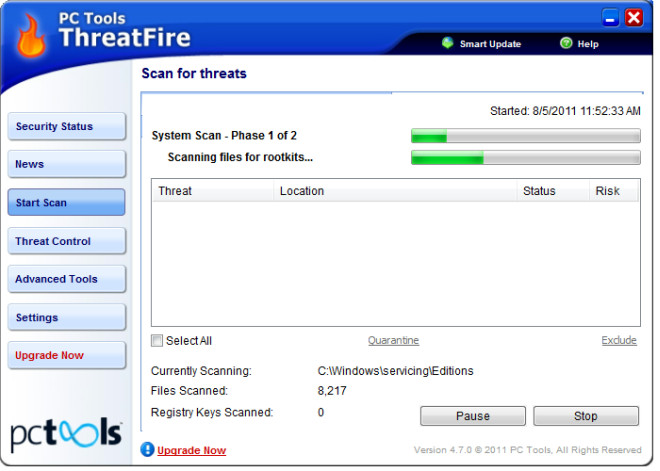 You can also set your personal settings for tracking the behavior of potential threats by selecting Custom Rule Settings option from the Advanced Tools tab. Just click New button to launch a wizard where you will be able to specify process rules, triggers, etc for blocking applications according to specified behavior.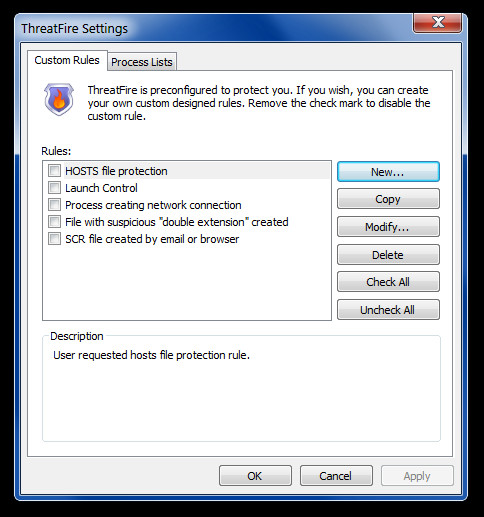 The Settings tab allows setting the sensitivity level for periodic alerts, turning the protection shield, updates and community protection participation (for helping ThreatFire to identify threats) On or Off.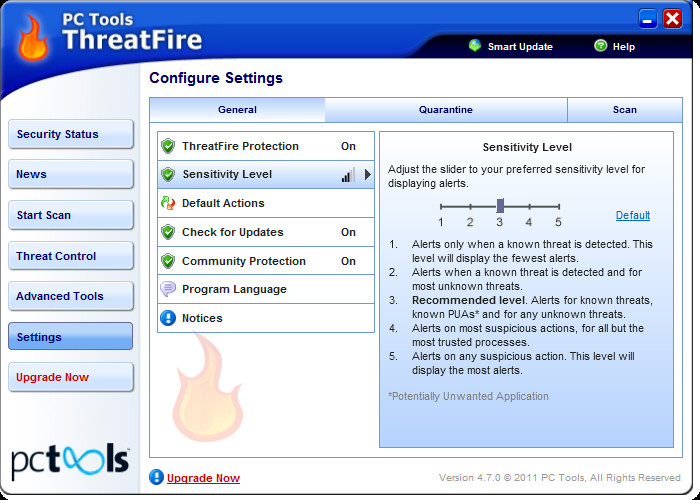 ThreatFire can be a viable option for boosting the security of your PC and adding an extra layer of protection. However, it's worth mentioning here that it does advertise other related anti-malware products on the main interface and during installation. ThreatFire works on Windows XP, Windows Vista and Windows 7.