TidyTinyPic – Batch Image Resizer
TidyTinyPic is a free tool that can batch resize images in any directory or sub-directory. We have already covered some quick methods such as, using Image Resize Powertoy Clone and Fast Image Resizer, but both methods require you to select multiple images manually.
If you have a directory(with multiple sub-directories) full of images in various resolutions and want to convert them all into one resolution, then TidyTinyPic does the job.
You just have to drag & drop the folder, choose the resolution & quality and hit Rename & Resize button.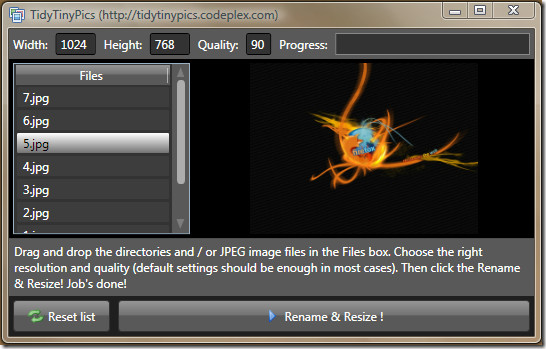 When processed, all images will be renamed in numerical order and resized into the resolution you specified. The new resized images will overwrite the original images, so if you want to keep both copies it is recommended to make a backup.
There could be many usages of this app, one that I have in mind is that if there are wallpapers in different resolutions and you want to convert them all to, for e.g, lets say 1024×768 resolution, then this app can do the job quickly.
It works on Windows XP, Windows Vista, and Windows 7. The startup time is a little slow, but once loaded it works fine. Enjoy!