Tiggit Is An Open-Source Indie Game Downloader & Launcher For Windows
E-sports has been gaining quite a lot of popularity in recent times. There was a time when video games were considered to be something only for kids, but nowadays, games like Blizzard's World of Warcraft, StarCraft and Valve's Dota 2 have become the part of a fervently followed virtual sport. While some people, the professional players, play games in order to earn money, most of us only play to relax and enjoy. Almost all of the mainstream games require you to have high-end PC's and gaming consoles to be able to run them. However, if you don't have a high-end gaming device, you can still enjoy open source and free indie games. The main problem in finding good indie games is that they are released on different blogs and there's no central location where you can download them. Last year, we covered an application for Windows called Game Downloader (a portable utility to download and play free games). Today, we have another similar application called Tiggit, which is an open-source program that allows you to install and launch free games. More on the application after the jump.
Tiggit contains over 300 games. The main interface of the program has Freeware, Demos, Installed and Latest News tabs at the top. The Freeware tab contains the list of all the games available for download, Demos tab includes the demo releases of games, while the Installed tab allows you to Play, Uninstall and visit the website of the installed games. From Latest News tab, you can read about the latest changes made to the application. The games are divided into several categories, such as Action, Adventure, FPS, Puzzle, Shooter, Simulation etc. Selecting category to lists down all the related games according to their user rating. Clicking a game reveals a screenshot and description about the game in right sidebar.
To install a game, double click it or choose and select Install from the bottom-right corner.
Once installed, head over to Installed tab and choose Play Now from the bottom right corner to run the game. If you don't like the game, you can always Uninstall it.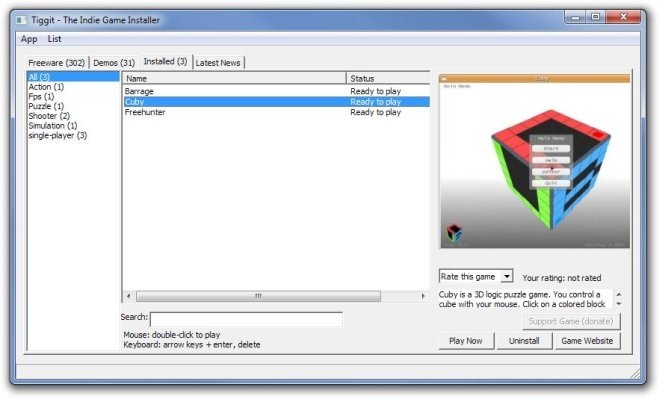 If you have Microsoft Security Essentials installed on your system, it might ask you to submit the files to check whether it contains a virus or not.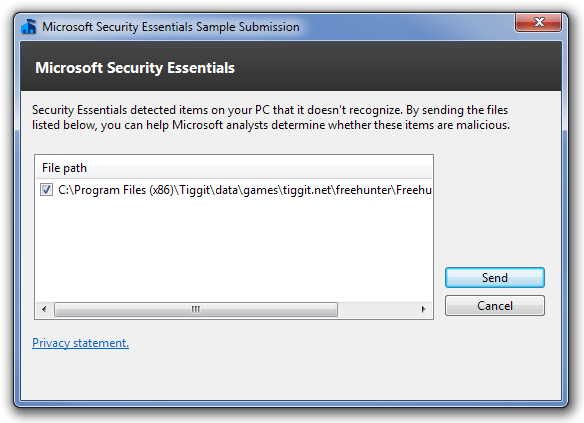 Tiggit works on both 32-bit and 64-bit versions of Windows XP, Windows Vista, Windows 7 and Windows 8. The link provided below will take you to its download page.