Tintii Photo Filter – Apply Color Separation Effects To Your Images
Tintii Photo Filter is a free standalone tool for both Windows and Linux operating system that lets you apply color separation effects to your images easily. It saves you the headache of having to use advanced tools such as Photoshop for this purpose.
When an image is loaded, it extracts the color profiles from the photo into a handful of major hues. Select which color to keep and the rest will turn Black & White. There is no need for complex masking and tracing. It is a great tool for both amateurs and professionals alike.
Just load the tool and click Open, now select the photo to which you want to apply color separation effect. Now in the Thumbs sidebar(left sidebar), select the color you want to keep and the rest will turn black & white.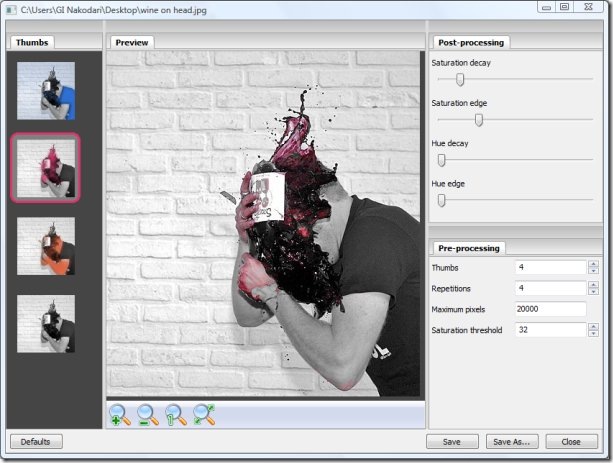 You can also apply multiple colors such as combination of Blue and Red by clicking their respective thumbs. To remove any color, simply click it's Thumb again. By default the number of thumbs are four, you can increase/decrease the numbers by selecting the desired option under Pre-processing tab.
Below I have posted both original and modified image, check the effects yourself.
There is also a Photoshop Plugin available for professionals, but it cost some bucks. Enjoy!
Credit: The original image used above was found by me on Reddit, I couldn't find the original photographer behind this photo.