Tiny Uploader: Capture Screenshots & Upload Images To Imgur & ImageShack
Websites such as 9Gag, Reddit and Digg don't host the images posted by users on their own servers. That's why most users upload images to online image hosting websites, such as Imgur.com, Minus, ImageShack.us etc. Imgur is an image hosting & sharing website that offers both account-based, as well as anonymous image uploading services. ImageShack is another free image hosting website that allows users to upload up to 5 megabytes of JPG, PNG, GIF, TIFF and BMP images. Previously, we have covered desktop applications for uploading images to these image hosting websites; Imgur Uploader for Imgur lets you quickly upload images by just dragging them over the specified area, whereas ImageShack Uploader is a cross-platform web application, which allows you to upload images in bulk. Today, we came across an application  for Windows called Tiny Uploader, which lets you upload images to, both Imgur, and ImageShack from a unified interface. You can upload images already available in your hard drive, or take screenshots of a region on your desktop or complete windows and upload it to Imgur.com or ImageShack.us. Keep reading to find out more about Tiny Uploader.
Not only does the application allow you to upload images, but you can also take screenshots of any active application or capture a screen area and upload the captured images to Imgur.com and ImageShack.us. The main interface has Select Files to Upload, Take a Screen Capture (Area), Select a Window and Capture Active Window buttons on the toolbar, whereas a drop down menu (present at the top right) lets you switch between the target website.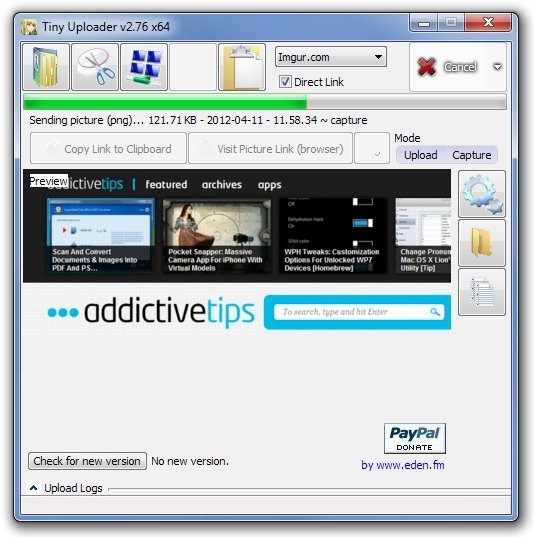 When you are uploading images in bulk, another pane appears on the right side of the window, listing all the images according to their name. A separate column also displays the file size of each image selected for upload. This allows you to quickly locate an oversized file and delete it from the list.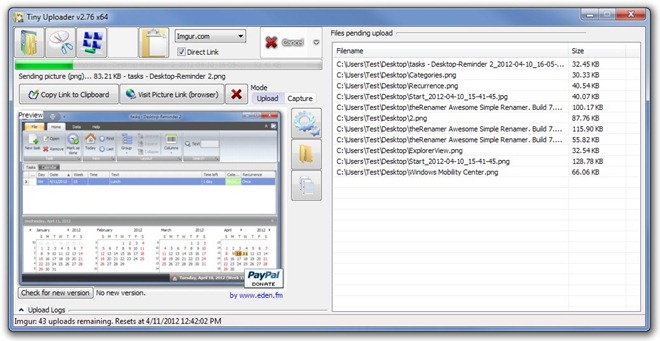 The screen capture and window capture features work flawlessly. Using these features, you can quickly upload and share the screenshots with others. When the image is uploaded to specified website, you can open it in default browser and copy the link to clipboard.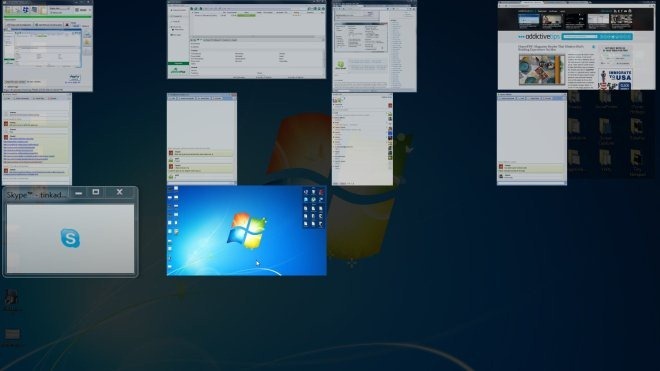 The Settings pane lets you configure Image Resizing, Quality for Uploads, Naming options, Capture Folder options and set general application behaviors.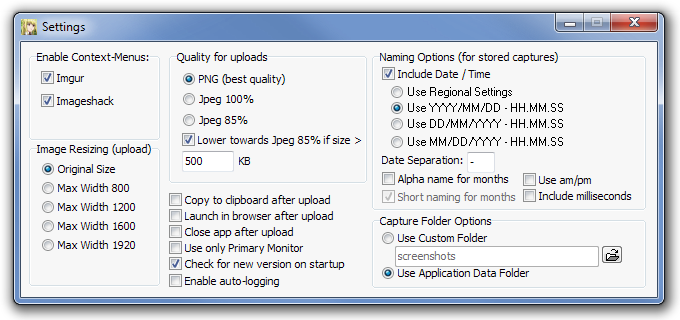 Tiny Uploader works on both 32-bit and 64-bit versions of Windows XP, Windows Vista, Windows 7 and Windows 8.