Toe Tag Is A Fast MP3 ID3 Tag Editor For Your Music Folder
Audio tagging utilities can organize large music collections and streamline meta tag information, so desktop and portable media players don't take too much time while indexing audio tracks from music archives and creating playlists. But many music taggers don't allow users to replace incorrect music file names (for example; Unknown Artist – Track 01.mp3) with meta tag information, which makes it quite hard to find required audio files from Windows Explorer. Toe Tag is a fast open source multi-tag editor to modify ID3 tags of music collection. In comparison previously reviewed music tagging tools, such as MusicBrainz Picard, MpTagThat, Fey Tag Editor, and TagScanner, it offers two complementary rule-based features to match filename with meta tag information. Furthermore, Toe Tag includes an option to fetch tag information from tracktype.org for specified music files, so you don't have to manually add meta tags like, artist, title, album name, year of release, etc to music files in your collection.
The multi-tag editor doesn't require you to enter each ID3 V1/V2 details. You can enable only those metadata fields in which you want to specify meta tags. The Caps pull-down menu lets you select case of tag titles. You can add album cover and edit details of any focused music file in list.
The main interface shows Tag –> Filename window, which lets you rename music files according to their meta tag information. To begin editing, navigate to music collection folder from left sidebar. Once selected, it will automatically start listing down all supported music files in main window. The lists shows both original file name and meta tag information, including, Title, Artist, Album, Track, Genre, Comment, etc. In order to replace original filename with its meta tag Title, select an option from Case to define which characters will be in upper and lower case and then click Add mask. Now simply click Apply to begin the renaming operation.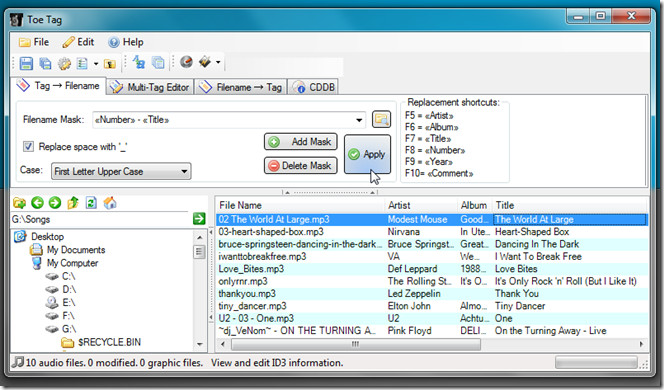 Once it has finished changing file titles, open the source folder to verify whether file names match with their meta tag titles or not.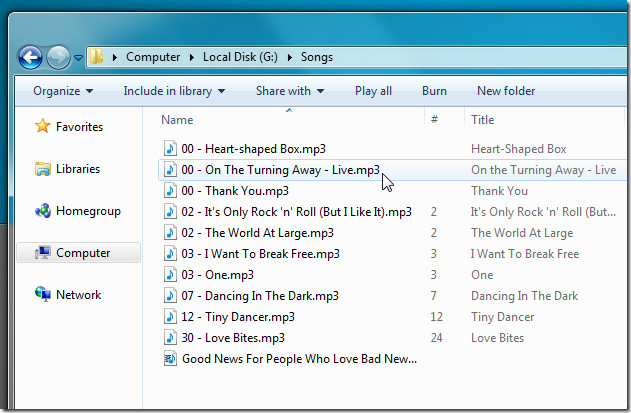 Filename –> Tag feature works in similar fashion. You specify the music tracks, add word case method, and finally add mask to copy file titles to their music tag Titles field.  The CDDB window lets you use online resource for finding and replacing meta tag information.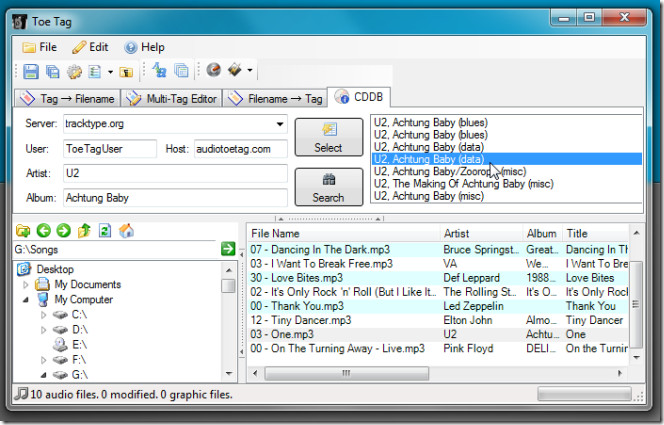 Toe Tag is a great music tagging application which lets you not only search tag information from internet but allows swapping music file titles and tag information as well. Toe Tag works on Windows XP, Windows Vista, and Windows 7.