Top 5 Registry Cleaning Software For Windows
The Windows registry contains information and settings for all the hardware, software, users, and preferences of your computer. Whenever you make a change to the Control Panel settings, files, system settings, or installed software, the changes are reflected and stored in the registry. Windows continually references this information during its operation. When the registry becomes very large and cluttered, your computer's performance can decrease and cause it to be unstable. Also errors can form over time and cause operational problems in your PC. As it does so, it attracts obsolete and unnecessary information, and gradually becomes cluttered and fragmented. Therefore, you must scan your PC for registry errors and repair them.
RegCure
RegCure uses the most sophisticated technology available to analyze your registry for missing, obsolete, and corrupt entries. Compatible with all Microsoft products and third party applications, RegCure seeks out those remnants left behind on your registry from failed installations, incomplete un-installations, disabled drivers, and spyware applications. It will scan your PC in mere seconds, safely repairing registry errors and invalid entries (which anti-virus programs can't fix) that cause your system to freeze, crash and run slowly. RegCure is updated continually to ensure that it can fix every potential registry problem to date – making your computer run like new again in just a few simple clicks.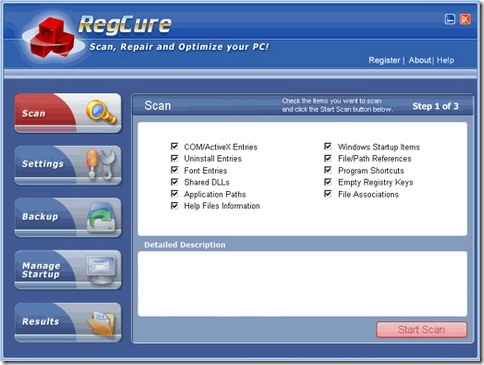 Download [ RegCure ]
CCleaner
Although it lacks a few of the bells and whistles found in other PC-cleaning applications, this free program offers more than enough features to make it a worthy download. CCleaner's interface is logically designed and makes it easy to wipe away your tracks from Internet Explorer, Firefox, and Opera, from various Windows system areas, and from some third-party applications. It now offers secure file erasing along with a Registry-cleaning utility that quickly scans for invalid entries before removing them. CCleaner can even back up your Registry before removal, in case it accidentally removes a crucial component.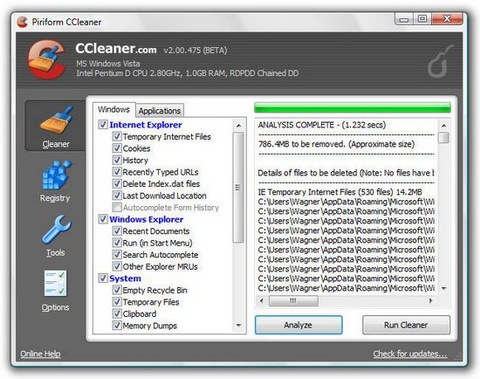 Download [ CCleaner ]
RegSeeker
This application effectively scans your system for any registry errors, although it can require the user to have and be comfortable with registry know-how. RegSeeker requires no installation, and it defaults to a neatly designed, user-friendly interface. Any user can try this application free of any charge; however, modifying and deleting files on your system registry may cause severe problems if done haphazardly, so we recommend keen user analysis and backups before editing the registry.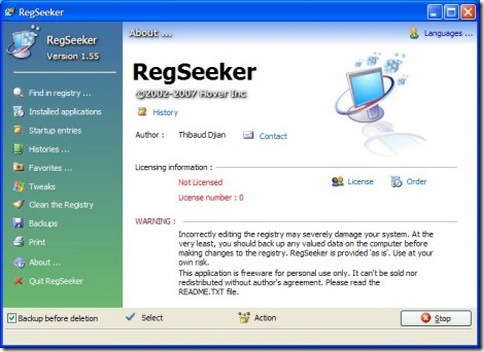 Download [ RegSeeker ]
Free Registry Cleaner
Free Registry Cleaner is Registry-cleaning software, which can safely clean and repair Windows Registry problems with a few clicks and enable you to enjoy a cleaner and more efficient PC. The Registry is the nerve center of your PC, and problems with the Windows Registry are a common cause of Windows crashes and error messages.
Download [ Free Registry Cleaner ]
Comodo Registry Cleaner
The COMODO Registry Cleaner was designed to be a tool developed to fix errors and optimize the performance of the Windows registry. This tool is very careful with the registry and never deletes a registry entry if this could harm your system. For safety reasons, it makes automatic backup before cleaning the registry entries.
COMODO Registry Cleaner removes items from the Windows Registry which are no longer in use or are unwanted on the system. Such items may include information left by software that has otherwise been removed from the computer. It is possible that these persistent items may interfere with performance or have other negative impacts.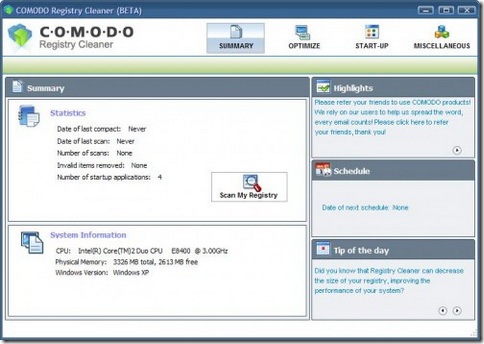 Download [ Comodo Registry Cleaner ]