Top Windows Store Apps To Supercharge Your Windows 8 Experience

Looking at the latest version of Windows, one could easily say that Microsoft went back to the drawing board and has created most of the new elements from scratch. One of those things is the all new Windows Store and its Modern UI apps. Although it may take a while for Microsoft to catch up to its rivals' standards, the new apps simply look stunning. However, needless to say, you may need a bit of time and fiddling to get used to their navigation controls and overall usage. Since Modern UI is an essential element of Windows 8 and Windows RT (the OS that drives Surface, the Redmond giant's new tablet), it won't be surprising to see more major players from the app market wearing the new costume in the near future. The Windows Store already includes a great deal of apps, and new ones frequently keep coming every day. To give you a head start, here's a rundown of 15 wonderful apps to supercharge your Windows 8 experience.
Soluto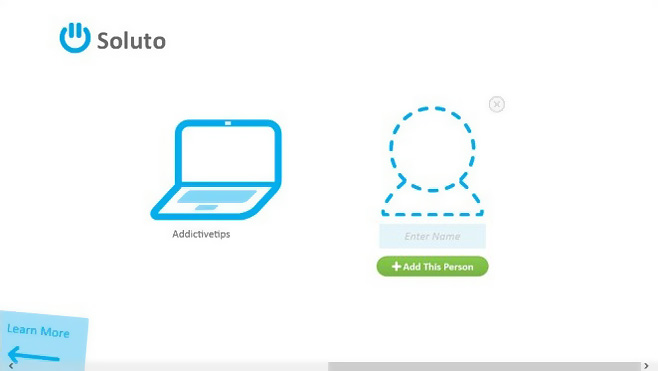 You know how frustrating it is to troubleshoot your friend's PC, especially if they don't know how to establish and configure a remote desktop sharing connection. And since Windows 8 is just out of the bag, you might be facing this nuisance more often. Soluto for Windows 8 is here to save you from that hassle. It's a handy utility to remotely diagnose and resolve your friends/colleagues/family routine PC problems. The app allows you to connect up to 5 different PCs. By default, Soluto lets you perform all the tasks from its web based dashboard, however, in Windows 8 you can do this all from within the Modern UI environment. It enables you to gather a PC's hardware information, manage applications, track boot time, install popular apps like Dropbox and SkyDrive etc. It's a great tool to speed up PC by resolving common  issues.
Tweetro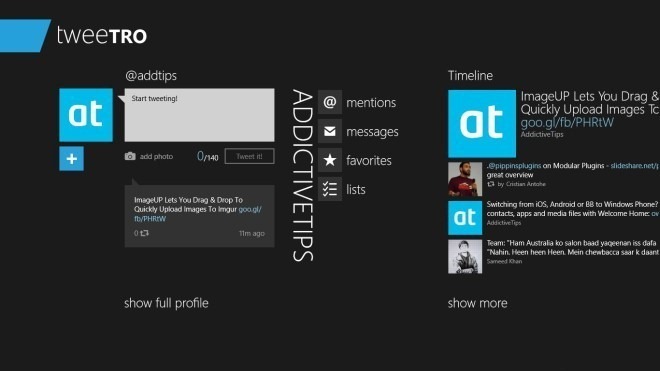 Should you need to keep in touch with your Twitter followers, look no further than Tweetro. When we reviewed it back in September, it immediately felt like a must-have app for Windows 8. The full screen user-interface looks dandy, and the main screen presents quite a bit of everything that Twitter has to offer. It allows you to keep tab on your mentions, read direct messages and browse through your Twitter stream. The application also supports instant notifications that appear at the top right corner, for let's say, there's a new tweet on your Timeline or someone has started following you. Another noteworthy feature is the touch gestures support, like swipe and pinch, for tablet devices. Lastly, there's an option for in-app browsing that lets you open URLs without firing up your default web browser.
Modern Reader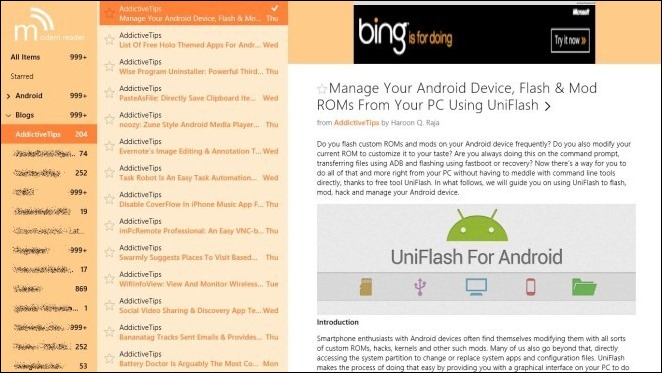 Google Reader is apparently the most popular RSS aggregator that many folks use. Modern Reader is like a quintessential Windows Store app for Google Reader. Flux is also worth a try if you don't mind bright pink UI, but Modern Reader is a better option due to its punchier feature-sets. For instance, it gives you a choice amongst themes selection (which Flux lacks), three column design provides better ergonomics and keeps the feeds organized, and finally Web View, although experimental at the time of this writing, enables you to access web pages of the feeds from within the app. Along with UI skins, you may change text size such as Small, Medium and Large. The only downside is that it displays in-app ads. You can easily get rid of them however, by purchasing the paid variant, which costs $1.49.
Dailymotion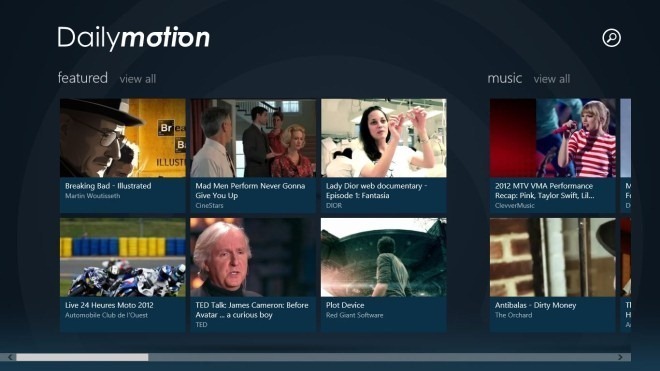 Dailymotion was one of the earliest manifestations of Modern UI apps. And as Dailymotion is the second largest video sharing website on the planet (YouTube being the first), its Windows 8 variant was quite imminent. The application runs in full-screen mode and displays daily featured videos as thumbnails on the main screen. Apart from that, you may access your desired content from different categories, such as Music, News, Film & TV, Funny and other catalogs that you'd also find on the Dailymotion webpage. There's also a search function to quickly hunt your favorite streams. The applications provides you with an option to filter videos accordingly. Dailymotion can play videos both in Fullscreen and Windowed mode. In addition, the related videos feature is also available. One thing we couldn't figure out however, was how to switch to HD playback.
IM+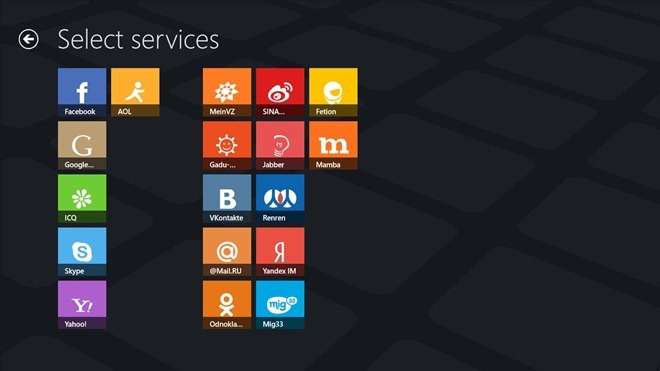 Already quite popular on all major platforms, including desktop (Windows, Mac, Linux), Android, iOS, Blackberry and Windows Phone, IM+ is another welcome addition to Windows Store. If you are not familiar with what it does, the application is designed to let you connect to a multitude of social media services under one roof. It can link your Facebook, Google Talk, Skype, Yahoo, AOL, ICQ etc., so you don't have to open multiple windows to keep an eye on each IM service separately. The interface looks extremely slick and perfectly complements Windows 8 Modern UI environment. All in all, an amazing app that provides instant access to an array of chat services.
Multimedia 8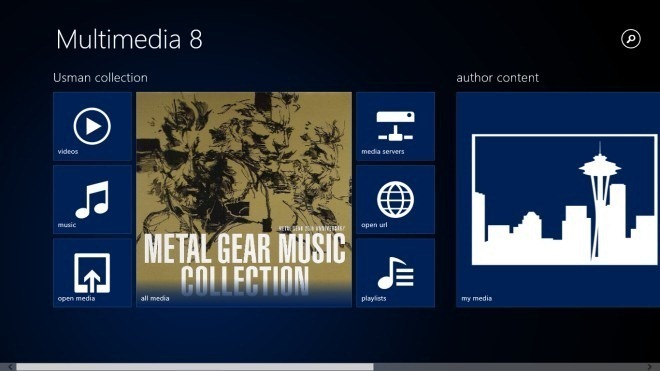 Along with default Windows Media Player, Windows 8 also contains its Modern UI counterpart. But to be honest, it doesn't carry any special feature. Even though nothing beats the likes of  VLC, KMPlayer or Media Player Classic, if you absolutely adore Windows 8's Modern UI, then try out Multimedia 8. It easily knockouts Windows Media Player in many departments (and no it's not just those handsome looks). The application can easily play both audio and video files, and instantaneously scans your media files upon first run. Not to mention, with its 3D playback capability, subtitles support, a slew of different skins, loop and trimming option, as well as playlist creation – Multimedia 8 for sure, is dressed to impress. All in all, a gorgeous Windows 8 app.
SlapDash Podcasts
Podcast lovers probably already familiar with SlapDash. It's an awesome web service that features a huge library of podcasts. SlapDash Podcasts for Windows 8 is probably the best way to access thousands of podcasts. The application comprises of a large catalog of podcasts station, ranging from Entertainment, Food, News, Health, Business, Movies etc., and facilitates you further by letting you subscribe to custom feeds, however, the native stations library is quite extensive that you'd hardly need to. Another aspect of the app is it ability to let you create a SlapDash user account, which in turn makes it possible to sync your library with the cloud. Sporting Modern Styled UI, the application is designed to handle both audio and video feeds. What's more, it remembers playback position of podcast so you may easily resume it whenever you want. And lastly, it can download as well as stream the podcasts.
TuneIn Radio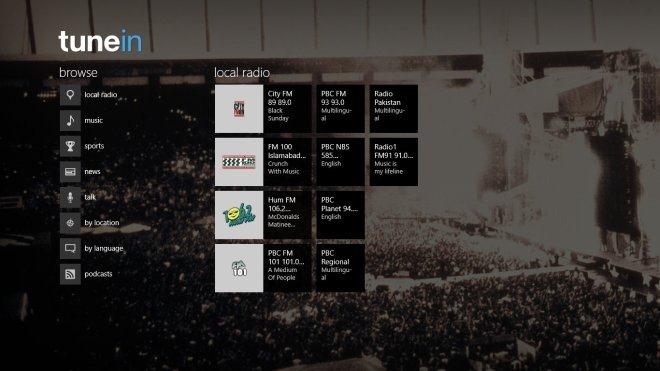 You might be wondering why three multimedia apps in a row? TuneIn Radio surely stands amongst the best radio apps for Windows 8 (Slacker Radio is also worth giving a try), and we might even dare to call it a radio-holic's paradise. The application is fairly renowned on Android and iOS. It lets you browse and stream a plentiful channels from the web, which according to the developers, come at around 60,000 in total. Another fascinating feature is its ability to scan local radio stations in your proximity. It stashes the radio channels pertaining to News, Music, Technology, Sports, Business, Comedy and so on. You are also allowed to pin your favorite station to the Start Screen. While other browsing options include; by language and by location. It lets you listen to the podcasts, and even though you have SlapDash Podcast app for that, you won't go wrong with TuneIn either.
AccuWeather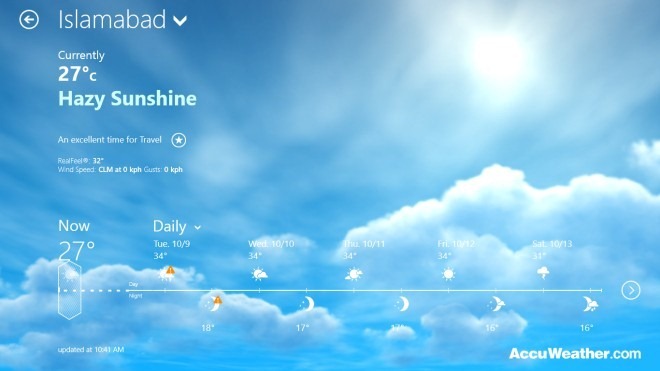 There's nothing more worse than picking a wrong season to go on vacations, particularly when the weather seems not so pally. Since Windows 8 is brilliantly optimized for tablets, it's handy to have a weather app before planning your tours. AccuWeather for Windows 8 is here to help. Windows Store is flooded with weather apps (both paid and free), however, we couldn't just resist AccuWeather's minimalistic and sensational design. The live animations reflecting different weather conditions look stunning. It can use your device's GPS to detect your location, quite handy for frequent travellers (you may add custom locations as well). Furthermore, it lets you check the weather forecasts from around the globe using the integrated map and pin your area to the Start Screen. And did I mention you can stream latest weather forecast headlines?
Snoo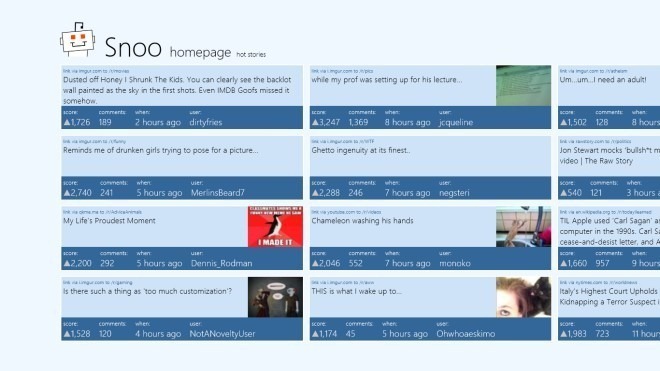 Reddit users often head over to its web portal for checking the latest hot and hilarious stuff (albeit notorious for being controversial at times). Snoo for Windows 8 offers easy navigation features to browse Reddit. Apart from ogling at your subreddits without even requiring a web browser, you can cast upvotes or downvotes, post comments, check on total score of the shared posts and more. The interface looks really cool and polished, though still in early stages of development.  Don't expect myriad of features, however, as the developers will keep pumping in more options. Snoo is surely amongst the best Reddit Windows Store apps. Also don't forget to check out Narwhal, another great Reddit client for Microsoft's latest.
Fliptoast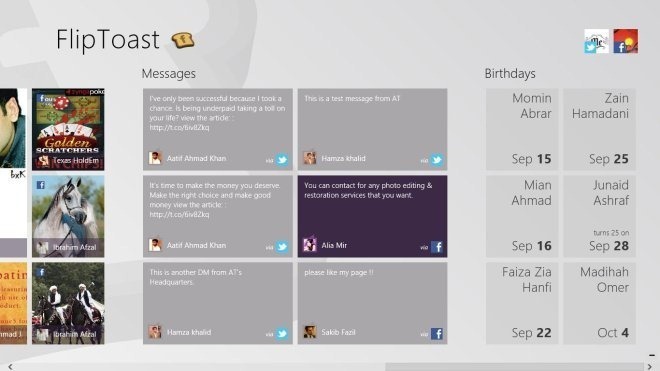 Little thought is required when we're looking for something to feast on our Facebook and Twitter craze. There are plethora of third party apps for each. And if ever there was damn good Modern app to let you use both simultaneously, it would be Fliptoast (okay we didn't receive any kickbacks from the developer). The key feature of Fliptoast is its ability to let you control and manager your Facebook, Twitter and LinkedIn accounts from within a single app. For instance, it allows you to update statuses on all accounts, post and view photos, see what's your friends, followers or connections are sharing etc. The updates are categorized in groups, which includes Today's Posts, Notfications, Messages and Birthdays. Should you facing any problem setting up your accounts, check out our full review for detailed step by step instructions.
News Bento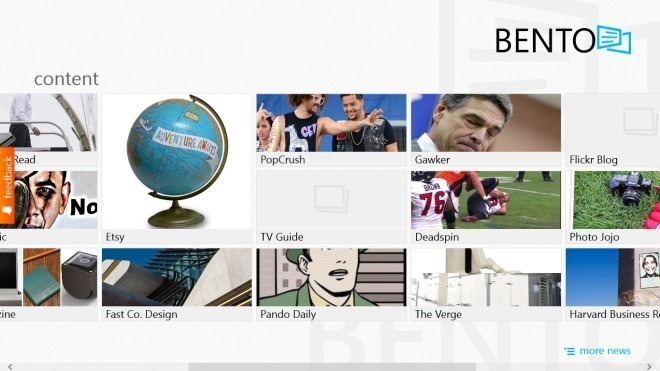 Nobody likes to look dumb in front of their peers, like he or she doesn't have a clue of what's happening around the world. News readers are the best source for keeping a tab on current affairs, news and latest events. News Bento for Windows 8 is a perfect app to tie yourself with all the internet articles categorized under News, Business, Technology, Photo & Design, Sports, Entertainment etc. The interface, although plain and simple, fully supports Windows Live tiles. The application by default offers a few news blogs and websites, including The Atlantic, Photo Jojo, Pop Crush, Deadspin, MSNBC etc., however thanks to the included option, you may add custom subscriptions. You can subscribe to hundreds of feeds, and everything works quite seamlessly and fast.
Metro Commander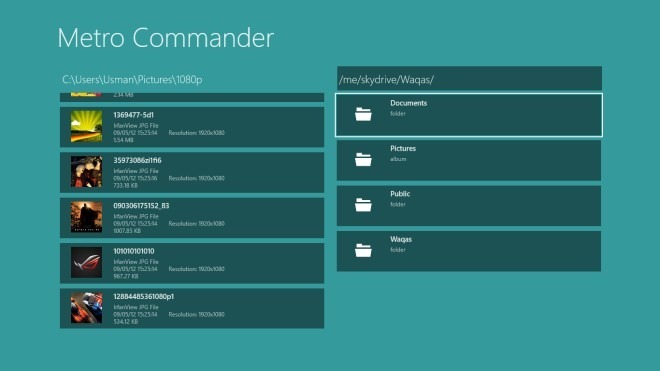 Metro Commander is another useful Modern UI style app that one can install on their Windows 8 PC or tablet to perform some basic file management operations. It allows you to rename or delete files, and copy or move them from one directory to the other. But that's not all, the application can also connect to your SkyDrive account so you may easily sync your files to the cloud without opening any separate desktop client. All of this (and a lot more than that) can be easily done from desktop you might ask, well, the application is actually targeted at people using Windows 8 on touchscreen devices, and like staying within the Modern UI. It makes file management a breeze.
MusiXmatch Lyrics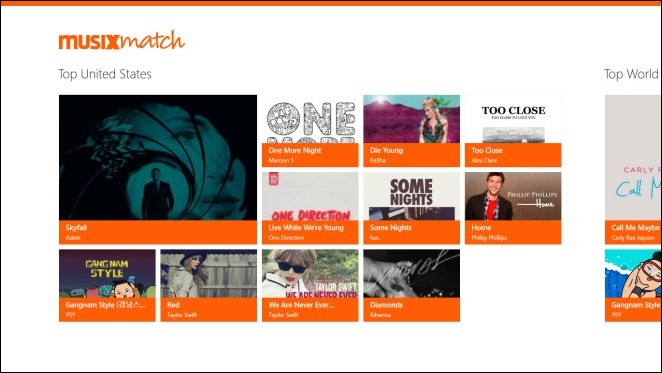 MusiXmatch is already quite popular on Android and iOS, but for some odd reasons, it's simply labeled as Lyrics in Windows Store. Lyrics (or MusiXmatch) scans you music files and lets you easily load the missing lyrics and peek at other song information, such as album art, artist, album name etc. The database contains over 6 million lyrics for the songs, which surely makes it one of the largest lyrics collection online. Lyrics also displays Top music charts in the US and UK, and lets you directly play the songs from Windows right-click context menu.
Fresh Paint

Fresh Paint is one such Windows Store app that shouldn't be missed – particularly if you admire creativity. Geared towards both casual artists and diehard oil painting aficionados, Fresh Paint is like a universal fit. Sporting sleek Modern UI design, it lets you paint in whichever style that suits you best. Be it an abstract art, a landscape, or your youngling's first artistic creation, it includes all the handy tools, including varying brush sizes, a customizable color tray, pencil, chalk, eraser, and different canvas surfaces and papers. Your paintings are auto-saved in the integrated gallery. Overall, the fluid animations, realistic design and elegant UI will surely keep you busy.
---
Keep in mind that we deliberately left out some popular apps, as they need absolutely no introduction, including Skype, TeamViewer, SkyDrive, Hulu Plus, and Google Search. If you think we missed other apps worth adding to the list,  don't forget to mention it in the comments below.