TopWinPrio Gives High Priority To Active Application To Boost Performance
TopWinPrio is free program to boost the performance of applications that are active. According to the developer, it has an ability to change active application priority to high while keeping all the other applications instances on low priority to steer CPU usage for application which needs faster and high CPU response time. You will observe its real usage while playing games or using other heavy applications such as Adobe Photoshop Suite, Adobe Flash, 3-D Studio Max, etc.
The application working is based on simple principle, it always keep the active window's priority high. When an application is minimized/inactivated, it will change its priority from high to low, letting other active application take high priority. This way an active application can always gain more attention of CPU than normally opened applications. Once TopWinPrio is installed, it sits in the system tray letting you bring it up anytime to prioritize the active & inactive application in real time. The main interface has 3 tabs – Priolist, Boost settings, and Application settings, to view the current priority of active/inactive applications, change priority boost settings, and to change application general configurations, respectively.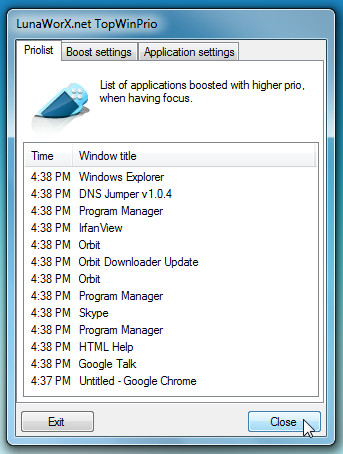 Under Boost Settings, along with changing active & inactive application's permanent priority, you can also set refresh rate for changing application priority.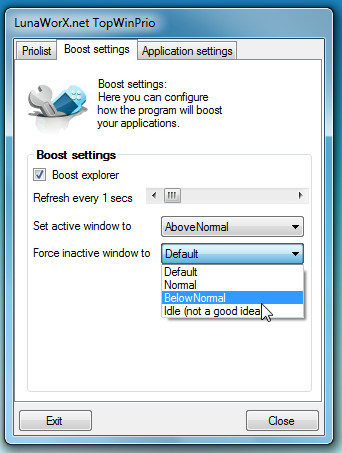 TopWinPrio offers a great way to make active applications more responsive. It runs on Windows XP, Windows Vista & Windows 7. Testing was done on Windows 7 x86 system.