TraderClock Lets You Effectively Monitor Stock Exchanges Worldwide
Glued to the news-strip of your favorite business channel or website? Monitoring multiple trading clocks closely for better analysis and decision-making? Praying that you are the first one to chase the stocks as soon as the market opens? All of these needs are addressed by an application that is bound to transform your life as a stock market trader for the better. TraderClock integrates multiple markets with their start and end times on a single stylish clock that easily finds its place on your desktop. With automatic notifications informing you whenever a market of your interest opens or closes, this powerful utility enables you to follow intricate details of the global stock market from the comfort of your desktop. Upon hovering your cursor on the clock, all relevant details including the current stock index along with percentage change and graphical trends come to view.
Once you understand the basics of this application, interpreting and monitoring various stock markets becomes very simple. The rings on the clock represent a stock market each with the initiating point showing the start time while the end point represents the closing time of the respective market. All rings are read clockwise, while the clock hands show your home time. Green color tells you that a market is open and active while the white color implies otherwise.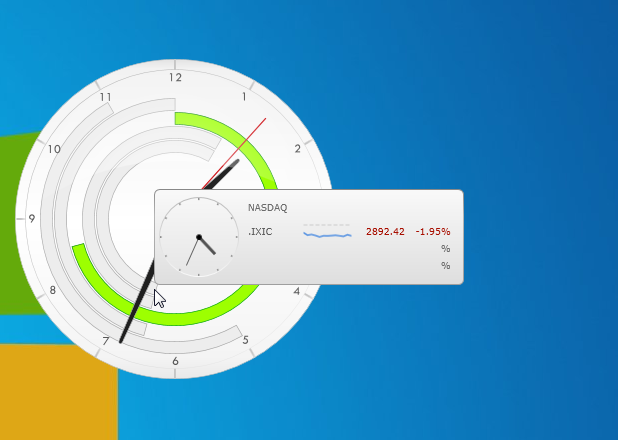 Upon hovering the cursor over a specific window, an information window appears showing the time at the location where the stock market is based, graphical trends, stock worth and percentage change with red text representing a negative value while green boasts a rise.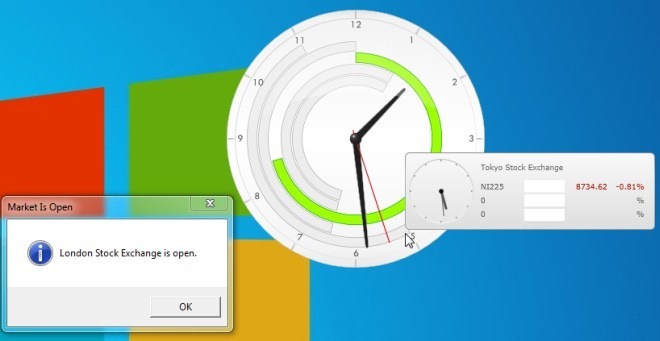 A useful feature of this application is the notification for the user whenever a market is opened or closed. This prompts you to devise a strategy accordingly. TraderClock supports a wide range of global stock markets and you can select multiple markets as per requirement by right clicking the clock and selecting the Markets tab in Settings.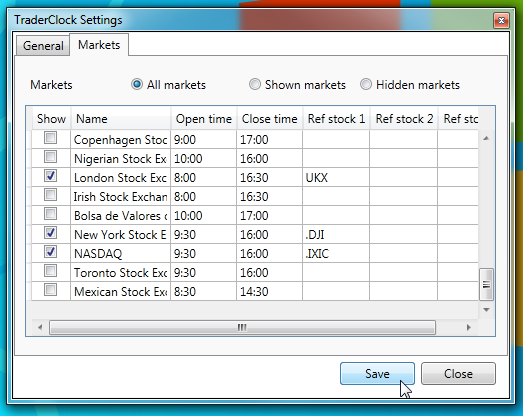 The General settings tab enables you to modify the user interface with emphasis on notifications, clock size, language selection and chimes.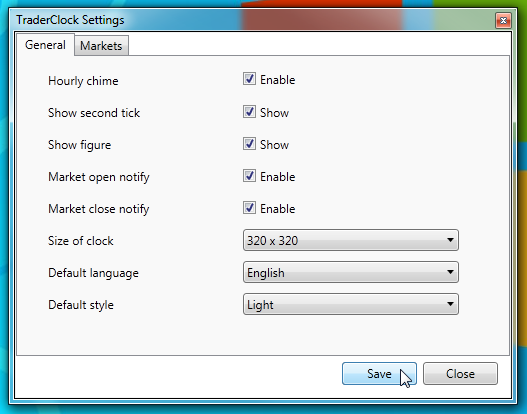 The clock can easily blend in with your desktop theme by changing style accordingly. All you need is to right click the clock and change the Style from Light to Dark.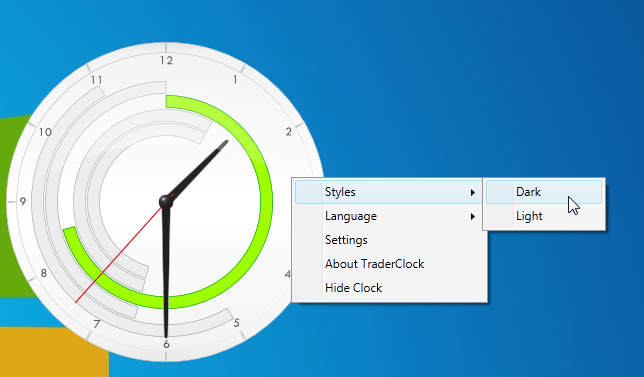 The Dark style makes the clock attractive to some backgrounds, but it was noted that the color selection for the graphical trends in the hover window was perceived as an irritant to visibility.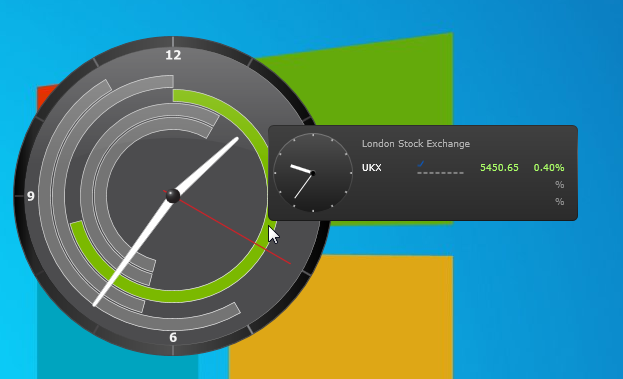 In conclusion, TraderClock is a useful utility for all those interested in monitoring the global stock markets, especially stock market traders. The application requires .NET Framework 4 to work. It was tested on Windows 7, 64-bit edition, while it supports Windows XP, Windows Vista, Windows 7 and Windows 8.