How To Easily Transfer Data From Your Computer To Your Phone
The iOS vs Android debate is one that's gone on for years. It will likely continue for years to come. There is no settling it. It's a lot like the Mac vs PC debate. There is however one thing both Android and iOS users can agree on; transferring data to an iPhone is the worst. Android has never had this problem. Despite the fragmentation, no Android manufacturer has ever made it difficult to transfer data from your computer to your phone. Apple has done that via iTunes. As good as an Apple device is, iTunes is just as worse. It's confusing, it's slow, and it's always trying to download QuickTime. And it's no surprise that as users you seek better ways to transfer data from your computer to your Phone.
Meet TunesGo — a data management tool that works for both iOS and Android, and offers two way sync. TunesGo can transfer data from your PC or Mac to an iPhone or Android phone, and it can copy  data from your phone to your computer. This includes backing up messages and transferring purchased media to your computer. It can also transfer data from one phone to the other. TunesGo can be bought on a yearly plan, or you can purchase a lifetime license for it.
The lifetime license for iOS devices costs $59.95 and for Android devices $49.95 — so here's our review of TunesGo to help you decide if you should use it.
Connecting Your Device
TunesGo requires you connect your device to your PC or Mac. If you want to transfer data between two phones, you'll need to connect them both to your PC or Mac. A simple USB cable will do that trick. Once you connect your phone, open TunesGo and wait for your device to appear.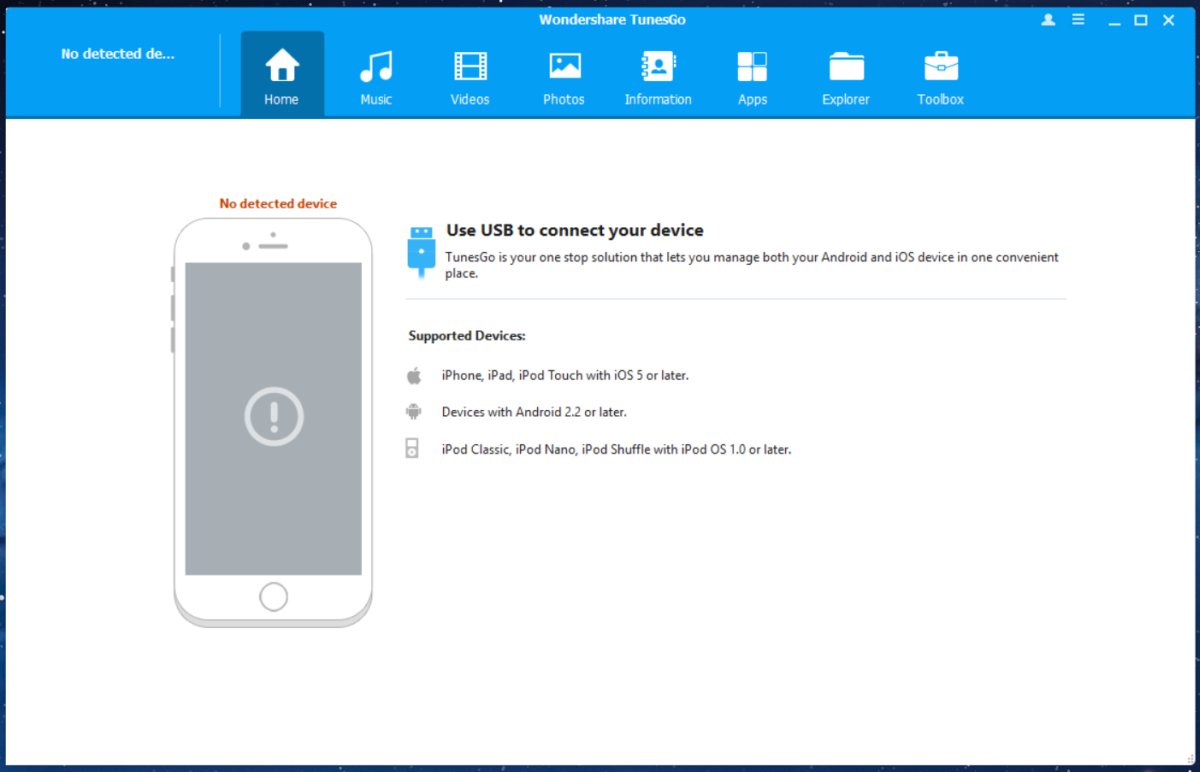 Transferring Data
TunesGo can transfer music, videos, photos, contacts, messages, and apps. It also has file explorer that lets you access otherwise restricted folders on your phone though it's more useful to you if you have an Android phone. With iPhones, these folders are locked down so that you can't access too much information unless you jailbreak your device.
Once you've connected your phone to your computer, select from the tabs in TunesGo what kind of data it is you want to transfer. The TunesGo Home screen features bulk actions like transferring media to your computer, transferring data between phones, and backing up photos.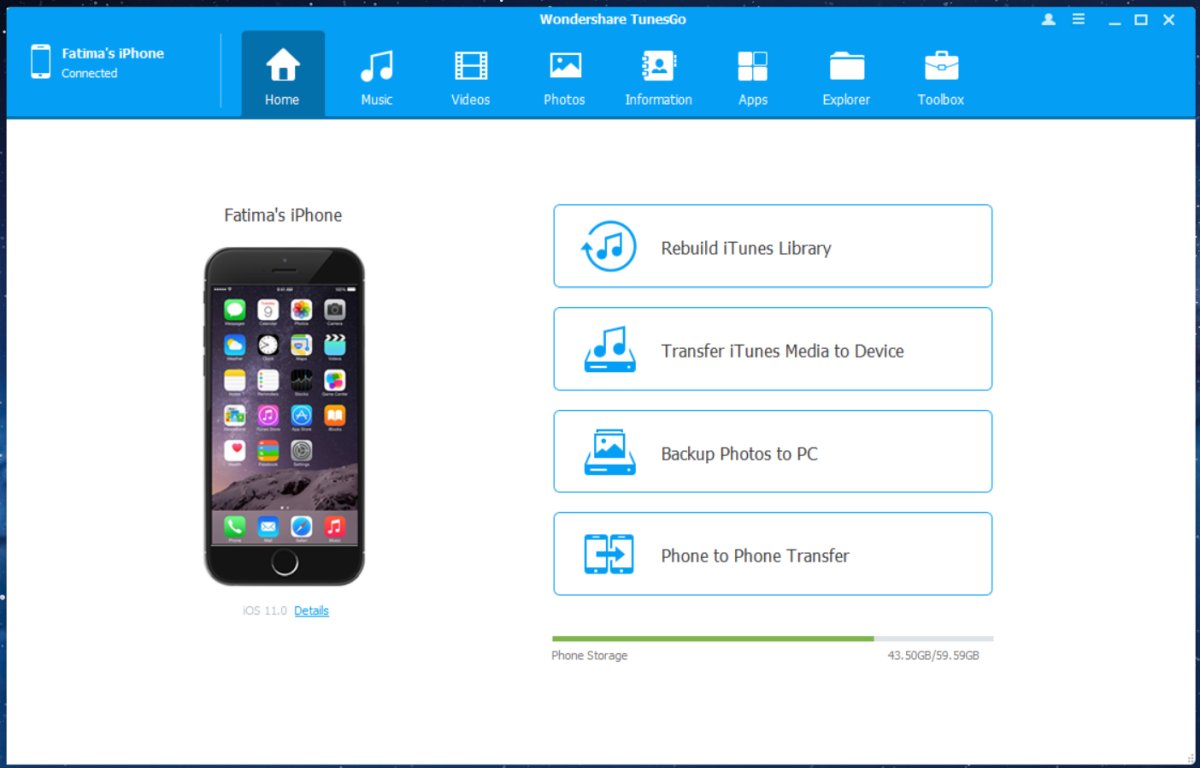 For more specific data transfers, use one of the other tabs. The tab names are all self-explanatory except for the Information tab. That's where you can manage contacts and text messages from.
Let's say you want to add music to your iPhone but you don't want to go through the whole process of syncing it via iTunes. You might be on a different computer that you haven't synced your iTunes library to. An iPhone can only sync its iTunes library on one computer. If you try and transfer a song from a different computer to your iPhone, you end up deleting the iTunes library that's already on it. That's where TunesGo can help you. All you need to do is connect your phone and go to the Music tab.
Add the tracks you want to transfer to your phone and click the 'Export' option at the top. You can choose to export media from your phone to your PC, or you can simply add media from your PC to iTunes i.e., your phone.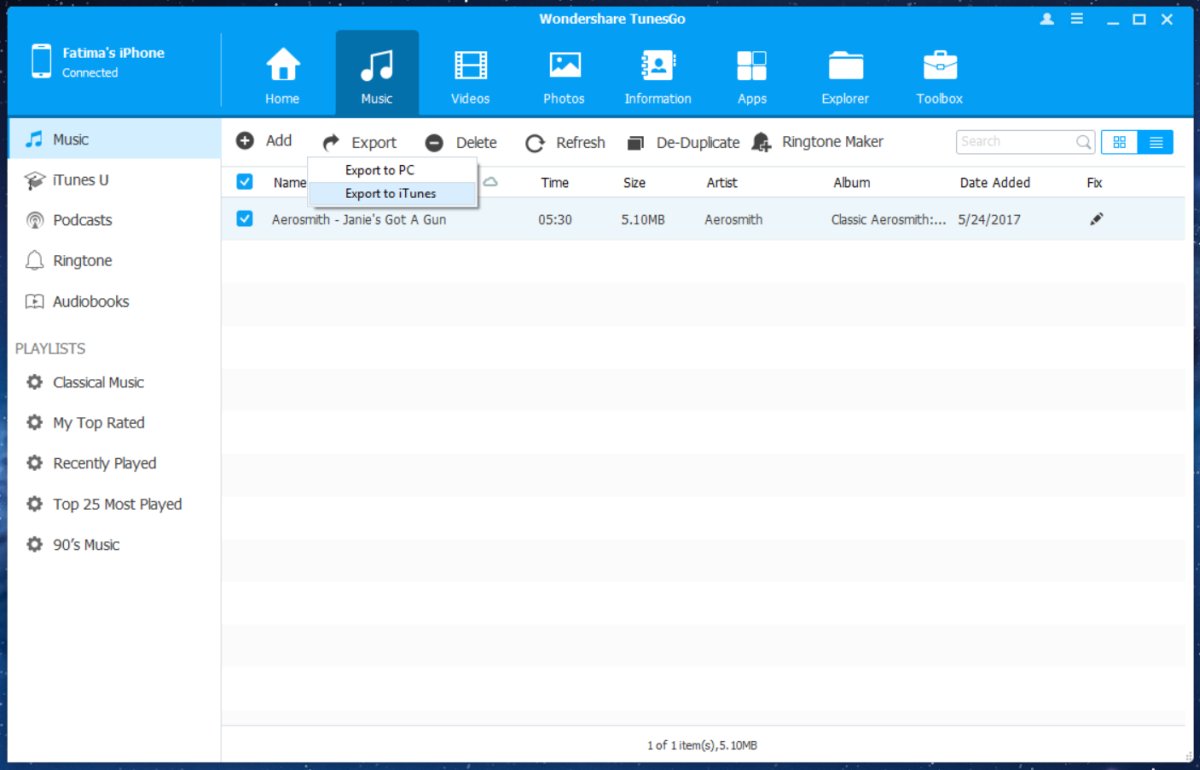 TunesGo might sound like it's for managing music given its name but as stated earlier, it can handle just about all types of data. If you connect an iPhone to TunesGo, it will sort your photos into the albums you've created on your iPhone. You can add photos and videos to your iPhone or you can convert videos to GIFs.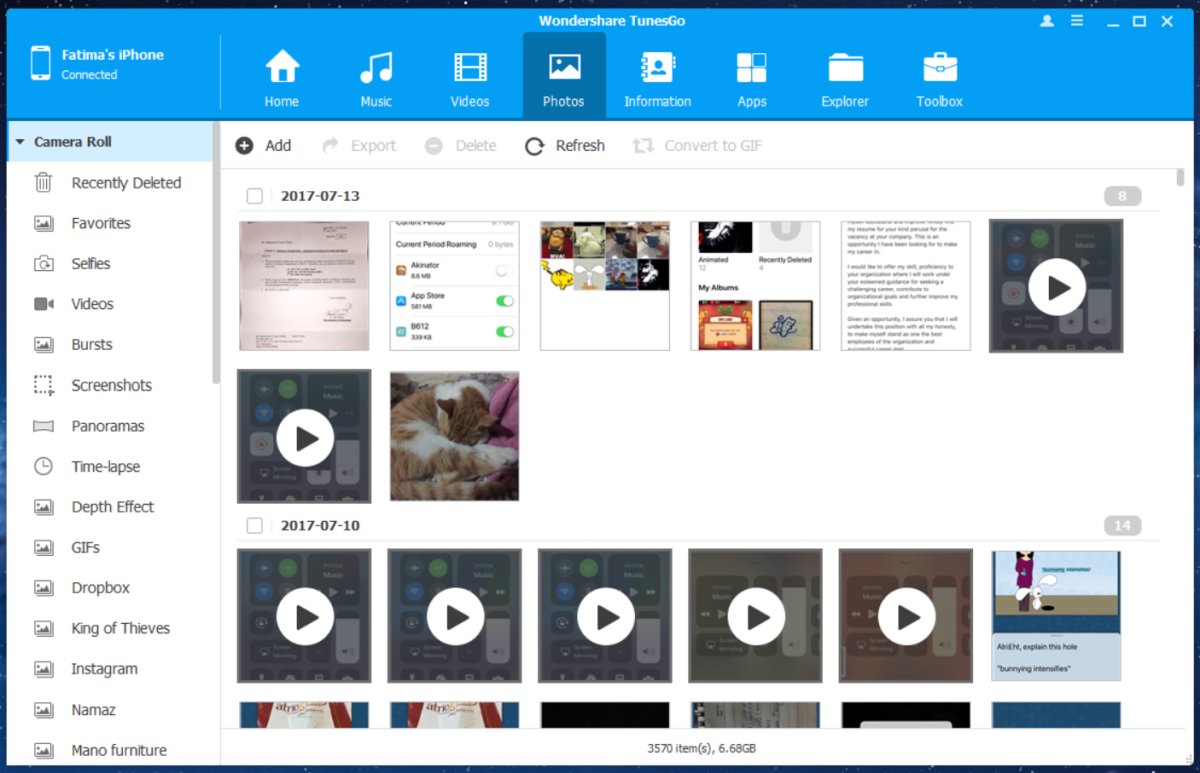 On Android phones, TunesGo has more leeway. You can set the default storage location to your local device or to an SD card. Additionally, you can also set the default location for transferring music, videos, and photos to.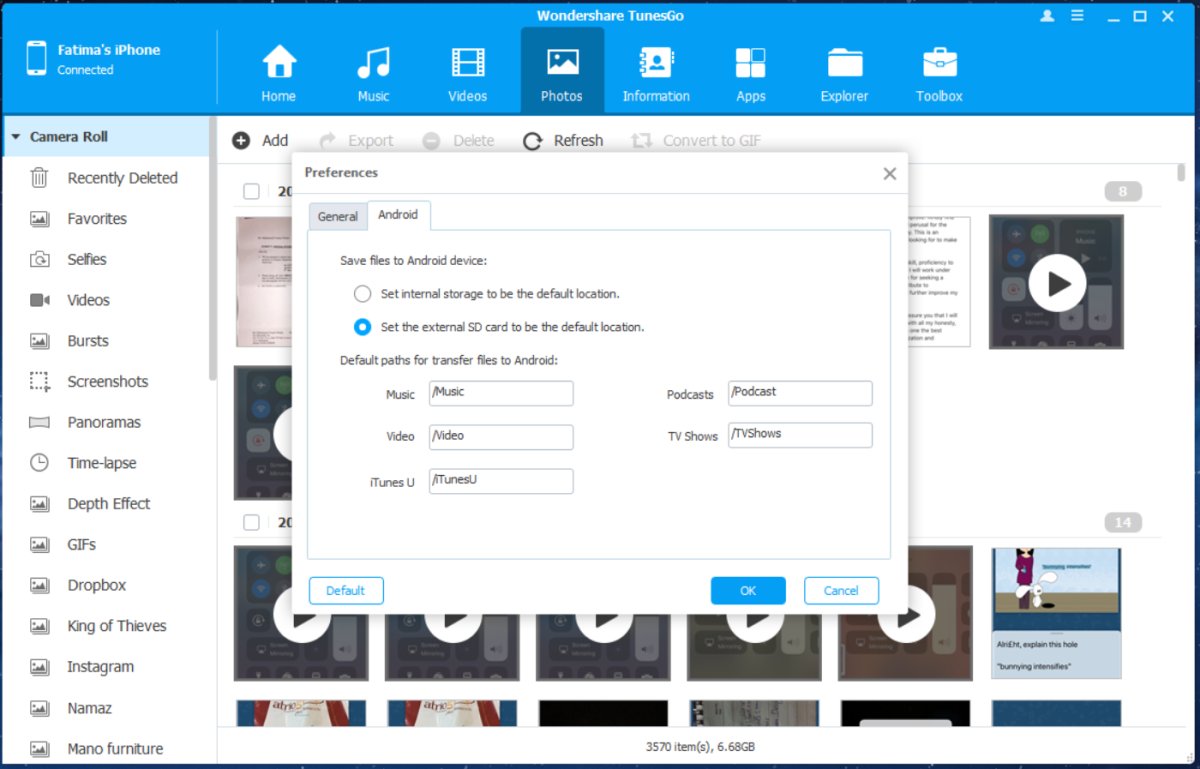 Limitations
TunesGO doesn't have any limitations as far as Android is concerned. With iPhones, more specifically with iOS, there are some limitations. TunesGo cannot transfer apps or app data from an iPhone if it's running anything above iOS 9. They're working to add support for iOS 10 and you can count on them adding support for iOS 11 as well. During tests, it didn't detect messages on an iPhone 6 running the beta version of iOS 11.
Conclusion
TunesGo is more than just an app for transferring data. It's a media manager that can help you organize your photo and music library on both iOS and Android. It can even root your Android phone in one-click. If you're unfamiliar with rooting and don't want to risk bricking your device, a one-click root tool like TunesGo is a safe option.
TunesGo works with both iOS and Android but for iOS users this app means freedom from iTunes. You can use it to create full backups of your phone, and to restore your phone from said back-up. Overall, if tweaking your Android phone, or managing data on your iPhone is something you struggle with, TunesGo is a reasonable alternative.