Tweak & Manage Laptop Hardware Settings With Notebook Hardware Control
Notebook Hardware Control is a portable application for controlling the hardware components of your Notebook. Using this application, you can prolong the battery life, reduce system heat up issues, mange full processor speed, monitor the battery charge level and system temperature, manage your hard drive using S.M.A.R.T (Self-Monitoring, Analysis and Reporting Technology) management, reduce Notebook Fan noise and more. Read past the break for details.
The Status tab of Notebook Hardware Control displays the processor speed control, clock and load, followed by the installed physical memory, available memory and system power on time. You can enable processor and battery monitoring from the Monitoring tab.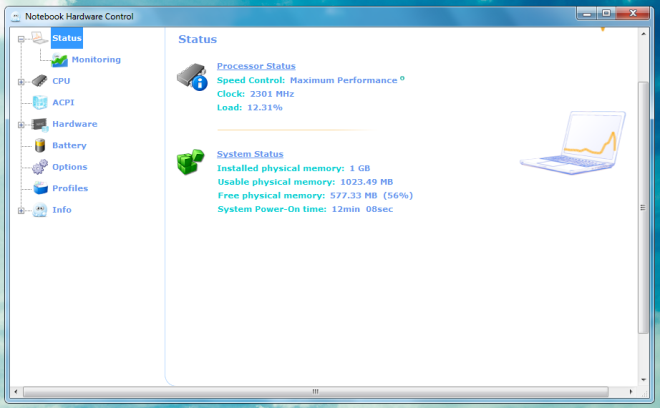 Similarly, using the CPU, Hardware and Battery tabs, you can alter your hardware settings for better system performance. For example, you can reduce the processor power state from your battery settings to reduce system heat up, as explained in our guide on how to prevent your laptop from overheating.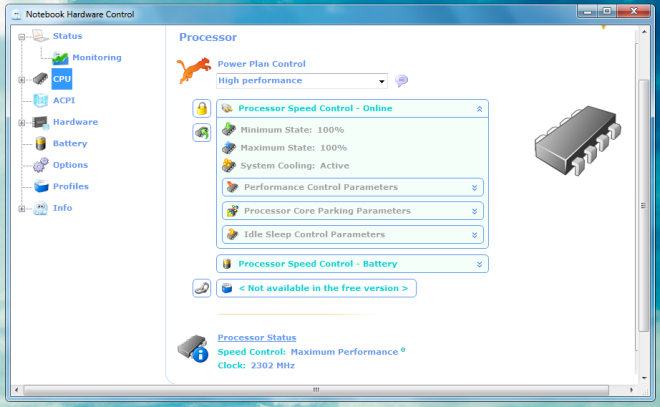 Furthermore, you can enable temperature view in Fahrenheit, check for NHC (Notebook Hardware Control) updates via the internet, and auto-run NHC with system start up.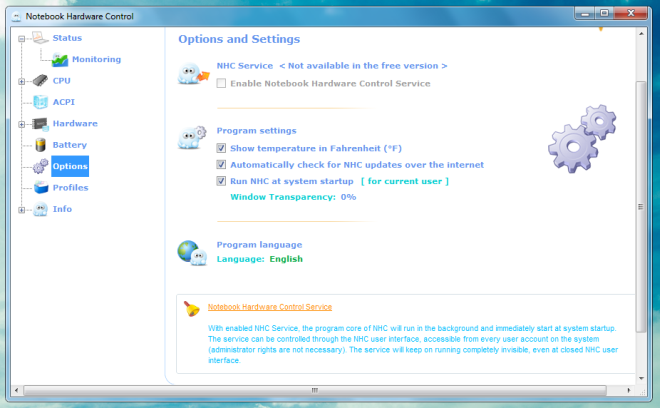 NHC also has a paid version (starting price €15). The NHC profile based paid version allows you to change all NHC settings by adding, removing and editing profiles.
Disclaimer: Tweaking with some of the system settings may cause system instability. Make sure that you only select the features that you have due knowledge about. AddictiveTips will not be responsible if you damage your notebook by setting any inappropriate system configuration.
Notebook Hardware Control works on Windows XP, Windows Vista and Windows 7 32-bit operating systems, and is currently not compatible with 64-bit Windows operating systems.
Download Notebook Hardware Control