Tweak, Optimize, Or Overclock Your NVIDIA/ATI Graphic Card GPU With RivaTuner
Do you want to tweak your graphic card, maybe you are looking to optimize or overclock it? In any case RivaTuner does a good job. It is a powerful tweaking software that supports all Nvidia Graphic cards and many popular ATI ones.
The full support of graphic cards are,
NVIDIA NV4, NV5, NV10, NV11, NV15, NV17, NV18, NV20, NV25, NV28, NV30, NV31, NV34, NV35, NV36, NV38, NV40, NV41, NV44, NV44A, NV48, G70, G71, G72, G73, G80, G84, G86 or G92 GPU or ATI R200, RV250, RV280, R300, RV350, R350, RV360, R360, RV370, RV380, R420, RV410, R423, R430, R480, RV515, R520, RV530, RV560, RV570, R580, R580+, R600, RV610, RV630 or RV670 VPU based display adapter.
If you have any one of the listed graphic cards, you can use this tool to tweak, optimize or overclock it. After you run the program, it will start building the registry which will take some time and will detect your graphic card automatically.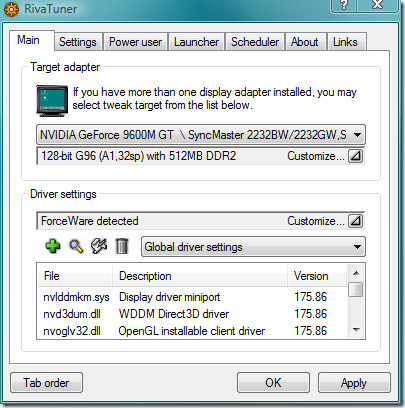 According to RivaTuner,
RivaTuner is a complete powerful tweaking environment, providing you everything you may need to tune NVIDIA GPU based display adapters. The widest driver-level Direct3D / OpenGL and system tuning options, flexible profiling system allowing to make custom settings on per-application basis, both driver-level and low-level hardware access modes, unique diagnostic and realtime hardware monitoring features and exclusive power user oriented tools like built-in registry editor and patch script engine make RivaTuner's feature set absolutely unmatched.
Click the customize button next to Forceware/Catalyst detected and select the settings you want to optimize. In my case Forceware was detected because have Nvidia Graphic card. Clicking the customize button shows 3 different settings: System setting, DirectDraw and Direct3D setting, OpenGL setting. You can also select the custom display modes or reset all settings.

Selecting the System settings will take you to Overclocking, Compatibility, and Overlay settings.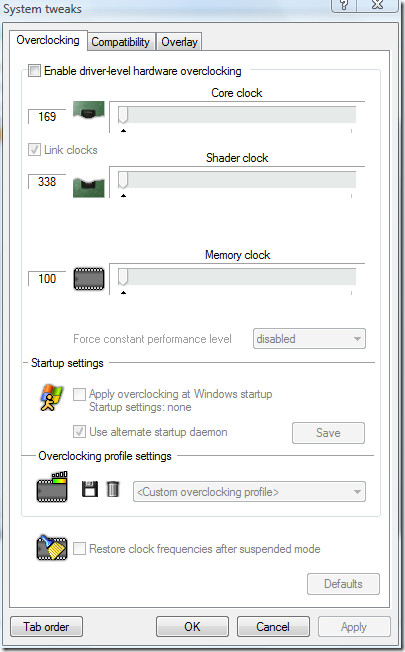 Selecting the DirectDraw and Direct3D setting will take you to it's options such as Mipmapping, Intellisample, LMA, Shaders, VSync, etc, where you can tweak it like you want.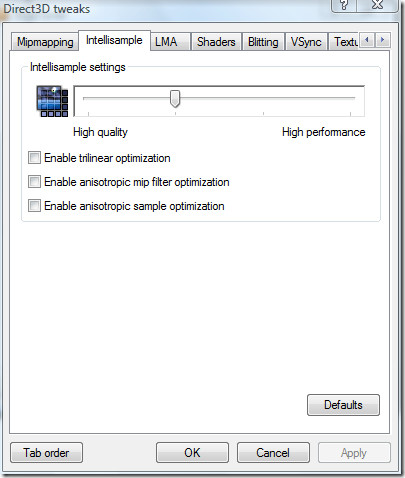 Same goes with OpenGL settings. You can play around for a few minutes to find more great features and options. Make sure you have some cooling device before overclocking your GPU or it will fry up your system. Enjoy!