TweakNow SecureDelete Removes Files And Folders Permanently
TweakNow SecureDelete is a file shredder which hosts three staunch algorithms to delete the folder/file permanently. You can also specify number of rounds to be used for removing the item from the system without leaving any chances to retain it back.
It comes with the simple interface. At the left sidebar, you'll see two options, one is for deleting files and other to empty the recycle bin. From the main window, click Options to choose algorithm to be used. Each carries different mechanism and uses varying number of rounds to delete the file/folder. As aforementioned, you can also specify the number of rounds to be used.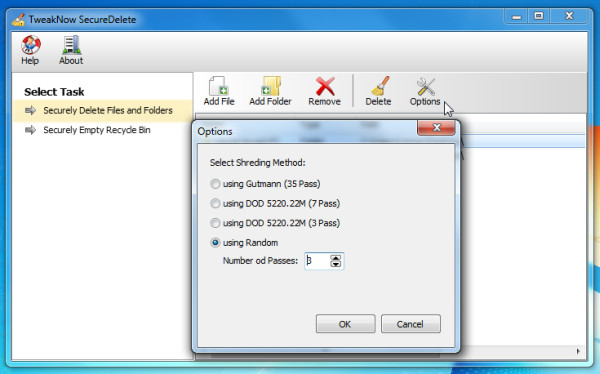 Once you've specified number of rounds or algorithm, you can start adding files and folders. It offers simple drag and drop behavior to add as many files/folders as you want. Once you've added folders/files, click Delete button to ensure removal through specified algorithm.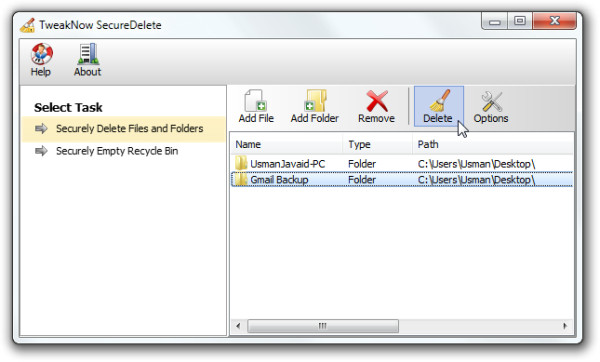 The second option is of removing items from recycle bin. Just move to the respective window to delete items from recycle bin. File shredder offers an advance way of removing files and folders, it offers strong mechanisms for deleting files/folders to ensure secured deletion. It runs on all Windows based OS, testing was carried out on Windows 7 x86 system.
Download TweakNow SecureDelete
For more, check out Freeraser and Universal Shredder.