Tweet The Songs You Are Listening To On iTunes (iTunes To Twitter)
TunesTweeter is a tiny portable tool developed to tweet the songs you are listening to on iTunes to Twitter. The good – your friends will know which songs you like. The bad – Twitter stream will be full of songs and no other media player is supported except iTunes.
Personal Opinion: It would be great if someone can make an app that works with all popular media players and not just iTunes, such as, VLC Player, Classic Media Player, Windows Media Player, Foobar2000, and more.
Just start the program, enter you login credentials and hit Login.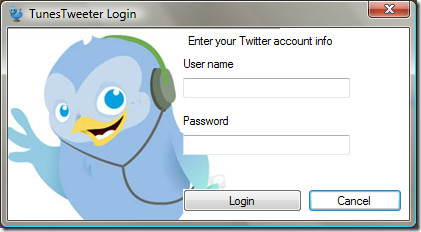 Now start iTunes and begin listening to your favorite songs. While they are playing, the song sand artist name will be tweeted.

You can hit Hide and it will vanish but the program will not close. It will continue tweeting all songs that you listen to. To close the app, you will have to right-click the system tray icon and hit Close.
It is currently in stable beta and the developer is looking forward to adding more feature in future. Enjoy!