TweetTwain: Schedule And Automate Your Tweets
Twitter's desktop applications are numerous, some with great flexibility and control, others with pleasing aesthetics, and still others with both. However, TweetTwain Lite brings a rather new feature, tweet scheduling and automation. This small and easy to use application will allow you to manage all your tweets, schedule them, view notifications for new ones, search and follow new users, etc. It also displays notifications for new tweets as balloon pop-ups in the notification area.
The program comes with a one-window interface with buttons on the top row for various features. Hovering mouse over each button lets a user see the function that it performs.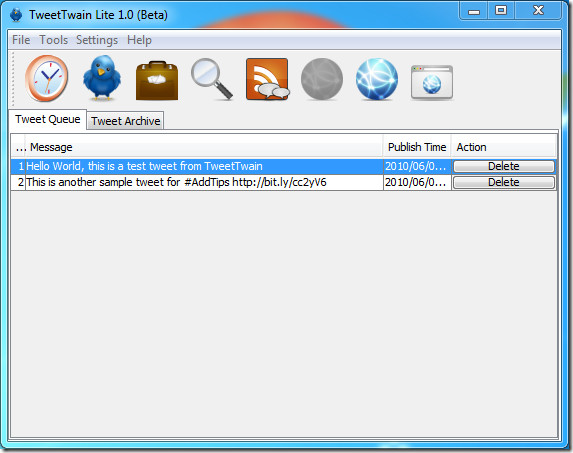 First up is the Tweet Queue, which will let you see those tweets that you have scheduled for automatic publishing. The blue bird icon will let you add a new tweet to the queue. TweetTwain also supports automatic URL shortening using bit.ly.
The briefcase-shaped icon takes you to the tweet archive, where you can see the tweets that the program has published for you. Next to that you get the search and follow feature, where you can search for any user or brand and automatically follow it (optionally).

The RSS icon lets you add any feed to be monitored, and automatically tweet all the new posts. The next two globe icons lets you start and stop the scheduler, respectively. The last icon will minimize the program to system tray so that it continues to run in the background.
Before you begin using TweetTwain, you need to register it with your Twitter account. To do so, register with twitter under settings, allow the TweetTwain application on the web interface and provide the generated PIN code to the application. That's it, and you're all set to go.
TweetTwain is freeware and portable, and works for Linux, Mac OS X and Windows. We tested the program on Windows 7 x86 system.
Note: There is a Pro (paid) version available of the software as well, which brings additional features like multiple account support, multiple feeds monitoring, etc.