TwentyOne For Windows 8 Serves As A Hub For 21 Of Your Favorite Social Media Contacts
Most people nowadays have more online friends than real life ones. Some even keep adding new friends as if they are in a competition where the player with the highest number will win the round. Speaking of numbers, TwentyOne is a one-of-a-kind Windows 8 and RT app, with a Windows Phone version as well, that lets you aggregate your 21 favorite social media friends from Facebook, Twitter and Instagram, so you may keep a tab on their online happenings under one roof. As the app's name suggests, you can add up to 21 contacts from each social network; assuming you're using all your slots, that could max it up to 63 contacts in total, provided you choose a different group of people from each service. The app monitors your interaction with your friends and in turn recommends new friends based on your likes, dislikes and comments on their updates. Let's take a look.
TwentyOne sports a pretty decent interface that's clean, simple and quite user-friendly. When fired up for the first time, the landing screen shows you how the app works. The onscreen instructions get you acquainted with the app in three easy steps. To get started, click or tap a social network from the supported services, followed by signing in to it and granting TwentyOne the necessary permissions to access your friends lists there. The app supports three services at the moment, though more might be added in future updates.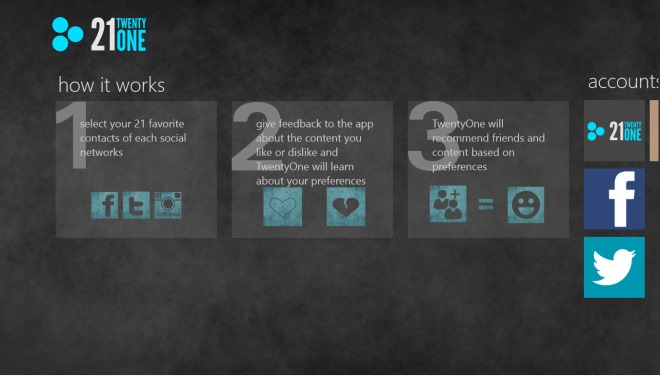 When you sign in with your Facebook account using TwentyOne, the app starts to analyze your previous interactions with your friends and in turn displays a recommended friends list. During our testing, however, I noticed that the automatic recommendation feature was quite schlocky, and the app ended up being quite inaccurate about initial recommendation. On the flip side, you can simply click or tap All Friends on the app bar to just display all your friends. Just mark the contacts that you want to add, and click back.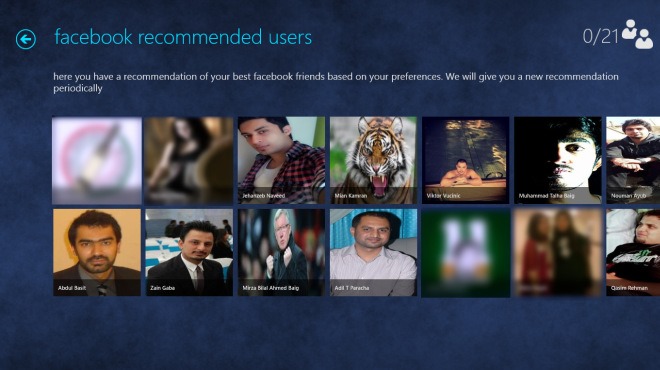 As soon as you choose your favorite contacts and head back to the main screen, you will notice your dashboard automatically updated with feeds by the friends you selected. You can add your Twitter and Instagram contacts in a similar fashion. The app also allows you to post status update to Facebook, or tweet on your Twitter account directly from the app using the options provided in the app bar at the top. You can attach images to your posts/tweets as well.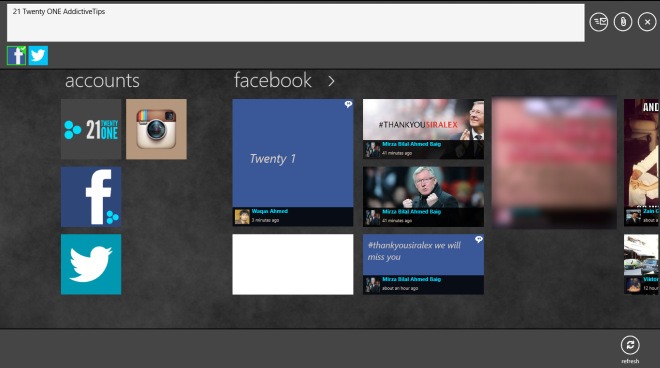 Clicking an update (such as a photo, status etc.) brings up the underlying content in an expanded view. You can choose to like or dislike the photo, as well as post comments on it.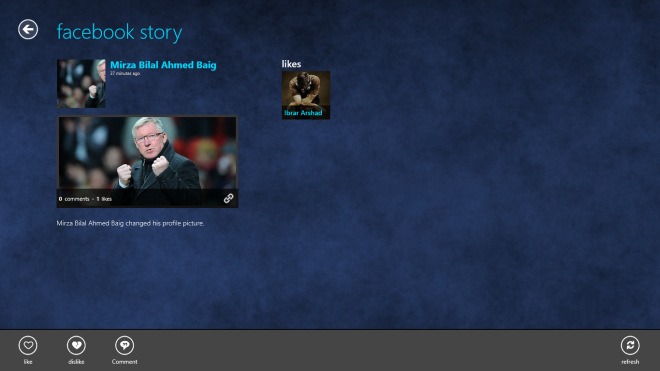 TwentyOne also has a Windows Phone app compatible with WP 7.5 and WP8 devices, and you can automatically sync your contacts between Windows 8/RT and Windows Phone variants if you sign up for a TwentyOne account, which can be done for free. Testing was carried out on Windows 8 Pro, 64-bit.